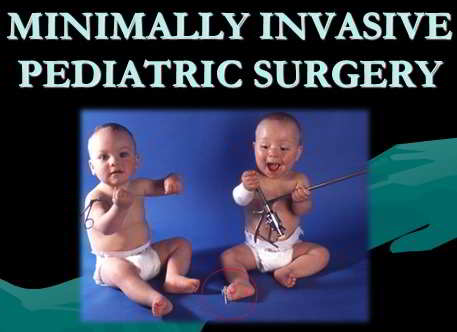 "There are no great discoveries or advances as long as there are unhappy children in the world"
- Albert Einstein
Introduction
Laparoscopic surgery and robotic surgery is becoming the level of maintain many pediatric conditions. It comes with an increased demand by parents from referring physicians along with the public for laparoscopic minimally invasive surgery for this age group. It is the responsibility of minimal access surgeons to insure that these procedures are as safe for their patients. There are many new and advanced laparoscopic measures in pediatric surgery, some still controversial. As new laparoscopic pediatric procedures are implemented, pediatric laparoscopic surgeons going to need to read more about their potential complications and the ways to stay away from them. Rapid recognition of complications and the appropriate management of these complaints can minimize their impact on small childrens.
History of Laparoscopic Pediatric Surgery
The initial case of laparoscopy in pediatric surgery was reported by Stephen Gans in 1971, in the landmark publication, "Advances in Endoscopy of Infants and Children," as a peritoneoscopy. The definition of peritoneoscopy was soon replaced by Pediatric Laparoscopy. The supply of smaller instruments expanded the role and uses of laparoscopy and thoracoscopy in small infants and newborns. Initially, using laparoscopy in youngsters was for diagnostic purposes.
What are the challenges of Laparoscopic Pediatric Surgery?
The anatomic approach in laparoscopic and thoracoscopic surgical procedures are distinctive from that taught in gross anatomy along with open surgical procedures. As the anatomy is unchanged, the perspective from which it is viewed differs from the others. This may lead to disorientation and misidentification of structures within the infant as well as the small child.
The reason behind the establishment of the subspecialty of pediatric surgery is the buzz of significant issues regarding the proper the pediatric surgical patients that warrant special attention. This is definitely applicable to non-invasive surgery for pediatric patients. Anatomical and physiological differences in children might require an adjustment in the types of methods adults
Anatomical considerations inside the pediatric patient matched to the variation in size and the stage of development. Smaller chest and abdomen in infants make access and exposure more problematic. The relatively large sized the liver and spleen in young kids can compromise the running space.
A progressively more sophisticated and informed patient population often requests laparoscopy over open traditional procedures. Parents frequently select surgeons depending on their laparoscopic skills. The older generation of pediatric surgeons may be expected to learn this new technique in comparison with the new trainees who will be versed in laparoscopy and thoracoscopy. Facing laparoscopic complications, the older surgeons who will often have more exposure to traditional open procedures might not exactly hesitate to convert for an open procedure, while the new generation with less experience open procedures could possibly be more unwilling to get it done or may don't recognize a potentially dangerous situation. An example of this is laparoscopic pyloromyotomy, a method adopted by many teaching hospitals; the residents may learn this approach readily rather than do the open procedure.
What are the advantage of Pediatric Laparoscopy?
In grown-ups, the known benefits of non-invasive surgery are improved cosmesis as a result of smaller incisions, and much less postoperative ileus and pain, which results in less analgesic use, less respiratory morbidity, shorter hospital stays, and a swift come back to preoperative activities. In pediatric surgery, noninvasive surgery has become introduced at the slower pace, to some extent because the people are smaller, the operations in many cases are already performed through small incisions, and many of the conditions that require surgery are rare, and thus need a longer training period. Davenport produced in 2003 that most of procedures in children were conventional as opposed to laparoscopic. Additionally, noisy. 1990s, prudence was widely advocated which is well known which a surgeon's experience and learning curve are necessary predictors of outcome.
What are the precaution surgeon should take?
Elevations in fractional co2 and decreased oxygenation can happen using the higher intra abdominal pressures used in adult laparoscopy. The best pressure possible needs to be used to elevate the abdominal wall or develop a pneumothorax. An intra-abdominal pressure of lower than 14 mmHg is apparently well tolerated even in infants small compared to 5 kg.
Physiological changes secondary to insufflation in the abdomen or chest are usually well tolerated inside the adult patient but sometimes present difficult towards the anesthesiologist from the pediatric patient. The umbilical vein may remain patent from the infant and care must be taken with the umbilicus because the portal of admission to avoid causing gas embolism. The urinary bladder is an intra-abdominal organ from the younger pediatric population; if not emptied at the outset of the process, it may well limit exposure and be prone to injury during trocar placement by less experienced pediatric surgeon. The closer proximity of organs and associated structures such as blood vessels and nerves requires careful identification and dissection to stop injury.
Special Consideration in Paediatric Patients:
The umbilical vessels are of large diameter. Closure of the open processus vaginalis may not have been completed The abdominal cavity volume is small The internal abdominal wall surface is less The abdominal wall thickness is less The aortic-iliac axis is very close to the abdominal wall. Urinary catheters are unnecessary, because a full bladder seldom impedes the intra-abdominal view. Older children should go to the toilet before laparoscopy. Enemas are also not essential, since they will not necessarily empty the colon, and may even distend it. A potential and common source of complications in laparoscopic pediatric surgery in inexperienced hand is the insertion and removal of trocars.
Capnography, Pulse oximetry, NIBP and ECG. Adjust ventilation to end-tidal CO2, and increase ventilation up to 60% via respiratory rate. A positive end-expiratory pressure of 3–5 cm H2O is recommended to prevent microatelectasis and intrapulmonal shunting. When volatile anesthetics like halothane are used, arrhythmia in hypercapnia should be considered. Isoflurane or Sevoflurane are less likely to lead to myocardial depression.
The way of Insertion of Veress needle & trocar is same as in adult
Insufflation rates
–< 1 year: 0.3 liter / minute·
–> 1 year: 0.5 liter / minute·
–> 5 years: 1.0 liter / minute·
Preset pressure same as adult 12 mm Hg
Findings look slightly different to laparoscopic pictures of adult patients. There is less fat and all structures are more readily visible. Enlarged mesenteric lymph nodes are frequently seen in children, even in children without related symptoms.
World Laparoscopy Hospital, Cyber City, DLF Phase II, Gurugram, NCR Delhi, 122 002, India
PHONES:
For Training: +919811416838
For Treatment: +919811912768
For General Enquiry: +91(0)124 - 2351555
Email: contact@laparoscopyhospital.com