Largest Fibroid of the World Removed by Laparoscopy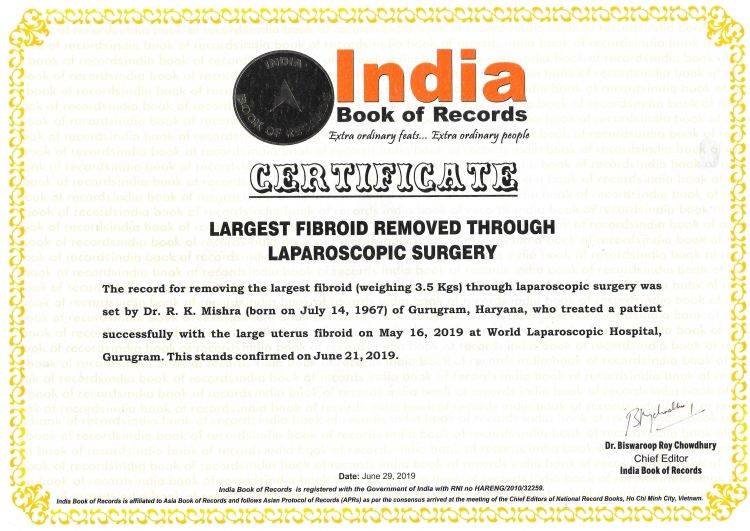 The 'Indian Book of Records' has credited Dr. R. K. Mishra with the Removal of Largest Fibroid Removal through Laparoscopic Surgery. This surgery was performed on 16th of July, 2019 in World Laparoscopy Hospital, Gurgaon.

During this surgery, Dr. Mishra removed 3.5 Kg Fibroid, Ovarian Cyst, Gallbladder and Appendix by Laparoscopy in the Same Patient. This is a World Record indeed and has been recognized by the 'Indian Book of Records' rightly so.

The patient has torsion of Myoma giving severe pain, She had multiple episodes of appendicitis in the past. She had Cholelithiasis and one para ovarian cyst. All were removed by laparoscopy. The surgery took 6-hour time. Only 4 ports were used to remove all these pathologies. She was also having hydronephrosis due to the pressure of fibroid on the ureter. Myomectomy is still the most preferred treatment for symptomatic fibroids in women who wish to retain their fertility. Laparoscopic myomectomy is a reliable technique that should only be proposed, however, when the fibroid size is less than 8 cm and when there are not more than two fibroids to be removed because large fibroid should only be removed by expert surgeons.

The record was confirmed on the 21st of June 2019 after some confirmation and would be included in the 'India Book of Records' 2019 edition. India Book of Records is registered with the Government of India with RNI no HARENG/2010/32259. India Book of Records is affiliated to the Asia Book of Records and follows the International Protocol of Records (IPRs) as per the consensus arrived at in the meeting of the Chief Editors of National Record Books, Ho Chi Minh City, Vietnam. Whether it is about reaching out to the talents on the trodden paths of rural India or giving the Indian record-holders a World Stage, India Book of Records promises to chronicle the extraordinary talents across the various realms of life.

In this patient, multiple laparoscopic surgeries were performed. As long as the basic surgical principles and indications for combined procedures are adhered to, more patients with concomitant pathologies can enjoy the benefit of minimal access surgery. Minimal access surgery is feasible and appears to have several advantages in simultaneous management of two different coexisting pathologies without significant addition in postoperative morbidity and hospital stay.
Top