Da Vinci Robotic Scarless Gallbladder Surgery
Tuesday - December 25, 2012 8:20 am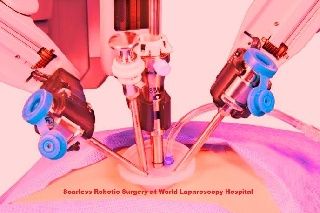 Dr R K Mishra, is the first surgeon in India to do gallbladder surgery using one incision and the da Vinci Surgical System. For the reason that single incision of approximately one inch is made inside the patient's navel, she or he is left without having a noticeable scar. Additional patient benefits are less pain, less hemorrhaging as well as a faster recovery compared in spite of non-surgical gallbladder removal that requires multiple incisions. This really is nice thing about it for your tens of thousands of Indian who are required their gallbladders removed each and every year, almost all of whom are candidates just for this single-site, robotic approach. Neither robotic surgery or single-incision laparoscopic surgery is new, but combining the 2 to eliminate the gallbladder by robotic cholecystectomy requires special training and equipment, says Dr. R.K. Mishra. To be among the first hospitals to supply this technically advanced surgery demonstrates World Laparoscopy Hospital's leadership in providing patients with up-to-date non-invasive advanced robotic surgical options.
More than any other hospital in India, World Laparoscopy Hospital has created technologic investments rolling around in its da Vinci Surgical System; along with having da Vinci Single-Site instruments which allow Dr Mishra to execute gallbladder removal, a medical facility has advanced minimal access surgical units. World Laparoscopy Hospital is a component unit of Delhi Laparoscopy Hospital Pvt. Ltd., one of the largest, most comprehensive providers of health minimal access surgical services in Gurgaon, India. Single Site Robotic Surgery procedure requires one incision made from the navel. Moreover, conventional robotic surgery results in 3 to 4 visible, small scars from the abdomen after a procedure. The Single Site Robotic Surgery way of gallbladder surgical treatment is not for everyone, Dr. Mishra cautioned. Patients who need emergency surgical treatment or who may have had previous abdominal operations that accumulated scarring are probably not good candidates.
Those two populations aside, we attempt to provide this technique to if you're being released for elective laparoscopic or da Vinci robotic gallbladder surgery, he stated. To date, results with Single Site Robotic Surgery happen to be almost comparable to those with Single Incision laparoscopic surgery, Dr. Chowhan, Assistent Surgeon of Dr. Mishra reported. Both operations typically allow for same-day discharge and require similar recovery times before patients resume their normal activities, along with the costs for resemble. The surgeon will use lots of expensive, new disposable instruments, but we have been very likely to work with the the least specialized equipment. Depending on which available equipment the surgeon chooses to make use of, you can preserve the expense relatively low, rather than significantly greater traditional laparoscopic or da Vinci Robotic operation. Future innovations related to the task may involve incorporating surgical robots in every single surgery, Dr. Mishra said. For gallbladder removal, hardly any surgeons would employ the surgical robot because it's hardly necessary, he stated. Gallbladder surgical treatment is a somewhat straightforward procedure that can be done well and incredibly safely by traditional laparoscopic surgery. Additionally, today's robots are far too large and expensive for common abdominal operations, he said. When the surgical robot gets further miniaturized, I noticed this really revolutionizing single-incision surgery, he added.