Surgical Robot - Is it Essential for Hospital's performing Minimal Access Surgery?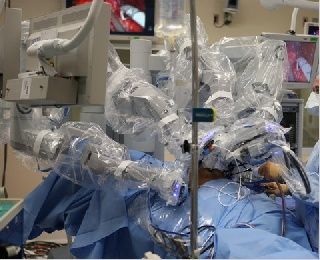 In the last four years the use of robotic surgery to perform minimally invasive surgical, gynecological, heart and prostate surgeries and other types of common procedures has grown 400 percent. Proponents say robot-assisted operations use smaller incisions, are more precise and result in less pain and shorter hospital stays. More and more hospitals all over world are buying the expensive new da Vinci Robot and use aggressive advertising to lure patients who want to be treated with what they think is the latest and greatest in medical technology. Last year, 73,000 American men — 86 percent of the 85,000 who had prostate cancer surgery — had robot-assisted operations. It is now known that robot-assisted prostate surgery gives better long-term cancer control than the traditional methods. Meanwhile, marketing has moved into the breach, with hospitals and surgeons advertising their services with claims that make critics raise their eyebrows. One reason for the increase in operations in hospitals that own a surgical robot may be that the technology helps a hospital lure potential surgical patients away from the competition. But the data also suggest that once a hospital obtains a robot, patients who might be candidates for nonsurgical options are more likely to be steered toward robotic surgery instead.

Researchers note that over all, the number of operations increased slightly during the study period, possibly reflecting a plateau in cancer cases or a shift to other treatments. But when the data were examined at the hospital and regional levels, the researchers found that the purchase of a robot was associated with a pronounced change in treatment trends. The findings are concerning because surgical removal of the prostate, called radical prostatectomy, can reduce a number of complications, including incontinence and impotence. Some research suggests the robotic procedure reduces hospital stays and blood loss, compared with regular surgery, The advantages of these systems are many because they overcome many of the obstacles of laparoscopic surgery. They increase dexterity, restore proper hand-eye coordination and an ergonomic position, and improve visualization. In addition, these systems make surgeries that were technically difficult or unfeasible previously, now possible. Another important advantage is the restoration of proper hand-eye coordination and an ergonomic position.

These robotic systems eliminate the fulcrum effect, making instrument manipulation more intuitive. With the surgeon sitting at a remote, ergonomically designed workstation, current systems also eliminate the need to twist and turn in awkward positions to move the instruments and visualize the monitor. By most accounts, the enhanced vision afforded by these systems is remarkable. The 3-dimensional view with depth perception is a marked improvement over the conventional laparoscopic camera views. Also to one of the advantage is the surgeons ability to directly control a stable visual field with increased magnification and maneuverability. All of this creates images with increased resolution that, combined with the increased degrees of freedom and enhanced dexterity, greatly enhances the surgeon's ability to identify and dissect anatomic structures as well as to construct microanastomoses.
Top