TEP Novel Simulation Training improve surgeons skill dramatically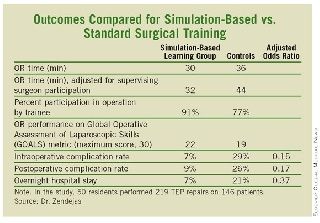 Working out program has two elements: a cognitive component featuring Web-based PowerPoint presentations and videos together with assigned readings, and psychomotor training on a totally extraperitoneal inguinal herniorrhaphy (TEP) simulator, Dr. Benjamin Zendejas said in the annual meeting from the American Surgical Association. A key feature is that the skills training - with one instructor per resident - is conducted until mastery is attained, however long that can take. Only then does the resident start performing TEPs within the operating room under supervision, explained Dr. Zendejas of the Mayo Clinic, Rochester, Minn. He presented a study by which 50 general surgery residents performed set up a baseline TEP within the operating room, and then were randomized to the simulation-based training course or standard training.

The simulator was the Limbs & Things Ltd.'s TEP Guildford MATTU Hernia Trainer. Mastery was defined by the average 2 minutes required for five experienced instructors to carry out a TEP about the simulator. An average of roughly eight attempts was required for fifth-year residents to attain mastery about the simulator, compared with 26 for first-year residents. Within the operating room, the 50 residents performed 219 TEP repairs on 146 patients. Each repair was evaluated immediately afterward by two independent raters. The simulation-based training group outperformed residents have been trained in the standard fashion in most outcome measures, such as the key end point of operative time adjusted for the impact of supervising surgeon takeover for poorly performing trainees.

Intraoperative complications, for example peritoneal tears and procedure conversions, took place 7% of procedures performed by simulation-trained residents, as well as in 29% of controls. Urinary retention, seroma, along with other postoperative complications resulted from 9% of the simulation-trained residents' operations, in contrast to 26% of these performed by residents been trained in TEP in standard fashion. In most, 7% of procedures carried out by simulation-trained residents led to an overnight hospital stay, compared with 21% for controls.
Top