Mishra Vaginal Vault Retractor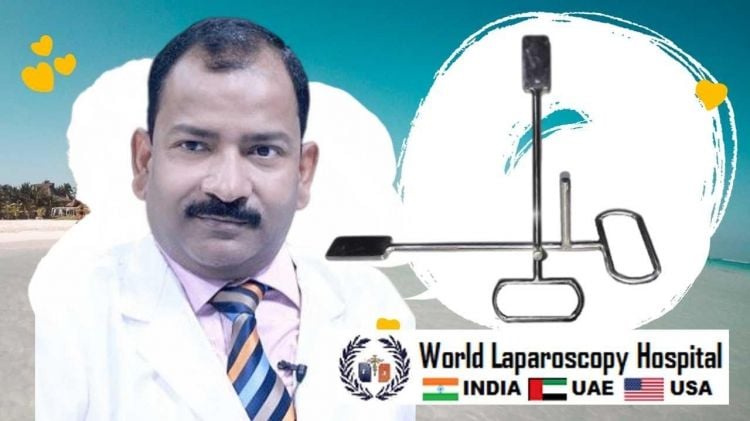 Vault prolapse takes place when the upper portion of the vaginal canal sheds its normal shape and droops or falls into the genital canal or outside of the vaginal area. It might occur alone or together with prolapse of the bladder (cystocele), urethra (urethrocele), rectum (rectocele), or small digestive tract (enterocele). Genital vault prolapse is typically brought on by weak points of the pelvic and also genital cells as well as muscles. During laparoscopic repair of the vault, a good quality retractor is essential. Mishra's vault retractor is a very useful instrument, which will make laparoscopic sacrocolpopexy surgery easy. Both the layers of the vaginal wall will remain inside the abdomen, separate and it will be easy for the surgeon to take bites with a needle and fix the mesh in the proper position.




Signs of vaginal prolapse include:
Pelvic heaviness.
Backache.
A mass protruding right into the genital canal or out of the vaginal area might make standing and walk difficult.
Spontaneous release of urine (urinary incontinence).
Genital blood loss.
Throughout laparoscopic vault repair surgery, the top of the vaginal area is attached to the sacral promontory using mesh

General anesthesia is typically made use of for genital safe prolapse repair services. You may stay in the hospital for 1 to 2 days. You will possibly have the ability to return to your regular tasks in around 6 weeks. Avoid laborious activity for the very first 6 weeks. As well as increase your activity degree slowly. A lot of ladies have the ability to return to intercourse in concerning 6 weeks. Fixing of vaginal safe prolapse is done to take care of symptoms such as sagging or sagging of the top of the vaginal canal into the vaginal canal, urinary system incontinence, and unpleasant sexual intercourse.

Vaginal vault prolapse commonly accompanies various other pelvic body organ prolapses. So inform your doctor regarding various other signs you might be having. If your medical professional finds prolapse of various other pelvic organs during your pelvic examination, that issue may also be repaired during a laparoscopic vault repair surgical procedure.

Your doctor may do an assessment while you have a pessary in your vagina. This examination will aid him or she sees if urinary incontinence would certainly be a problem after surgical treatment. If the exam reveals that urinary incontinence will be an issue, another surgical procedure can be done at the same time to repair the issue.





There are several surgical ways to repair vaginal safe repair of prolapse. The sort of surgical treatment you have will certainly rely on the physician performing it, where you have it done, and your unique health situation. Specialists differ about which surgical treatment gives individuals the best results.footnote1

Risks of surgery

Difficulties of surgery for vaginal vault prolapse are unusual however include:
Blood loss.
Light buttock discomfort for 1 to 2 months complying with surgery.
Urinary system incontinence.
Urinary system retention.
Infection.
Development of an uncommon opening or connection between body organs or body components (fistula).
Surgical repair work may alleviate some, yet not all, of the issues, brought on by a genital safe prolapse. Using Mishra's vaginal vault retractor will make this surgery easy for gynecologists. If pelvic discomfort, low back pain, or discomfort with intercourse exists prior to surgical procedure, the discomfort may linger after surgery. Symptoms of urinary system retention might return or become worse complying with surgical treatment.

You can manage a number of the activities that might have contributed to your genital safe prolapse or made it even worse. After surgical treatment:
Stay clear of smoking cigarettes.
Remain at a healthy and balanced weight for your elevation.
Stay clear of irregular bowel movements.
Prevent activities that put a strain on the lower pelvic muscle mass, such as hefty lifting or long periods of standing.
Top