Routine Cholangiography is not justified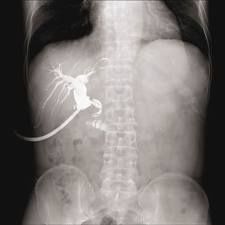 A randomized clinical trial was undertaken to evaluate the utility of routine on-table cholangiography (OTC) during laparoscopic cholecystectomy for gallstone disease. Methods: Some 190 patients with a good reputation for biliary colic or cholecystitis and a low predictive risk for choledocholithiasis were randomized to undergo elective laparoscopic cholecystectomy alone (99 patients) or elective laparoscopic cholecystectomy with OTC. Intraoperative findings and postoperative outcomes for the two groups were compared. The main outcome measure was the incidence of common bile duct stones.

Results: Of the patients undergoing OTC, ten had abnormal cholangiograms; three had CBD stones and seven had abnormalities without stones. OTC was associated with a significantly longer mean(s.e.m.) operating time 66 versus 54, but there was no association between performance of OTC and postoperative morbidity. During a 1-year follow-up, no patient in the OTC group re-presented to hospital with recurrent biliary symptoms. In contrast, four of the sufferers assigned to surgery alone re-presented with symptoms suggestive of CBD obstruction; all settled with conservative treatment and the difference in readmission rate was not significant (P = 0·122). Routine cholangiography in patients having a safe for CBD stones doesn't seem justified from the outcomes of this trial. Registration number: NCT00806780 (http://www.clinicaltrials.gov). Copyright © 2010 British Journal of Surgery Society Ltd. Published by John Wiley & Sons, Ltd.There were numerous limitations in this study. The strict inclusion criteria excluded more patients than anticipated and around one-third of eligible patients chose to not play in the study, so that recruitment took longer than planned. In addition, the predicted incidence of occult CBD stones was overestimated, with the result that the study was underpowered. These problems have unfortunately been shown to become common to many randomized trials in surgery15.

Finally, the follow-up interval was only 12 months which is possible that on the longer period further patients in the surgery-alone group (or indeed the OTC group) might re-present with symptoms of recurrent right upper quadrant pain. Within this trial, OTC was successful and safe, yielded information which was clinically useful and altered operative management. However, the operating time was significantly longer and there was no factor in the readmission rate at 1 year. The present results don't support the routine utilization of OTC in patients with a low predictive chance of CBD stones. A selective approach based on preoperative risk factors and intraoperative findings is recommended.
Top