SILS and Conventional Laparoscopic Cholecystectomy Compared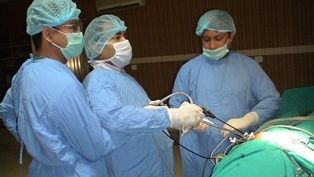 The trade-off for improved cosmesis, however, is increased postoperative pain, Dr. Melissa Phillips reported at the annual meeting from the Society of American Gastrointestinal and Endoscopic Surgeons. In a prospective, randomized, controlled, single-blinded trial comparing single-incision laparoscopic cholecystectomy (SILC) using the four-port laparoscopic procedure (4PLC), Dr. Phillips from the University of Virginia Health Services in Charlottesville and her colleagues at University Hospitals Case Medical Center, Cleveland, compared operative time, estimated hemorrhaging, length of hospital stay, adverse events, and conversion to 4PLC or laparotomy. Included as well in the analysis were rates of pain, patient satisfaction, and cosmetic scoring over 12 months of follow-up for 111 patients randomized to SILC and 85 patients randomized to 4PLC, all of whom were blinded for the first postoperative week.

Patients who were aged 18-85 years, were identified as having biliary colic, and had documented gallstones or polyps, or biliary dyskinesia with a documented ejection fraction which was under 30%, were included in the study when they had a body mass index under 45 kg/m2, said Dr. Phillips. Exclusion criteria included pregnancy; calculus or acalculous cholecystitis; presence of the upper midline or right subcostal incision; preoperative indication for a cholangiogram; ASA (American Society of Anesthesiologists) score greater than 3; ongoing peritoneal dialysis; presence of umbilical hernia; or prior umbilical hernia or repair, she said.
Top