Cansent For Tubal ligation
Discussion in 'All Categories' started by Dr Aruna Goswami - May 27th, 2014 3:53 pm.

Dr Aruna Goswami

Dear Dr Mishra

Can you Provide me the proper consent Form which we should take to perform tubal sterilization by laparoscopy.

With regard
Dr Aruna Goswami
Hauz Khas New Delhi - 110 016

re: Cansent For Tubal ligation by Dr R K Mishra - May 27th, 2014 4:02 pm

#1

Dr R K Mishra

Dear Dr Goswami

This page provides advice for clinicians in obtaining consent of women undergoing laparoscopic tubal occlusion.
Its aim is to ensure that all patients are given consistent and adequate information for consent; it is intended to be used together with dedicated patient information. Clinicians should be prepared to discuss any of the Following fully with the patient.

LAPAROSCOPIC TUBAL OCCLUSION

1. Name of proposed procedure or course of treatment

Laparoscopic tubal occlusion (sterilization for women).

2. The proposed procedure

The fallopian tubes will be blocked or cut. Explain the procedure as described in the patient information.

3. Intended benefits

This procedure intends to permanently prevent pregnancy.

4. Serious or frequently occurring risks

It is recommended that clinicians make every effort to separate serious from frequently occurring risks.
Women who are obese, have had previous surgery or who have pre-existing medical conditions must understand that the quoted risks for serious or frequent complications will be increased.

4.1 Serious risks include

● Failure, resulting in unplanned pregnancy: the lifetime failure rate is 1 in 200.1
● The possibility of a future pregnancy occurring in the fallopian tube if failure occurs.
● Failure to gain entry to the abdomen.
● Uterine perforation.
● Injuries to the bowel, bladder or blood vessels are serious but infrequent risks: 3 in every 1000 procedures.
● One woman in every 12 000 undergoing laparoscopy dies as a result of complications1 (more recent evidence suggests that the mortality rate may be lower).

4.2 Frequent risks include

● Bruising
● Shoulder-tip pain.

5. Any extra procedures which may become necessary during the procedure

● Laparotomy.
● Repair of damage to bowel, bladder or blood vessels.

6. What the procedure is likely to involve, the benefits and risks of any available alternative treatments, including no treatment. A small telescope is put into the abdomen through two small cuts (one in the navel and one lower down on the abdominal wall) and clips are placed over the fallopian tubes to block them (or describe other method of tubal occlusion). Other therapies such as vasectomy of partner and reversible longterm contraception such as the intrauterine system, the intrauterine device or an implant must be discussed, together with the option of no treatment.

7. Information leaflet/tape

A record should be made of the information leaflet/tape given to the woman prior to surgery.

8. Anesthesia

The woman must be aware of the form of anaesthesia planned and be given an opportunity to discuss this in detail with the anaesthetist before surgery.

9. Statement of patient:

procedures which should not be carried out without further discussion Other procedures which may be appropriate but not essential at the time should be discussed and the woman wishes recorded.

With regard

Dr R K Mishra


re: Cansent For Tubal ligation by Ankita Thakur - May 28th, 2014 12:17 pm

#2

Ankita Thakur

Patient should also worn that sexual intercourse should be avoided for couple of week and pregnancy test should also be done before doing tubal sterilization.

re: Cansent For Tubal ligation by Aditya Rajeshwar - May 29th, 2014 3:05 am

#3

Aditya Rajeshwar

As a doctor it is important that you should explain all the possibilities of reversal of sterilization. If the patient is of young age than it is wise to use a technique of sterilization that can be reversed.

re: Cansent For Tubal ligation by Subramanyam Swami - Jun 5th, 2014 7:51 am

#4

Subramanyam Swami

Very Nice and Useful consent form.
Empowering Through Knowledge: World Laparoscopy Hospital's Free Online Medicolegal Advice for Patients and Doctors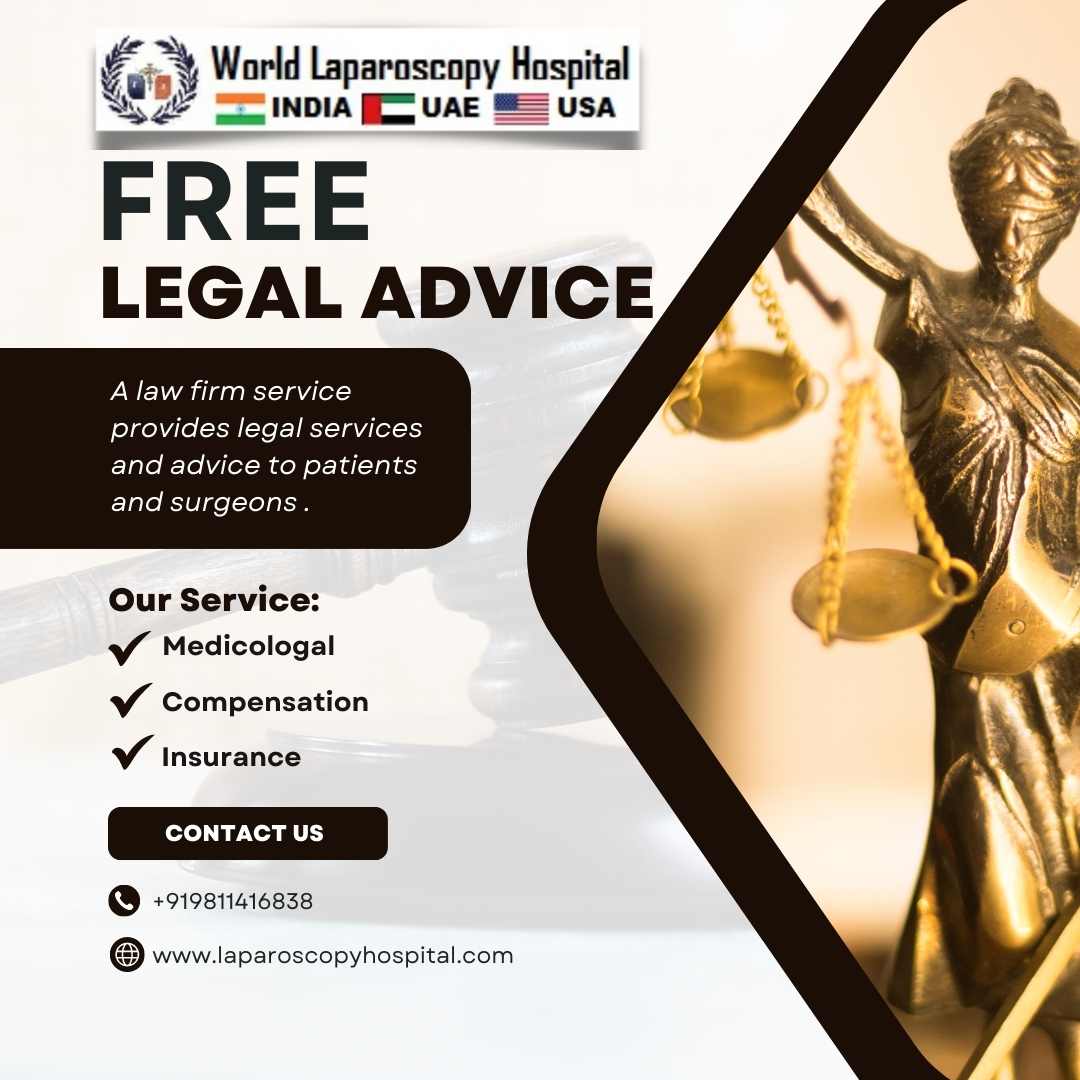 In the ever-evolving landscape of healthcare, the intersection of medicine and law plays a pivotal role. Recognizing this crucial juncture, World Laparoscopy Hospital is taking a pioneering step by offering free online medicolegal advice, a service that caters not only to patients but also to fellow healthcare professionals.
The Nexus of Medicine and Law
Medicolegal matters in healthcare are complex and often require a nuanced understanding of both medical practices and legal intricacies. These issues can range from malpractice claims to ethical dilemmas. World Laparoscopy Hospital's initiative to provide free online medicolegal advice acknowledges the importance of navigating these complexities effectively.
A Global Need for Expertise
Medical and legal concerns are universal, transcending geographical boundaries. Patients may find themselves in situations where they require legal guidance related to their healthcare, while doctors may seek clarification on medicolegal matters pertaining to their practice. World Laparoscopy Hospital stands ready to address these needs by offering free online medicolegal advice to a global audience.
Key Aspects of World Laparoscopy Hospital's Free Online Medicolegal Advice Service:
1. Accessible Expertise: The hospital boasts a team of experienced physicians, surgeons, and legal experts who specialize in medicolegal matters. This multidisciplinary approach ensures that individuals receive guidance from professionals well-versed in both medicine and law.
2. Global Reach: The online platform transcends geographical constraints, allowing patients and doctors from all corners of the world to access this service. This inclusivity is especially beneficial for those who may not have local access to medicolegal experts.
3. Convenience: The online medicolegal advice service is available around the clock, offering the convenience of seeking guidance at any time. This is particularly valuable for addressing urgent or time-sensitive issues.
4. Privacy and Security: World Laparoscopy Hospital places a premium on patient confidentiality and data security, ensuring that sensitive medicolegal information is treated with the utmost care.
5. Comprehensive Support: The hospital's experts provide holistic advice, addressing immediate concerns while also offering insights into navigating the complex medicolegal landscape effectively.
6. Professional Collaboration: In addition to aiding patients, the platform serves as a space where doctors can consult with their peers and medicolegal experts. This encourages collaboration and knowledge sharing among healthcare professionals.
Empowering Patients and Professionals Alike
The provision of free online medicolegal advice aligns seamlessly with World Laparoscopy Hospital's mission to empower patients and doctors. It enables patients to better understand their rights and options in medicolegal matters while offering doctors valuable guidance in navigating the legal aspects of healthcare.
Fostering Improved Healthcare Practices
In a world where medicolegal issues can be both intricate and intimidating, World Laparoscopy Hospital's commitment to offering free online medicolegal advice is a ray of hope. It empowers individuals and healthcare professionals to navigate these complex waters more confidently and effectively. World Laparoscopy Hospital's dedication to providing free online medicolegal advice is a testament to its commitment to improving healthcare practices globally. By making expertise more accessible, more inclusive, and more patient-centric, this institution is not only providing valuable guidance but also contributing to a healthcare landscape where informed decisions and ethical practices prevail. In a world that increasingly values knowledge, this initiative is a beacon of empowerment and enlightenment.

Ask Free Legal Questions On Consumer Protection Related to Laparoscopic Surgery. As the Premier Institute of Minimal Access Surgery World Laparoscopy Hospital provide Free medico legal advice to Patient and Surgeon. Institute of Medicine & Law department of World Laparoscopy Hospital provides education, information, and services in medical laws. WLH Medico Legal information and analysis is real-time, accurate, actionable and is delivered to doctors, hospitals, and lawyers on multiple platforms using the latest in technology.
Knowledge Bank of World Laparoscopy Hospital on Medical Laws is comprehensive and continuously updated with the latest developments in medical laws. Today, in World, World Laparoscopy Hospital possesses the best resources in terms of professionals, information, and knowledge on medical laws related to Minimal Access Surgery and these are optimally utilized in providing Medico legal Legal solutions.<
World Laparoscopy Hospital organizes the National and International Convention on Medico legal issues related to Minimal Access Surgery every year, a platform to identify the legal issues relating to laparoscopic and robotic surgery, discuss them threadbare, and suggest remedial measures. Doctors, medical associations, hospitals, lawyers, judges, regulators, and policy makers are part of this initiative.