Vault Prolapse after Laparoscopic Hysterectomy
Discussion in 'All Categories' started by Vishwanath Tripathi - May 27th, 2014 5:39 am.

Vishwanath Tripathi

Dear Sir,

My wife underwent Total laparoscopic hysterectomy in M.P. and after 8 month of surgery she develop vault prolapse. I consulted the gynecologist about this complication but she said that it is a known complication and according to my doctor, total laparoscopic hysterectomy may be associated with an increased risk of vaginal vault prolapse. Because my surgery consent form has no where written that laparoscopy increasingly is used to replace abdominal hysterectomy, it is important to be aware of this complication of vault prolapse, so, I want that he should pay for compensation.

When I asked other gynecologist who is expert in prolapse surgery he said it will cost 1 lack 20 thousand rupees.

I am not in the position to pay that mush money to get repair the prolapse which occurred due to negligence of a gynecologist. Please let me know what should I do.

With regard

Vishwanath.

re: Vault Prolapse after Laparoscopic Hysterectomy by Martin - May 27th, 2014 12:09 pm

#1

Martin

Again here it is important to consider that the incidence of prolapse, which required surgical correction following hysterectomy, is 3.6 per 1000. The cumulative risk increases with time, rises from 1% three years after a hysterectomy to 5% 15 years after hysterectomy. It is found in many literature that the risk of prolapse following hysterectomy is 5.5 times in women whose initial hysterectomy was for genital prolapse as opposed to other reasons. Some studies have reported an incidence of up to 43%. So there is no question that gynecologist should be punished for this complication.

re: Vault Prolapse after Laparoscopic Hysterectomy by Stiven - May 27th, 2014 12:19 pm

#2

Stiven

But he is asking about consent. He is saying in consent why this complication was not mentioned???

re: Vault Prolapse after Laparoscopic Hysterectomy by Dr J S Chowhan - May 27th, 2014 1:46 pm

#3

Dr J S Chowhan

If in consent form all the usual complication are not explained then there is a possibility of compensation.

re: Vault Prolapse after Laparoscopic Hysterectomy by Martin - May 27th, 2014 2:11 pm

#4

Martin


Recently a senior gynaecologist is being sued for writing his patient name on to her removed uterus. The patient claims it as bizarre act. Utilizing a laser burning tool, was just a friendly gesture because the female patient was a good friend. However, Ingrid Paulicivic, a 47-year-old hairdresser from California, was not so impressed. She alleges the branding was done for no medically necessary purpose or reason which she somehow suffered burns on her legs as the uterus had been marked, based on her complaint.

So nowadays every act should be with patients permission.
Empowering Through Knowledge: World Laparoscopy Hospital's Free Online Medicolegal Advice for Patients and Doctors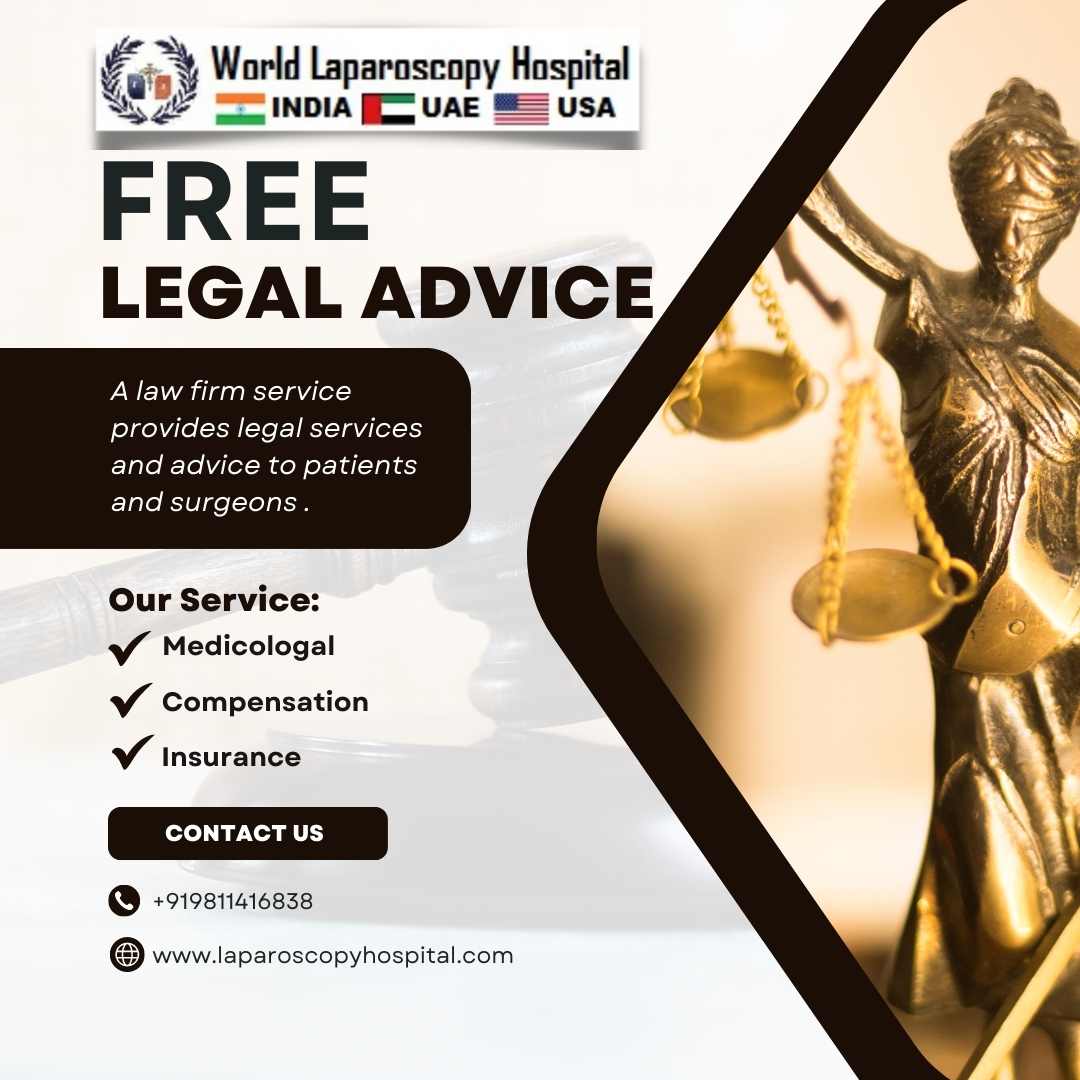 In the ever-evolving landscape of healthcare, the intersection of medicine and law plays a pivotal role. Recognizing this crucial juncture, World Laparoscopy Hospital is taking a pioneering step by offering free online medicolegal advice, a service that caters not only to patients but also to fellow healthcare professionals.
The Nexus of Medicine and Law
Medicolegal matters in healthcare are complex and often require a nuanced understanding of both medical practices and legal intricacies. These issues can range from malpractice claims to ethical dilemmas. World Laparoscopy Hospital's initiative to provide free online medicolegal advice acknowledges the importance of navigating these complexities effectively.
A Global Need for Expertise
Medical and legal concerns are universal, transcending geographical boundaries. Patients may find themselves in situations where they require legal guidance related to their healthcare, while doctors may seek clarification on medicolegal matters pertaining to their practice. World Laparoscopy Hospital stands ready to address these needs by offering free online medicolegal advice to a global audience.
Key Aspects of World Laparoscopy Hospital's Free Online Medicolegal Advice Service:
1. Accessible Expertise: The hospital boasts a team of experienced physicians, surgeons, and legal experts who specialize in medicolegal matters. This multidisciplinary approach ensures that individuals receive guidance from professionals well-versed in both medicine and law.
2. Global Reach: The online platform transcends geographical constraints, allowing patients and doctors from all corners of the world to access this service. This inclusivity is especially beneficial for those who may not have local access to medicolegal experts.
3. Convenience: The online medicolegal advice service is available around the clock, offering the convenience of seeking guidance at any time. This is particularly valuable for addressing urgent or time-sensitive issues.
4. Privacy and Security: World Laparoscopy Hospital places a premium on patient confidentiality and data security, ensuring that sensitive medicolegal information is treated with the utmost care.
5. Comprehensive Support: The hospital's experts provide holistic advice, addressing immediate concerns while also offering insights into navigating the complex medicolegal landscape effectively.
6. Professional Collaboration: In addition to aiding patients, the platform serves as a space where doctors can consult with their peers and medicolegal experts. This encourages collaboration and knowledge sharing among healthcare professionals.
Empowering Patients and Professionals Alike
The provision of free online medicolegal advice aligns seamlessly with World Laparoscopy Hospital's mission to empower patients and doctors. It enables patients to better understand their rights and options in medicolegal matters while offering doctors valuable guidance in navigating the legal aspects of healthcare.
Fostering Improved Healthcare Practices
In a world where medicolegal issues can be both intricate and intimidating, World Laparoscopy Hospital's commitment to offering free online medicolegal advice is a ray of hope. It empowers individuals and healthcare professionals to navigate these complex waters more confidently and effectively. World Laparoscopy Hospital's dedication to providing free online medicolegal advice is a testament to its commitment to improving healthcare practices globally. By making expertise more accessible, more inclusive, and more patient-centric, this institution is not only providing valuable guidance but also contributing to a healthcare landscape where informed decisions and ethical practices prevail. In a world that increasingly values knowledge, this initiative is a beacon of empowerment and enlightenment.

Ask Free Legal Questions On Consumer Protection Related to Laparoscopic Surgery. As the Premier Institute of Minimal Access Surgery World Laparoscopy Hospital provide Free medico legal advice to Patient and Surgeon. Institute of Medicine & Law department of World Laparoscopy Hospital provides education, information, and services in medical laws. WLH Medico Legal information and analysis is real-time, accurate, actionable and is delivered to doctors, hospitals, and lawyers on multiple platforms using the latest in technology.
Knowledge Bank of World Laparoscopy Hospital on Medical Laws is comprehensive and continuously updated with the latest developments in medical laws. Today, in World, World Laparoscopy Hospital possesses the best resources in terms of professionals, information, and knowledge on medical laws related to Minimal Access Surgery and these are optimally utilized in providing Medico legal Legal solutions.<
World Laparoscopy Hospital organizes the National and International Convention on Medico legal issues related to Minimal Access Surgery every year, a platform to identify the legal issues relating to laparoscopic and robotic surgery, discuss them threadbare, and suggest remedial measures. Doctors, medical associations, hospitals, lawyers, judges, regulators, and policy makers are part of this initiative.