Violance in Clinic
Discussion in 'All Categories' started by Dr Priyadarshani - Jun 15th, 2014 2:02 pm.

Dr Priyadarshani

Dear Sir,

One week ago a patient of traffic accident came to my clinic in very serious condition, virtually dead and he was just gasping. I was helpless as my clinic was not having sufficient resource to treat these type of serious patient. I told the relative of the patient to take him to any big setup. But the relative of that patient insisted me to treat the patient and within 10 minute patient died.

Now the attend of that patient started breaking the furniture and other medical equipment of the clinic. I called the police but police did not do anything and even blaming me that I must not have given a proper treatment. Ultimately they went and threaten me that if I will again go to police then they will come again, I just want to know that is there any law to protect the doctors in these type of adverse situation.

re: Violance in Clinic by ADITYA RAJESHWAR - Jun 20th, 2014 8:46 am

#1

ADITYA RAJESHWAR

Dear Dr.Priyadarshani,

Its very sad to know about the violent mischief created by the relatives of the patients in your clinic,and the hostile attitude of police is even more painful.

According to law,a private practitioner, unlike a government doctor, is at his will either to start the treatment of a patient or not ,subject to bonafied intention.

Unfortunately Indian Law do not protect doctors effectively. But many states have legislated in this regard to protect the doctor from such unethical violence, the doctors and their institutions have been provided protection under Prevention Of Violence And Damage To Property Act-2008. Under the act, The offender shall be punished with Imprisonment for the period of three years and with fine which may extends to rupees fifty thousands(Rs.50,000). Such offence is cognizable and non-bailable. In Addition to it the offender shall be liable to pay for damage caused to the property and double the amount of the damaged medical equipment as determined by the court.

But this law to protect the doctors is currently operative in Delhi,Haryana,Rajasthan,Orissa, Maharashtra,Tamil Nadu, Karnataka and chattisgarh only. And under the process in Bihar and Kerala.

With Regards

ADITYA RAJESHWAR


re: Violance in Clinic by Dr R K Mishra - Jun 21st, 2014 9:53 pm

#2

Dr R K Mishra

It is very unfortunate. Now a days the patients are becoming hostile to doctors. Doctors expect respect from the patent. We would like that our patients should know the consequences of hostility towards caregivers. It may be in mistrust, hyper regulation or to lower the bill which they downt want to pay..
Empowering Through Knowledge: World Laparoscopy Hospital's Free Online Medicolegal Advice for Patients and Doctors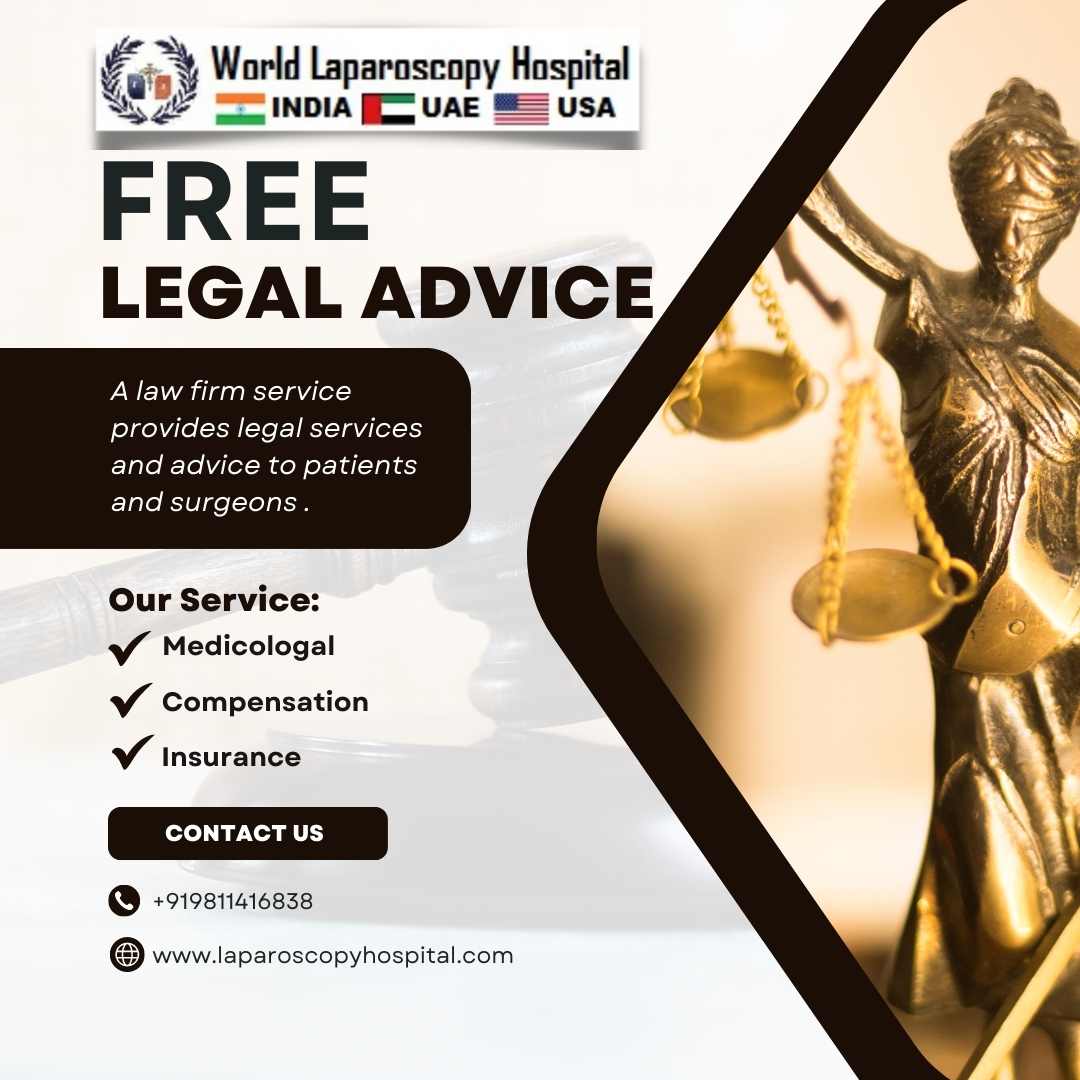 In the ever-evolving landscape of healthcare, the intersection of medicine and law plays a pivotal role. Recognizing this crucial juncture, World Laparoscopy Hospital is taking a pioneering step by offering free online medicolegal advice, a service that caters not only to patients but also to fellow healthcare professionals.
The Nexus of Medicine and Law
Medicolegal matters in healthcare are complex and often require a nuanced understanding of both medical practices and legal intricacies. These issues can range from malpractice claims to ethical dilemmas. World Laparoscopy Hospital's initiative to provide free online medicolegal advice acknowledges the importance of navigating these complexities effectively.
A Global Need for Expertise
Medical and legal concerns are universal, transcending geographical boundaries. Patients may find themselves in situations where they require legal guidance related to their healthcare, while doctors may seek clarification on medicolegal matters pertaining to their practice. World Laparoscopy Hospital stands ready to address these needs by offering free online medicolegal advice to a global audience.
Key Aspects of World Laparoscopy Hospital's Free Online Medicolegal Advice Service:
1. Accessible Expertise: The hospital boasts a team of experienced physicians, surgeons, and legal experts who specialize in medicolegal matters. This multidisciplinary approach ensures that individuals receive guidance from professionals well-versed in both medicine and law.
2. Global Reach: The online platform transcends geographical constraints, allowing patients and doctors from all corners of the world to access this service. This inclusivity is especially beneficial for those who may not have local access to medicolegal experts.
3. Convenience: The online medicolegal advice service is available around the clock, offering the convenience of seeking guidance at any time. This is particularly valuable for addressing urgent or time-sensitive issues.
4. Privacy and Security: World Laparoscopy Hospital places a premium on patient confidentiality and data security, ensuring that sensitive medicolegal information is treated with the utmost care.
5. Comprehensive Support: The hospital's experts provide holistic advice, addressing immediate concerns while also offering insights into navigating the complex medicolegal landscape effectively.
6. Professional Collaboration: In addition to aiding patients, the platform serves as a space where doctors can consult with their peers and medicolegal experts. This encourages collaboration and knowledge sharing among healthcare professionals.
Empowering Patients and Professionals Alike
The provision of free online medicolegal advice aligns seamlessly with World Laparoscopy Hospital's mission to empower patients and doctors. It enables patients to better understand their rights and options in medicolegal matters while offering doctors valuable guidance in navigating the legal aspects of healthcare.
Fostering Improved Healthcare Practices
In a world where medicolegal issues can be both intricate and intimidating, World Laparoscopy Hospital's commitment to offering free online medicolegal advice is a ray of hope. It empowers individuals and healthcare professionals to navigate these complex waters more confidently and effectively. World Laparoscopy Hospital's dedication to providing free online medicolegal advice is a testament to its commitment to improving healthcare practices globally. By making expertise more accessible, more inclusive, and more patient-centric, this institution is not only providing valuable guidance but also contributing to a healthcare landscape where informed decisions and ethical practices prevail. In a world that increasingly values knowledge, this initiative is a beacon of empowerment and enlightenment.

Ask Free Legal Questions On Consumer Protection Related to Laparoscopic Surgery. As the Premier Institute of Minimal Access Surgery World Laparoscopy Hospital provide Free medico legal advice to Patient and Surgeon. Institute of Medicine & Law department of World Laparoscopy Hospital provides education, information, and services in medical laws. WLH Medico Legal information and analysis is real-time, accurate, actionable and is delivered to doctors, hospitals, and lawyers on multiple platforms using the latest in technology.
Knowledge Bank of World Laparoscopy Hospital on Medical Laws is comprehensive and continuously updated with the latest developments in medical laws. Today, in World, World Laparoscopy Hospital possesses the best resources in terms of professionals, information, and knowledge on medical laws related to Minimal Access Surgery and these are optimally utilized in providing Medico legal Legal solutions.<
World Laparoscopy Hospital organizes the National and International Convention on Medico legal issues related to Minimal Access Surgery every year, a platform to identify the legal issues relating to laparoscopic and robotic surgery, discuss them threadbare, and suggest remedial measures. Doctors, medical associations, hospitals, lawyers, judges, regulators, and policy makers are part of this initiative.