Dermoid Cyst Problem
Discussion in 'All Categories' started by Anjana Srivastava - May 24th, 2014 4:36 am.

Anjana Srivastava

Dear Sir,

I have been operated for dermoid cyst 1 year ago. It was bilateral dermoid cyst. After one year again when I got my ultrasound of abdomen done I found the cyst again. Please advice me how can I get compensation for that and it it a negligence of the doctor. I am very much frustrated and disappointed as I dont have any children also.

Thanks
Anjana Srivastava
Rohtak

re: Dermoid Cyst Problem by Aditya Rajeshwar - May 24th, 2014 6:55 am

#1

Aditya Rajeshwar


Dear Mrs. Srivastava

Thanks for your posting. Indian Penal Code, 1860 sections 52, 80, 81, 83, 88, 90, 91, 92 304-A, 337 and 338 contain the law of medical malpractice in India. These laws are made for protecting the legal rights of patient as a consumer.

In such cases of recurrence of dermoid cyst after laparoscopic surgery you can file the case in consumer court against the doctor and the gynecologist who has operated upon you should be able to prove that she has used reasonable surgical and medical care in the surgery to the best of his judgment.

It is very important for you to keep in mind that a surgeon or gynecologists are not liable for an error judgment because they are qualified and registered by the medical council. The court has given some immunity to the doctors so directly you cannot question and prove them wrong.

Ovarian cystectomy performed by laparoscopic surgery in many patient found to be is associated with a higher incidence of intra-abdominal spillage than laparotomy, but this not associated with any increase in morbidity.

Laparoscopic ovarian cystectomy results in a shorter hospital stay and less intra-operative blood loss than laparotomy done by open surgery.

It is a known fact that laparoscopic dermoid cyst surgery is associated with a significantly higher risk of recurrence.

If your gynecologist has explained you regarding the recurrence rate of the laparoscopic ovarian cystectomy then it is not a legal issue. If you have not been explained and the significant amount to remnant of dermoid cyst is left inside then you can ask for compensation.

Doctors practicing ethically and honestly and disclosing all the fact then there should not have any reason for fear. Law whether civil, criminally or consumer law, can only set the outer limits of acceptable conduct. Doctors has some immunity and minimum standards of professional care and skill is expected from them, leaving the risk versus benefit during surgery they have to decide what is ideal to the profession itself as a surgeon.

We need to see all your documents before giving any advice.

Yours

Aditya Rajeshwar, LL. B


re: Dermoid Cyst Problem by Ankita Thakur - May 26th, 2014 7:40 am

#2

Ankita Thakur

Your cysts may be related to the previous cysts which has not been removed during surgery, but you could just be unlucky and got new ones which of course can not be so early. It is possible for cysts to go away or shrink in time, so let us hope for that.

Ask your gynecologist if they have a video recording of your laparoscopic surgery and if the cysts were drained or removed, drained cysts are much more likely to just fill up again. It is so hard to say anything specific regarding the outcome of laparoscopic surgery without knowing more about your case and without seeing the surgery video. Ask as much as you need to if you do not understand their explanations. Sorry I cant help you any more, it must be so frustrating.

re: Dermoid Cyst Problem by Stiven - May 27th, 2014 12:29 pm

#3

Stiven

This case has no point.
Empowering Through Knowledge: World Laparoscopy Hospital's Free Online Medicolegal Advice for Patients and Doctors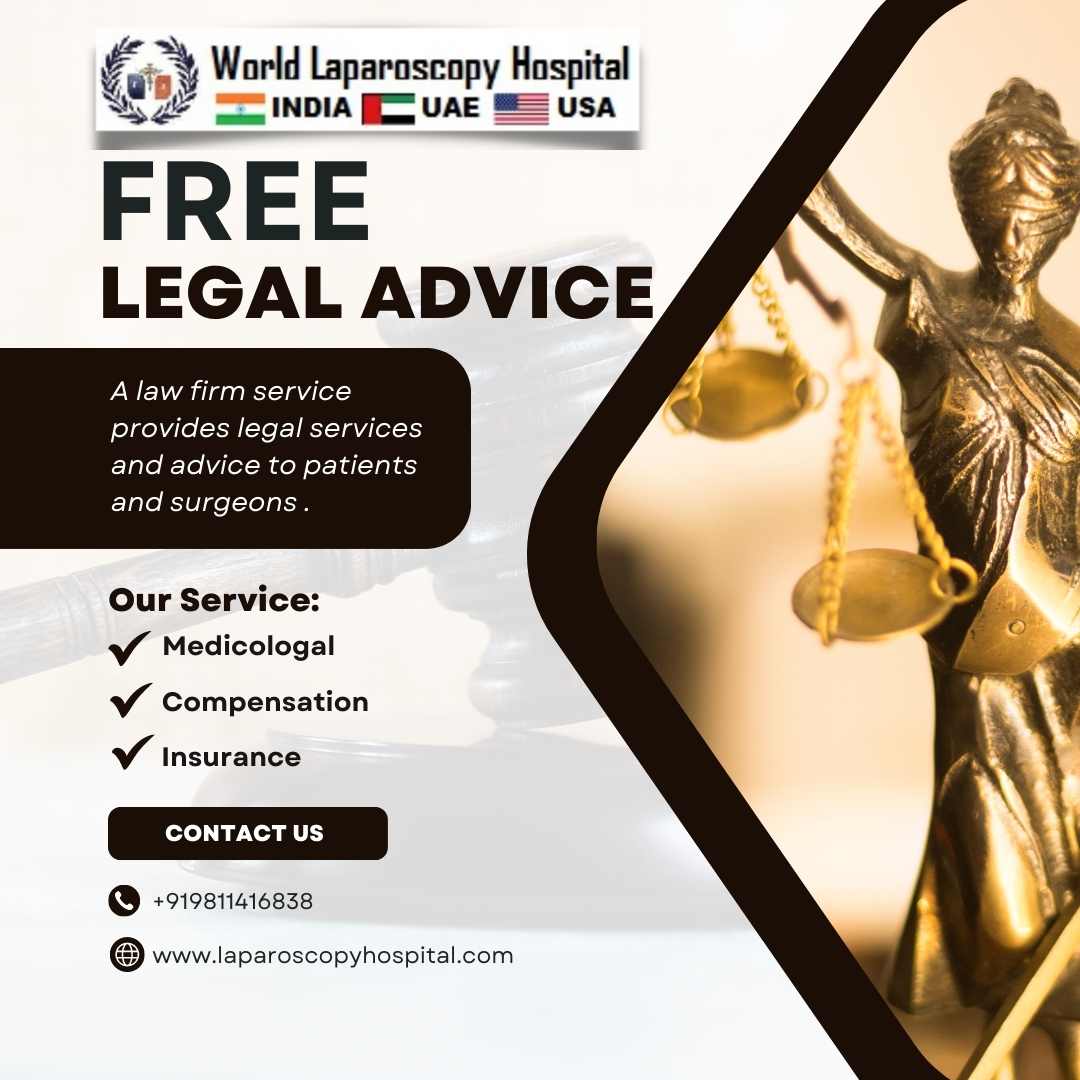 In the ever-evolving landscape of healthcare, the intersection of medicine and law plays a pivotal role. Recognizing this crucial juncture, World Laparoscopy Hospital is taking a pioneering step by offering free online medicolegal advice, a service that caters not only to patients but also to fellow healthcare professionals.
The Nexus of Medicine and Law
Medicolegal matters in healthcare are complex and often require a nuanced understanding of both medical practices and legal intricacies. These issues can range from malpractice claims to ethical dilemmas. World Laparoscopy Hospital's initiative to provide free online medicolegal advice acknowledges the importance of navigating these complexities effectively.
A Global Need for Expertise
Medical and legal concerns are universal, transcending geographical boundaries. Patients may find themselves in situations where they require legal guidance related to their healthcare, while doctors may seek clarification on medicolegal matters pertaining to their practice. World Laparoscopy Hospital stands ready to address these needs by offering free online medicolegal advice to a global audience.
Key Aspects of World Laparoscopy Hospital's Free Online Medicolegal Advice Service:
1. Accessible Expertise: The hospital boasts a team of experienced physicians, surgeons, and legal experts who specialize in medicolegal matters. This multidisciplinary approach ensures that individuals receive guidance from professionals well-versed in both medicine and law.
2. Global Reach: The online platform transcends geographical constraints, allowing patients and doctors from all corners of the world to access this service. This inclusivity is especially beneficial for those who may not have local access to medicolegal experts.
3. Convenience: The online medicolegal advice service is available around the clock, offering the convenience of seeking guidance at any time. This is particularly valuable for addressing urgent or time-sensitive issues.
4. Privacy and Security: World Laparoscopy Hospital places a premium on patient confidentiality and data security, ensuring that sensitive medicolegal information is treated with the utmost care.
5. Comprehensive Support: The hospital's experts provide holistic advice, addressing immediate concerns while also offering insights into navigating the complex medicolegal landscape effectively.
6. Professional Collaboration: In addition to aiding patients, the platform serves as a space where doctors can consult with their peers and medicolegal experts. This encourages collaboration and knowledge sharing among healthcare professionals.
Empowering Patients and Professionals Alike
The provision of free online medicolegal advice aligns seamlessly with World Laparoscopy Hospital's mission to empower patients and doctors. It enables patients to better understand their rights and options in medicolegal matters while offering doctors valuable guidance in navigating the legal aspects of healthcare.
Fostering Improved Healthcare Practices
In a world where medicolegal issues can be both intricate and intimidating, World Laparoscopy Hospital's commitment to offering free online medicolegal advice is a ray of hope. It empowers individuals and healthcare professionals to navigate these complex waters more confidently and effectively. World Laparoscopy Hospital's dedication to providing free online medicolegal advice is a testament to its commitment to improving healthcare practices globally. By making expertise more accessible, more inclusive, and more patient-centric, this institution is not only providing valuable guidance but also contributing to a healthcare landscape where informed decisions and ethical practices prevail. In a world that increasingly values knowledge, this initiative is a beacon of empowerment and enlightenment.

Ask Free Legal Questions On Consumer Protection Related to Laparoscopic Surgery. As the Premier Institute of Minimal Access Surgery World Laparoscopy Hospital provide Free medico legal advice to Patient and Surgeon. Institute of Medicine & Law department of World Laparoscopy Hospital provides education, information, and services in medical laws. WLH Medico Legal information and analysis is real-time, accurate, actionable and is delivered to doctors, hospitals, and lawyers on multiple platforms using the latest in technology.
Knowledge Bank of World Laparoscopy Hospital on Medical Laws is comprehensive and continuously updated with the latest developments in medical laws. Today, in World, World Laparoscopy Hospital possesses the best resources in terms of professionals, information, and knowledge on medical laws related to Minimal Access Surgery and these are optimally utilized in providing Medico legal Legal solutions.<
World Laparoscopy Hospital organizes the National and International Convention on Medico legal issues related to Minimal Access Surgery every year, a platform to identify the legal issues relating to laparoscopic and robotic surgery, discuss them threadbare, and suggest remedial measures. Doctors, medical associations, hospitals, lawyers, judges, regulators, and policy makers are part of this initiative.