PNDT Department is Harassing Me
Discussion in 'All Categories' started by Dr Utkal Sharma - May 25th, 2014 3:04 pm.

Dr Utkal Sharma

Dear Sir,

My name is Utkal Sharma and In have my own hospital in Chandigarh. I have been repeatedly harassed by the people of PNDT department. They came to my hospital and made inquiry. According to them after MBBS I have only 6 month training of Ultrasound so I can not perform ultrasound. Please guide me that is it true?

With regard

Dr Utkal Sharma

re: PNDT Department is Harassing Me by Aditya Rajeshwar - May 25th, 2014 3:27 pm

#1

Aditya Rajeshwar

Dear DR Sharma

In India child Sex Ratio statistics in the 0-6 age group for the last four decades show a dramatic continuous decline, with the sharpest decrease from 1981 onwards.

Medical technology has played a crucial role in reinforcing negative patriarchal systems that demand male heirs. In fact, developments in the technology of sex selection techniques especially Ultrasound have a direct relation to the declining juvenile sex ratio in our country.

About 78,000 female foetuses were aborted after sex determination tests from 1984-1985, according to a Times of India article.

According to PNDT law Prohibition of Sex Selection Act, 1994 as amended in 2003. Stating a Sonologist, Imaging Specialist, Radiologist or Registered Medical Practitioner having Post Graduate degree or diploma or six months training or one year experience in ultra sonography or image scanning.

The Board of Governors considered the matter with regard to incorporation in amendments to The Pre Conception and Pre‐Natal Diagnostic Techniques Prohibition of Sex Selection PC & PNDT Act, 1994 as amended in 2003. There were mainly three reference points suggested by the Honorable High Court of Delhi for clarification which were then forwarded to the Medical Council of India through the Government of India for appropriate suggestions to be suitably incorporated in the amendment to the Act and explicated in the PC‐PNDT rules given as below:

Who should be called as Sonologist?

The following qualified persons may be considered eligible to perform USG for purposes and Indications given under the provisions of the PCPNDT Act / Rules.

I. Radiologist having Post Graduate Qualification in Radiology/ Imaging Sciences, as specified in the schedule I/II/III of the IMC Act of 1956. Modified because of different PG degrees and their nomenclature in different states.

II. Ob / Gyn. having Post Graduate Qualification in Ob./ Gyn., as specified in the schedule I/II/III of the IMC Act of 1956.

III. DNB qualification in Radiology /Obs/Gyn, as equated and as per provisions of the Medical Council of India for equivalence.

IV. MBBS graduate from recognized University in India or any other foreign medical graduate qualification recognized by the Medical Council of India with Six months of Obs/Gyn ultrasound training at any Govt. recognized teaching institute

V. Teachers in Radiology and Obs/Gyn department of medical colleges would be considered as Sonologist and therefore deemed to be registered under the PC & PNDT Act.

I hope this will give the answer of your question

With regard

Aditya Rajeshwar LL.B


re: PNDT Department is Harassing Me by Dr Utkal Sharma - May 25th, 2014 3:42 pm

#2

Dr Utkal Sharma

Thanks for your answer. That means I am eligible to perform ultrasound. Great News. Can you send me the rule of PC PNDT rule in my email.

With regard

Dr Utkal Sharma

re: PNDT Department is Harassing Me by Aditya Rajeshwar - May 25th, 2014 3:47 pm

#3

Aditya Rajeshwar

Dear Dr Sharma

You can easily get these rules detail either on the Website of MCI or website of PNDT.

I am giving you the libk below:

http://www.mciindia.org/
http://pndt.gov.in/


re: PNDT Department is Harassing Me by Ankita Thakur - May 26th, 2014 7:22 am

#4

Ankita Thakur

PNDT department is like that only. Government has opened one more money making department to harass the general public and doctors.

re: PNDT Department is Harassing Me by Stiven - May 27th, 2014 1:33 pm

#5

Stiven

Anybody should not strict a diagnosing tool. There should be a social campaign and Government initiative to educate the people.

re: PNDT Department is Harassing Me by Martin - May 27th, 2014 1:36 pm

#6

Martin

Female feticide is a stigma on Indian culture. In India a strong preference for sons over daughters exists. People realize smaller family sizes with relatively greater number of sons through the use of ultrasonography.

re: PNDT Department is Harassing Me by Dr J S Chowhan - May 27th, 2014 1:39 pm

#7

Dr J S Chowhan

According to the government data and decennial Indian census, the actual male female sex ratio in the 0-6 age group in India went from 104.0 males per 100 females in 1981, to 105.8 in 1991, to 107.8 in 2001, to 109.4 in 2011.

re: PNDT Department is Harassing Me by Dr R K Mishra - May 27th, 2014 2:56 pm

#8

Dr R K Mishra

It is shameful act that that more than 10 million female foetuses have been illegally aborted in India. Research published in the Lancet journal based in Canada and written by an Indian doctor stated that 500,000 girls were being lost annually through sex-selective abortions.

re: PNDT Department is Harassing Me by Kusuma Kumari G - Jan 19th, 2016 11:25 am

#9

Kusuma Kumari G

If you have registered before 2012 you can continue doing Ultrasound. You can do till 1-1=1=2017/ You have to take a competency examination before 1-1-2017. The directorate of medical education has to conduct this competency examination. If you fail to pass this test you need to undergo further 6 moths training in a government recognized institute and pass the exam.
Empowering Through Knowledge: World Laparoscopy Hospital's Free Online Medicolegal Advice for Patients and Doctors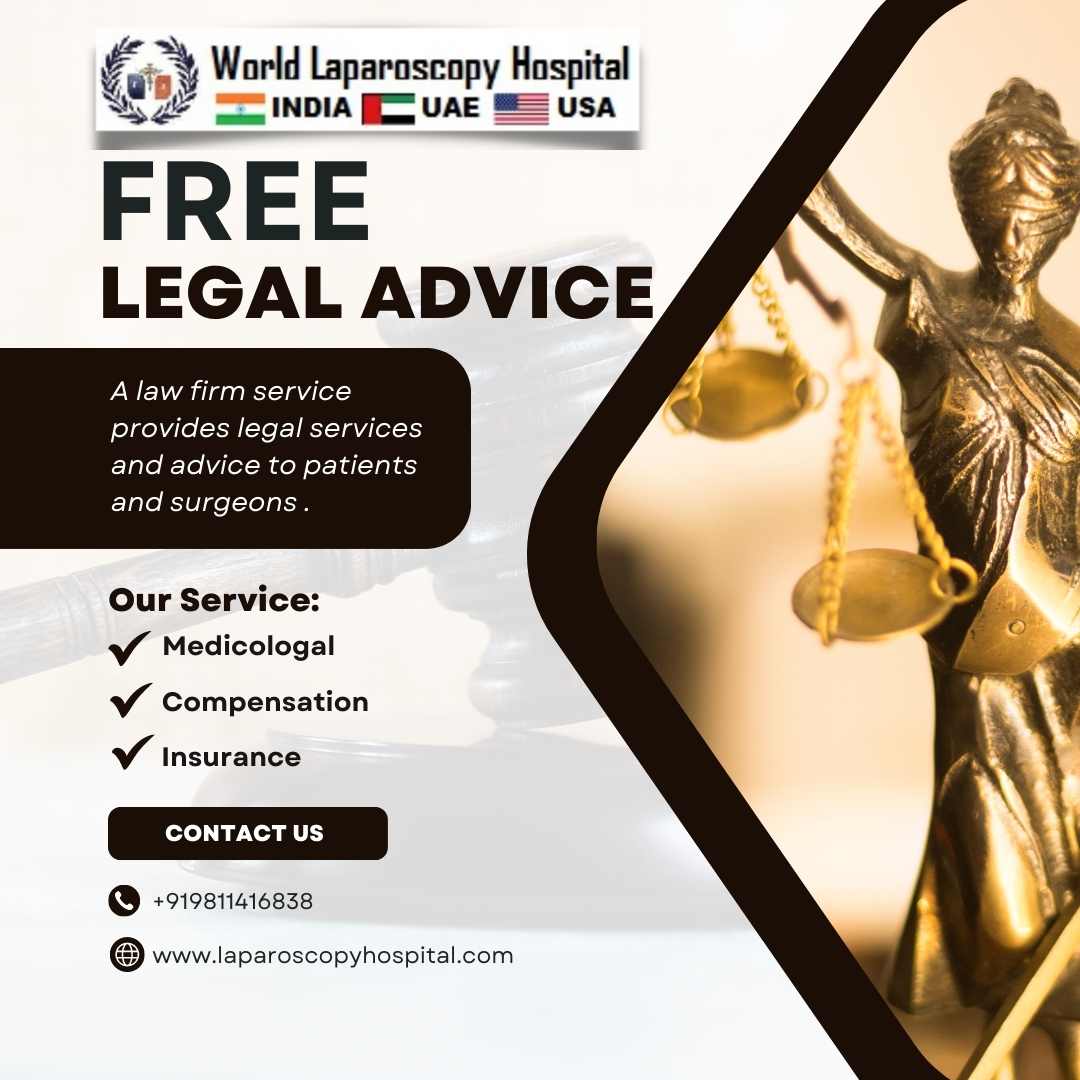 In the ever-evolving landscape of healthcare, the intersection of medicine and law plays a pivotal role. Recognizing this crucial juncture, World Laparoscopy Hospital is taking a pioneering step by offering free online medicolegal advice, a service that caters not only to patients but also to fellow healthcare professionals.
The Nexus of Medicine and Law
Medicolegal matters in healthcare are complex and often require a nuanced understanding of both medical practices and legal intricacies. These issues can range from malpractice claims to ethical dilemmas. World Laparoscopy Hospital's initiative to provide free online medicolegal advice acknowledges the importance of navigating these complexities effectively.
A Global Need for Expertise
Medical and legal concerns are universal, transcending geographical boundaries. Patients may find themselves in situations where they require legal guidance related to their healthcare, while doctors may seek clarification on medicolegal matters pertaining to their practice. World Laparoscopy Hospital stands ready to address these needs by offering free online medicolegal advice to a global audience.
Key Aspects of World Laparoscopy Hospital's Free Online Medicolegal Advice Service:
1. Accessible Expertise: The hospital boasts a team of experienced physicians, surgeons, and legal experts who specialize in medicolegal matters. This multidisciplinary approach ensures that individuals receive guidance from professionals well-versed in both medicine and law.
2. Global Reach: The online platform transcends geographical constraints, allowing patients and doctors from all corners of the world to access this service. This inclusivity is especially beneficial for those who may not have local access to medicolegal experts.
3. Convenience: The online medicolegal advice service is available around the clock, offering the convenience of seeking guidance at any time. This is particularly valuable for addressing urgent or time-sensitive issues.
4. Privacy and Security: World Laparoscopy Hospital places a premium on patient confidentiality and data security, ensuring that sensitive medicolegal information is treated with the utmost care.
5. Comprehensive Support: The hospital's experts provide holistic advice, addressing immediate concerns while also offering insights into navigating the complex medicolegal landscape effectively.
6. Professional Collaboration: In addition to aiding patients, the platform serves as a space where doctors can consult with their peers and medicolegal experts. This encourages collaboration and knowledge sharing among healthcare professionals.
Empowering Patients and Professionals Alike
The provision of free online medicolegal advice aligns seamlessly with World Laparoscopy Hospital's mission to empower patients and doctors. It enables patients to better understand their rights and options in medicolegal matters while offering doctors valuable guidance in navigating the legal aspects of healthcare.
Fostering Improved Healthcare Practices
In a world where medicolegal issues can be both intricate and intimidating, World Laparoscopy Hospital's commitment to offering free online medicolegal advice is a ray of hope. It empowers individuals and healthcare professionals to navigate these complex waters more confidently and effectively. World Laparoscopy Hospital's dedication to providing free online medicolegal advice is a testament to its commitment to improving healthcare practices globally. By making expertise more accessible, more inclusive, and more patient-centric, this institution is not only providing valuable guidance but also contributing to a healthcare landscape where informed decisions and ethical practices prevail. In a world that increasingly values knowledge, this initiative is a beacon of empowerment and enlightenment.

Ask Free Legal Questions On Consumer Protection Related to Laparoscopic Surgery. As the Premier Institute of Minimal Access Surgery World Laparoscopy Hospital provide Free medico legal advice to Patient and Surgeon. Institute of Medicine & Law department of World Laparoscopy Hospital provides education, information, and services in medical laws. WLH Medico Legal information and analysis is real-time, accurate, actionable and is delivered to doctors, hospitals, and lawyers on multiple platforms using the latest in technology.
Knowledge Bank of World Laparoscopy Hospital on Medical Laws is comprehensive and continuously updated with the latest developments in medical laws. Today, in World, World Laparoscopy Hospital possesses the best resources in terms of professionals, information, and knowledge on medical laws related to Minimal Access Surgery and these are optimally utilized in providing Medico legal Legal solutions.<
World Laparoscopy Hospital organizes the National and International Convention on Medico legal issues related to Minimal Access Surgery every year, a platform to identify the legal issues relating to laparoscopic and robotic surgery, discuss them threadbare, and suggest remedial measures. Doctors, medical associations, hospitals, lawyers, judges, regulators, and policy makers are part of this initiative.