Laparoscopic Management of Ovarian Torsion
Adnexal torsion is a surgical emergency and if diagnosed early the adnexa can be unwound. It occurs most frequently if there is an adnexal lesion. It occurs generally in young women in whom the preservation of ovary may be necessary. If a diagnosis is delayed the adnexal may become gangrenous. If conservative treatment is planned the torted structure is straightened to assess the viability and even ovary that appears infarcted at laparotomy regain normal color after untwisting. Causes of ovarian torsion include par ovarian cyst, functional and pathologic ovarian cyst. Ovarian hyperstimulation, ectopic pregnancy, adhesions, congenital malformation. Ischemic structure straightened gently with the atraumatic forceps to avoid additional adnexal damage. In women with ovarian hyperstimulation, the functional cyst should be drained before untwisting. The abnormalities contributing to torsion should be treated. It may be necessary to shorten the utero-ovarian ligament if its length has contributed to ovarian torsion. A running suture of monofilament material is placed along the utero-ovarian ligament and tied to shorten it, limiting ovarian mobility.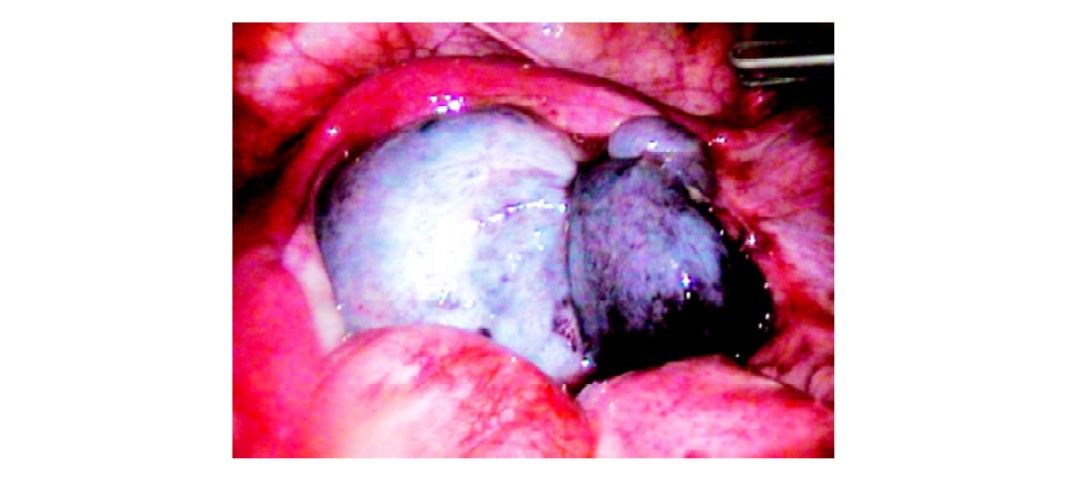 Torsion of ovary
Ovarian Remnant Syndrome
In premenopausal women who had undergone bilateral oophorectomy, small pieces of functional ovarian tissue can respond to hormonal stimulation with growth, cystic degeneration, or hemorrhage and produce pain. An ovarian remnant remains because of dense adhesion and distorted anatomic relationship, which invariably worsen with the subsequent operation. It is not unusual for these patients to have had previous attempts to excise an ovarian remnant. Removal of the ovarian tissue is preferred. Diagnosis is based on history and localization of pelvic pain. Although some patients have cystic adnexal structure or ill-defined fixed masses, others have normal pelvic findings. Vaginal ultrasound helps to locate the ovarian remnants. Low or borderline FSH levels in patients with documented bilateral oophorectomy are consistent with the presence of active ovarian tissue. Hormonal suppression, with oral contraceptives or gonadotropin-releasing hormone agonist provides no relieve in most patients. Clomiphene citrate or hMG may be used to increase the ovarian remnant size to confirm the diagnosis, preoperatively, or to aid in locating the tissue intraoperatively.
The anatomy of the retroperitoneal space should be identified when the ovarian remnant is adherent to the lateral pelvic wall. Space beneath the peritoneum is injected with Ringer's lactate solution and the peritoneum is opened to the infundibulopelvic ligament or its remnant. Adhesions are lysed until the course of the major pelvic blood vessels and ureter can be tressed and if necessary dissected. The ovarian blood supply is desiccated with bipolar forceps and ovarian tissue is excised and submitted for histological examination.
Para Ovarian Cysts
These cysts are most commonly found over the serosa surrounding the tubal fimbriae. Usually, puncture with fine electrode is sufficient for these patients. Only 40 to 50 watt of cutting current is required for a fraction of second and cyst will burst. Sometimes if these par ovarian cysts are large and intermingled with the serosa surrounding the fimbriae and may be attached with the lateral pelvic wall. In these cases, the opening of the peritoneum is necessary for hydrodissection. Once the cyst will leave the pelvic wall; using scissors, laser or electrode it can be dissected nicely.