Laparoscopic Cholecystectomy in Acute Cholecystitis
Impaction of a stone in the cystic duct will result in bile stasis in the gallbladder. Acute cholecystitis results from inflammation of the mucosa of the gallbladder which may secondarily become infected. This inflammation can then evolve to hydrops of the gallbladder and gallbladder abscess. Complications such as necrosis, perforation, phlegmon, or peritonitis can result if surgical intervention is not done in a timely manner.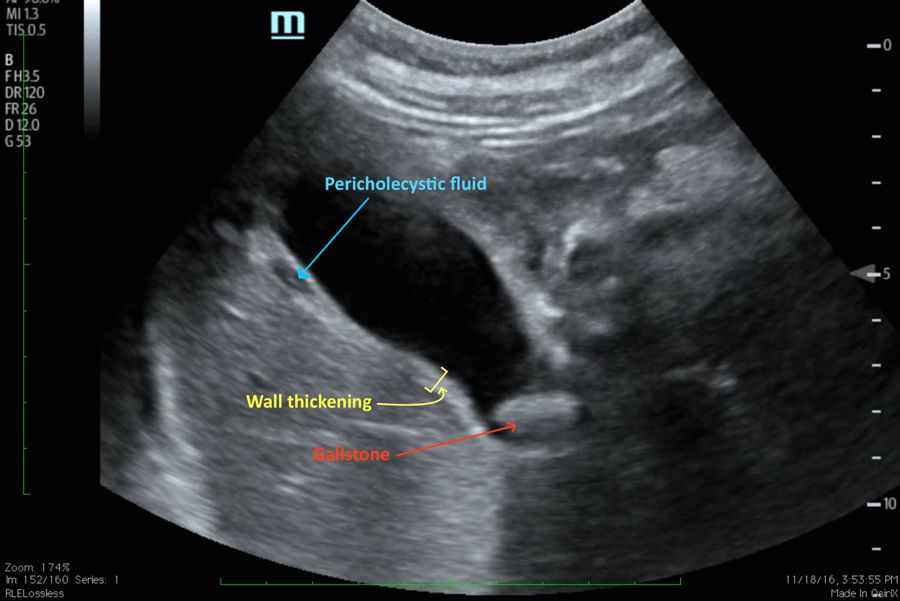 USG findings in Acute Cholecystitis
In certain cases, acute cholecystitis can be acalculous, especially in diabetic patients or in the immediate postoperative period following other surgical interventions. In the elective setting, laparoscopic cholecystectomy has become the standard of care; the laparoscopic approach to acute cholecystitis remains controversial. In past publications, acute cholecystitis was considered as a relative or absolute contraindication to a laparoscopic approach. The laparoscopic approach to acute cholecystitis is preferred in practice by a large number of experienced teams. Nowadays, a laparoscopic approach is considered safe if the intervention is performed in a timely fashion. If laparoscopy is considered in an acute attack, a conversion rate of 20 percent demonstrates that the procedure is only pursued when felt to be safe.
Acute Cholecystitis
• Acute cholecystitis is distinguished from biliary colic by the presence of at least two of the following signs
– Right upper quadrant pain lasting for more than 24 hours
– Fever more than 37°C
– The presence of a palpable distended tender gallbladder
– Elevation of the WBC count greater than 11.000/mm3
– Ultrasonographic findings demonstrating thickening of the gallbladder wall > 4 mm
– Pericholecystic fluid collection in ultrasound.
The studies have concluded that the ideal time for surgical intervention is within 48 to 72 hours of the appearance of symptoms.
Laparoscopic cholecystectomy, when performed early, leads to a reduction in:
• Operative difficulty
• Conversion rate
• Operative time
One of the major determining factors is the conversion rate, an indicator of the actual difficulty of the procedure. Numerous studies have demonstrated a significantly lower conversion rate when the laparoscopic cholecystectomy is performed within the first 72 hours of the onset of symptoms as opposed to a delayed procedure after this period. In case of an interval cholecystectomy following medical therapy, it must be performed within a period of 8 to 12 weeks. It is demonstrated that interval cholecystectomy is associated with a higher morbidity rate than in early intervention.