Instruments of Robotic Surgery
da Vinci Surgical System
Using the most advanced technology available today, the da Vinci surgical system enables surgeons to perform delicate and complex operations through a few tiny incisions with increased vision, precision, dexterity, and control. The da Vinci surgical system consists of several key components, including an ergonomically designed console where the surgeon sits while operating, a patient-side cart where the patient lays during surgery, four interactive robotic arms. A high-definition 3D vision system and proprietary Endowrist instruments.
da Vinci is powered by state-of-the-art robotic technology that allows the surgeon's hand movements. To be scaled, filtered, and translated into precise movements of the Endowrist instruments working Inside the patient's body.

da Vinci high definition surgical robot
da Vinci surgeon console
Patient cart

Seven-degree movement is possible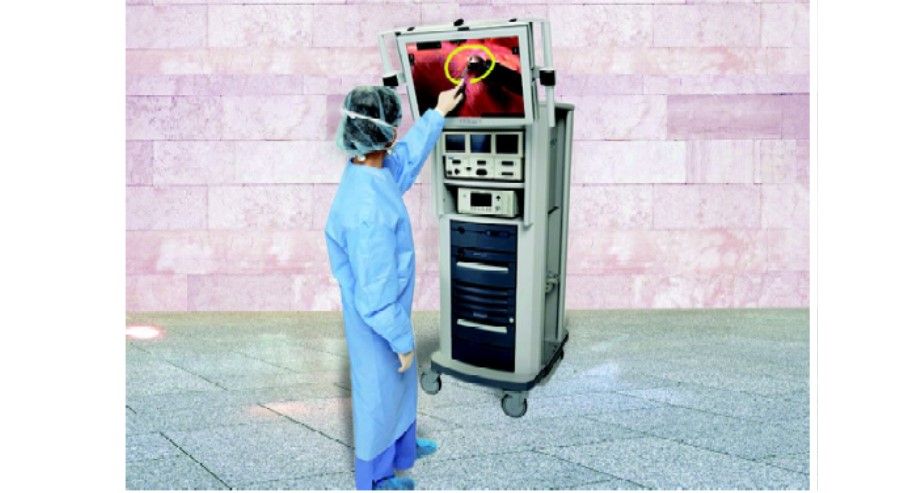 da Vinci vision cart

Robotic Endowrist instruments
Robotic scissors and bipolar dissector
Robotic tenaculum and grasper
Robotic needle holder
Robotic atraumatic grasper
Robotic clip applicator
Robotic scissor and Maryland
Core Technology
• System components
• 3D HD vision.
Instrumentation
Using the da Vinci surgical system, the surgeon operates seated comfortably at a console while viewing a high definition, 3D image inside the patient's body.
• The surgeon's fingers grasp the master controls below the display with hands and wrists naturally positioned relative to his or her eyes.
• The system seamlessly translates the surgeon's hand, wrist, and finger movements into precise, real-time movements of surgical instruments.
• The patient-side cart is where the patient is positioned during surgery. It includes either three or four robotic arms that carry out the surgeon's commands.
• The robotic arms move around fixed pivot points which reduces trauma to the patient, improves the cosmetic outcome, and increases overall precision.
• The system requires that every surgical maneuver is under the direct control of the surgeon. Repeated safety checks prevent any independent movement of the instruments or robotic arms.
• A full range of Endowrist instruments is available to the surgeon while operating.
• The instruments are designed with seven degrees of motion—a range of motion even greater than the human wrist.
• Each instrument has a specific surgical mission such as clamping, suturing, and tissue manipulation.
• Quick-release levers speed instrument changes during surgery.
• The vision system is equipped with a high-definition, 3D endoscope (flexible tube with a camera and light at the tip) and image
processing equipment that provides true-to-life images of the patient's anatomy.
• A view of the operating field is available to the entire operative room (OR) team on a large viewing monitor (vision cart). This widescreen view provides the surgical assistant at the patient's side with a broader perspective and visualization of the procedure.
Instruments and Accessories
Intuitive surgical's exclusive Endowrist instruments are designed to provide surgeons with natural dexterity and the full range of motion for precise operation through tiny incisions. Modeled after the human wrist, Endowrist instruments can offer an even greater range of motion than the human hand. They truly allow the da Vinci® system to take surgical precision and technique beyond the limits of the human hand. Similar to human tendons, and Endowrist instrument's internal cables provide maximum responsiveness, allowing rapid and precise suturing, dissection, and tissue manipulation. Endowrist instruments provide enhanced dexterity, precision, and control:
• 7° of freedom
• 90° of articulation
• Intuitive motion and finger-tip control
• Motion scaling and tremor reduction
The wrist-like movement, responsiveness, and robotic control afforded by the da Vinci system and its exclusive Endowrist instruments provide surgeons fluid ambidexterity and unparalleled precision. The Endowrist instruments are available in a wide selection of specialized tip designs to enable a broad range of da Vinci procedures. As da Vinci surgery is adopted in new specialties, our engineers work side-by-side with surgeons to develop new Endowrist instruments to address new clinical needs. The following is a list of instrument categories for which intuitive offers specialized tip designs.
Energy instruments are used by the da Vinci surgeon to provide coagulation, cutting, and dissection of tissues. These include monopolar and bipolar cautery instruments (electrical energy), the HarmonicTM ACE (mechanical energy), the PKTM Dissecting Forceps (advanced bipolar), and laser.
Grasping instruments to allow for manipulation of a wide range of tissues, from fine, thin tissues such as peritoneum to dense, fibrous tissues such as the uterus. Needle drivers provide the ability to suture with the finest of needles used in cardiovascular surgery as well as the thickest needles used in the repair of uterine defects. Suture CutTM Needle drivers include an integral cutting blade for efficient cutting of suture after knot tying and increased surgeon autonomy and efficiency. Retracting instruments allow the surgeon to dynamically provide exposure to the surgical field. This minimizes dependency on the patient-side assistant, providing the da Vinci surgeon with full control of the operative field.
Clip appliers, probe graspers, and cardiac stabilizers are available to allow the da Vinci surgeon to perform specialized procedures such as vessel clipping, cryoablation, and beating-heart surgery.
A selection of 5 mm Endowrist instruments provides the surgeon with the ability to use smaller access ports. Some surgeons prefer smaller access ports when performing pediatric, thoracic, bariatric, gynecologic, and general surgery.