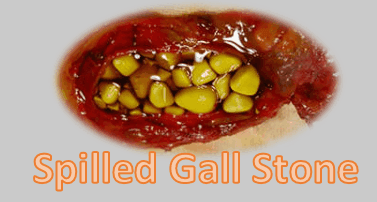 Laparoscopic cholecystectomy procedure can be associated with spillage of gall stones in 5%-40% of procedures but complications occur very rarely. However some cases of spillage of gall stones have been reported describing a range of complications occurring both at a distance from and near to the sub hepatic area.
Laparoscopic cholecystectomy is the norm these days as compared to open surgery due to lesser duration of hospital stay and more ease associated with it. But with new advancements come new problems and laparoscopic cholecystectomy is no exception.
Problems such as biliary tract injuries and spillage of gall stones have been associated with this procedure. The incidence of biliary tract injuries can be minimised with experience and proper training of the operator along with getting appropriate guidance of an experienced surgeon. But there are very less significant complications resulting from stones left in the peritoneum.
The spillage of gall stones usually occurs during dissection of gall bladder off liver bed
Most of the spillage is due to tear from the grasping forceps or during extraction of the gall bladder.
The incidence is more in patients having acutely inflamed gall bladder.
It is more common in males, old people, and obese patients and in cases of adhesions
Stones spilled can either stay in the peritoneal cavity adjacent to the liver or can also move to distant sites.
Usually these stones remain benign and complications are very rare due to them.
Clinical presentations
Pneumoperitoneum along with peritoneal irrigation disperses calculi throughout the peritoneal cavity. Thus the complications which occur are usually at unusual sites. The exact reason why rarely complications develop after stone spillage is uncertain. Multiple pigment stones and infected bile cause an inflammatory process and abscess formation. The time interval for their appearance post-surgery varies from one month to 20 years with peak incidence usually after four months. In most cases the immunity of the body resolves these complications. But elderly patients because of poor immunity show these complications often.
Predisposing factors
Studies show that that the presence of multiple stones and infected bile increases the incidence of adhesions and intraabdominal abscesses. Chemical nature of the stones has a significant effect on the fate of gall stones and infection may aggravate local reactions and complications.
Infective complications are more associated with bilurubinate stones because these stones usually contain viable bacteria.
Investigations
The diagnosis is usually delayed because of the unusual site of the abscess formation and also due to the lack of awareness of stone spillage during cholecystectomy. Ultrasound, CT scans and magnetic resonance imaging (MRI) are used as diagnostic tools.
Prevention of spillage
1. During surgery attempt should be made to avoid spillage. Dissection should be carried out carefully and proper identification of planes between wall of the gall bladder and surrounding structures should be done.
2. during extraction retrieval bags should be used to retrieve the gall bladder as it decreases the
Chances of spillage.
Management of spillage
1. Efforts should be made to retrieve the stones and the peritoneal cavity is irrigated with saline to dilute any infected bile.
2. Retrieval bags or a surgical glove with a purse string attached to the opening is recommended to collect spilled stones and the gall bladder.
3. Placement of extra ports
4. Use of 30-45 degree telescopes
5. Copious irrigation
6. Pressure ejection in which the cannula is manoeuvred directly over the stones and the port is opened rapidly to eject stones through it.
Conclusion
Complications which occur from spillage of gall stones during laparoscopic cholecystectomy are very rare. The surgeon should take care to prevent spillage of stones and try to remove all stones visible during surgery.
For more information:
World Laparoscopy Hospital, Cyber City, DLF Phase II, Gurugram, NCR Delhi, 122 002, India
PHONES:
For Training: +919811416838
For Treatment: +919811912768
For General Enquiry: +91(0)124 - 2351555
Email: contact@laparoscopyhospital.com