What is Laparoscope?
Laparoscope is a flexible or rigid fiberoptic instrument, passed through a small incision in the abdominal wall and it is used in laparoscopy with other ports equipped with biopsy forceps, an obturator, scissors or the like, with which to examine the abdominal cavity or perform minor surgery.
What are the different parts of Laparoscope?
The Different Part of Laparoscopes are:
Proximal End which is interface point with the eye or video equipment
Distal End which is farthest point from the proximal end or users eye
Insertion Diameter is the diameter quoted as the actual diameter inserted into the anatomy of endoscope sheath
Instrument Axis is the axis of the instrument relative to the instrument axis
Optical Axis is called axis of the optical path which is displaced to the instrument axis
Angle of View is angular value of displacement to the optical axis
Optical Field of View is the area which the conical system covers is as a cone
Fibre Illumination is the area which the fibre illumination covers as a cone and is greater than the optical field of view
Working Length of laparoscope is actual length embodying the insertion diameter which can be applied
Light Post Input point of the illumination when connected to a light guide and source
Eye shield of laparoscope is used as a cup for the eye or a diameter for the attachment of video camera equipment
What is Hopkins Rod Lens System?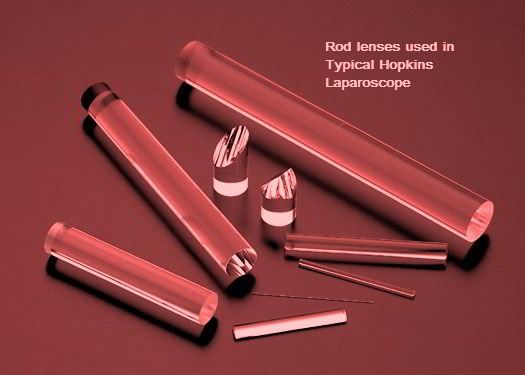 Hopkins has invented the rigid rod lens system use these days. Hopkins patented his lens system in 1959. Seeing promise in this system, Karl Storz bought the patent and in 1967 began to produce endoscopic instruments with a tremendously brilliant image and superb illumination. Hopkins rods fitted exactly the laparoscope tube, making the laparoscope self-aligning and requiring of no other support. It is autoclavable also.
These laparoscopes are much easier to handle and utilized the maximum possible diameter available. As with the fibroscopes, a bundle of glass-fibers would relay the illumination from a powerful external source. In laparoscope it is possible to give appropriate curvature and coatings to the rod ends and optimal choices of glass-types, it this technology all calculated and specified by Hopkins, the image quality is transformed. In Hopkins rod lens the light levels were increased by as much as eightyfold with no heat; resolution of fine detail of surgery is finally achieved; true colours were now available for laparoscopic surgery; and diameters as small as a few millimeters is possible.
Telescopes or laparoscopes are available in various sizes and with various visualization capabilities to fit in any type of Minimal Access Surgery. For large telescopes use in laparoscopy to small used in cystoscopy there is several choices available from 13 mm to 2mm with Straight Forward 0 Deg. to 45 Deg.
Is Laparoscope a reusable instrument?
Most telescopes used in laparoscopic surgery are reusable instruments. There are some multi use-disposable telescopes also available in market which are as effective as the reusable. Some authors report the Surgiview* Zero Degree 10 mm laparoscope, although it is disposable but has been used as many as fifty times with the same effectiveness. These disposable laparoscope could benefit smaller medical centers with a limited number of telescopes or as an additional laparoscope.
World Laparoscopy Hospital, Cyber City, DLF Phase II, Gurugram, NCR Delhi, 122 002, India
PHONES:
For Training: +919811416838
For Treatment: +919811912768
For General Enquiry: +91(0)124 - 2351555