Video of Free Robotic Surgery Training. To download video right click here and save target
World Laparoscopy Hospital is the only institute in the World which gives free exposure of High definition four arm da Vinci surgical Robot to the surgeon, gynecologists, urologists and pediatric surgeon who join the t week Fellowship and Diploma in Minimal Access Surgery course. There is no institute in the world who gives hands on robotic training to the candidates who come for laparoscopy but we know that a trainess should learn everything from veress needle to da Vinci HD robotic surgery. We also offer separate Fellowship of International College of Robotic Surgeons for the Surgeon who wants extensive more elaborate knowledge of da Vinci Robotic Surgery. World Laparoscopy is the only institute in asia to provide da Vinci robotic surgery and impart Fellowship in Robotic Surgery.
The future of robotic surgery is hard to believe but it is now essential for consultant to learn about this technology. If you haven't noticed, robotic surgery has come long ways and it was only a dream for doctors to have something that you no longer had to make big, hideous scars that would mess up patient for the rest of their lives.
Before robotic surgery, we worked on making minimally invasive surgery that would take hours of surgery time. Now, surgery is still made in hours, but shorter hours are now in check with the robotic surgery. So you can't really say there is a future of robotic surgery, but you can say that this has been the future for doctors long ago so all you can say is...the future is now!! Only Robotic Surgery:
The Future Is Now The field of surgery is entering a time of great change, World Laparoscopy Hospital, Gurugram spurred on by remarkable recent advances in surgical and computer technology. Computer-controlled diagnostic instruments have been used in the operating room for years to help provide vital information through ultrasound, computer-aided tomography (CAT), and other imaging technologies. Only recently now for surgeon and gynecologists you have robotic systems made their way into the operating room as three dimensional, extreme dexterity-enhancing surgical assistants and surgical planners, in answer to surgeons' demands for ways to overcome the surgical limitations of minimally invasive laparoscopic surgery.
We offer two types of Robotic Surgery training
Free Robotic surgery training for candidates who are enrolled for thraa week course:
World Laparoscopy Hospital is the only institute in the world which allow the surgeon and gynecologist to work on high definition four arm da vinci robot to get basic knowledge of robotic surgery and its principle. Continued evolution of robotic surgical systems is inevitable, the surgeon actually does a better, more precise, elegant, dexterous, controlled procedure with robotics, with less tissue damage, which leads to a better outcome. In this course the fundamental principle of robotic surgery will be taught and the candidate will get a certificate of this basic robotic surgery training.
Advanced Robotic surgery training for candidates who want to expertise Robotic Surgery Skill. Fellowship of International College of Robotic Surgeons (FICRS).
Another exclusive robotic surgery training is for senior consultant or professor rank surgeon and gynecologists who are ready to start robotic surgery. World Laparoscopy hospital is among only few institute in the World and only institute in Asia to confer Fellowship of International College of Robotic Surgeons (FICRS) "Hands On" robotic surgery training on real da Vinci® high definition four arm most advanced surgical robot of the world.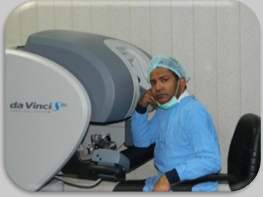 The faculty Prof. R. K. Mishra is the Master Minimal Access Surgeon (M.MAS) from Ninewells Hospital and Medical School, United Kingdom, and Trained in Robotic Surgery from Harvard Medical School, Boston, USA. With extensive experience in robotic-assisted laparoscopic reconstructive and extirpative procedures, at World Laparoscopy Hospital he is conducting live operations and running didactic and laboratory sessions to teach advanced Robotic Surgery. A hands-on state of the art HD wet operating room laboratory session will help participants interested in all the specialty of surgery to practice and adapt these highly advanced robotic principles to their area of surgical expertise. This robotic surgery training is designed in such a way that at the end of training surgeon can perform robotic surgery on their patient with confidence. They will also get an extraordinary qualification Fellowship of International College of Robotic Surgeons (FICRS).
Now the time has come when senior surgeon and gynecologists should become ready for robotic surgery. We need to change how industry and surgeons interact. In the past, surgeons have had a consumer like relationship with the device industry, where the consumer buys the product and is off. But now, what will be required is a much more collaborative relationship, in order to get surgeons to change the way they're used to doing things. According to international da vinci research, patients have been asking about robotic surgery, and their feedback has been very positive. This demand is another key to the success of the robotics industry. People are very informed today, because of the Internet. About 8% of my patients have asked about robotic surgery.
Click here to learn more about Fellowship of International College of Robotic Surgeons


One of the biggest advantage of 4 Week Course over 2 Week is opportunity to get basic Hands on Robotic Training on Real da Vinci Robot