What is and how safe is high intensity ultrasound for the treatment of prostate?
Discussion in 'All Categories' started by Vikramjeet Rauthore - Dec 12th, 2012 10:41 am.

Vikramjeet Rauthore

Dear Sir

Can you please explain me about high intensity ultrasound treatment for prostate. It is also called HIU?

re: What is and how safe is high intensity ultrasound for the treatment of prostate? by Dr J S Chowhan - Dec 12th, 2012 10:49 am

#1

Dr J S Chowhan

Dear Mr Rauthore

HIFU (High intensity focused ultrasound) can be a new and minimal invasive technology to treat localised cancer of prostate. The World Laparoscopy Hospital is Institute for Clinical Excellence, an unbiased government body in the United Kingdom has evaluated HIFU, and determined that the scientific evidence will secure the using HIFU for that treatments for prostate type of cancer, in the united kingdom National Health System.

HIFU has been used extensively in Japan and Europe where scientific studies demonstrate HIFU to become secure and efficient prostate cancer treatment.

Prof Peter Royce was the 1st Urologist in Melbourne, Australia to utilize HIFU for that treating cancer of prostate. Considering that the first HIFU treatment in November 2005, an increasing number of males have chosen HIFU, instead of radical surgical treatment or radiation therapy, as curative primary treatment or as salvage treatment after previous radiation therapy.

The HIFU probe is inserted in the rectum under anaesthesia. A crystal within the probe vibrates at the specific frequency when an electric current passes through it, which produces ultrasound waves. The ultrasound waves move across tissue and several with the surf is deflected to the crystal eventually producing a graphic in the prostate and its particular surrounding structures over a screen, which may be viewed with the Urologist. Simultaneously, by increasing the concentration of the ultrasound waves and focusing the waves on one point as being a magnifying lens, high energy is sent to the prostate tissue. This will raise the temperature to 70-100 C and cause permanent tissue ablation cell death of the prostate cancer. Dead tissue then sloughs out which is passed with urine.

Patients are assessed prior to HIFU by having an transrectal ultrasound to determine prostate volume, and search for calcification within the prostate.

Patients are admitted at the time in the HIFU treatment
The bowel is cleared with Picolax oral prep, taken in your own home within the

HIFU is performed under general anaesthesia, with the patient in lithotomy about the back using the legs supported

Videocystoscopy is carried out to check the low urinary system and prostate.

The HIFU probe is inserted in the rectum and ultrasound images of the prostate, seminal vesicles, bladder, rectum and urethra are utilized to focus on the HIFU treatment on the prostate gland.

HIFU treatment methods are then commenced and prostate tissue is ablated in 3 stages. The method may take 3 hours to finish determined by prostate volume size.

During treatments, the rectum is cooled off to stop overheating and rectal fistula formation.

At the completion of HIFU treatment a urethral catheter is inserted to empty urine any small tissue particles from the ablated prostate.

Most patients stay overnight, although some people might prefer a day stay procedure.

The urinary catheter is slowly removed 5-10 days later within the Urology suite.

Men with localised biopsy proven cancer of prostate, who understand the treatment methods of surgery, brachytherapy, radiotherapy, cryotherapy and active cancer surveillance, and accept the hazards of non-surgical HIFU treatment, are thought suited to HIFU.

Listed below are important selection criteria:

Clinical Stage T1-T3 N0 M0 localised prostate tumours

Gleason score 5-8
Preferably below 50% prostate biopsies associated with cancer
PSA less than 20 ng/ml
Prostate volume lower than 40cc and minimal prostate calcification (measured on transrectal ultrasound scan)
No underlying prostate obstruction to urine flow. Some men require preliminary TURP to remove part of the prostate prior to HIFU.

Lower complication and unwanted effects advice based on our very own prospective data of HIFU treated patients

a) Temporary complications

20-30% of patients may feel difficulty in voiding urine and could require the catheter for an extra week, failing that they would require a cystoscopy as being a day procedure in order to the dead tissue in the prostate. Our very own studies on HIFU treated patients showed no overall boost in urinary symptoms as much as Yr after treatment.

A few patients may experience mild redness or swelling around the scrotum and penile skin that resolves within a week.

7% patients experience mild rectal symptoms such as bleeding, loose stools or mucus in stools that resolves inside a week.

1% of patients have likelihood of a rectal fistula, the industry communication between the prostate and rectum because of overheating of the rectum during HIFU. This complication might require surgical correction. (The safety features within HIFU technology have minimized the chance of this complication)

b) Long-term complications

Urethral stricture risk 9%, that might require urethral dilation or incision.
Urinary incontinence risks
Stress incontinence requiring a pad 4% (leak with cough, sneeze or straining)
Incontinence requiring urethral injection Macroplastique 1% (urethral bulking agent)
Overall normal continence 95% after HIFU
Erectile Dysfunction
Sexual/erectile function assessed with IIEF self administered patient questionnaire (International Index Erectile Function) showed overall sexual practice reduced by 20%, and particular erectile function reduced by 25% at 24-36 months after HIFU.
The perils associated with HIFU compare very favourably with Radical Prostatectomy and therefore are much like Brachytherapy/Radiation Therapy.
Accessing Expertise Anywhere: Free Online Medical Advice by World Laparoscopy Hospital
In an age where information is at our fingertips, the World Laparoscopy Hospital is taking the concept of accessibility and expertise to a whole new level. This renowned medical institution is offering a valuable service that transcends geographical boundaries - free online medical advice.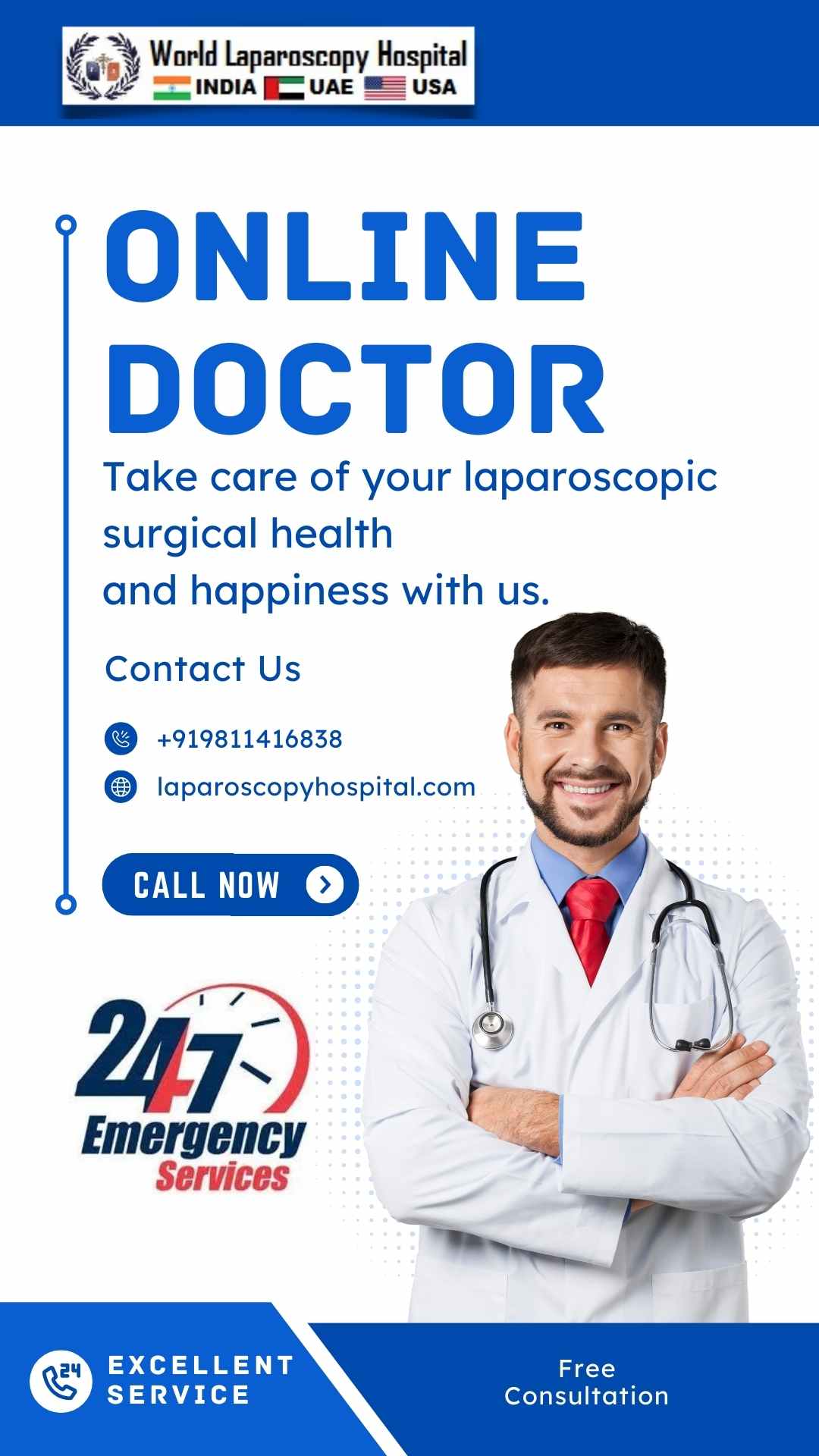 The Power of Digital Health
The digital revolution has significantly transformed the way we access healthcare information and connect with medical professionals. World Laparoscopy Hospital has harnessed this power to provide a platform where individuals from around the world can seek medical guidance from top-notch experts without leaving their homes.
The Importance of Medical Advice
Medical advice is a fundamental aspect of healthcare. It serves as a bridge between patients and the knowledge and experience of healthcare professionals. Timely and accurate medical advice can be a lifeline, offering reassurance, guidance, and potentially life-saving information.
World Laparoscopy Hospital: A Beacon of Medical Excellence
World Laparoscopy Hospital is globally recognized for its excellence in Minimal Access Surgery and surgical training. The institution's commitment to innovation, research, and patient care is evident in its mission to extend free online medical advice to those in need.
Key Features of World Laparoscopy Hospital's Online Medical Advice Service:
Expertise Across Specialties: The hospital boasts a roster of expert physicians, surgeons, gynecologists, urologists, and pediatric surgeons. This diverse range of specialists ensures that individuals can receive advice on a wide spectrum of medical issues.

Accessibility: The online platform breaks down geographical barriers. Patients from any corner of the world can access this service, making it especially beneficial for those in remote or underserved areas.

Convenience: Online medical advice is available 24/7, providing the convenience of seeking guidance at any time, day or night. This accessibility is particularly crucial for urgent medical queries.

Privacy: World Laparoscopy Hospital maintains strict patient confidentiality, ensuring that sensitive medical information remains secure.

Multilingual Support: Recognizing the global nature of its audience, the hospital offers support in multiple languages, enhancing accessibility for non-English speakers.

Holistic Guidance: The hospital's expert physicians provide comprehensive advice, addressing not only immediate concerns but also offering insights into long-term health and well-being.
Empowering Patients
The provision of free online medical advice aligns with World Laparoscopy Hospital's mission to empower patients and enhance healthcare outcomes. It allows individuals to take an active role in managing their health and seeking expert guidance when needed.
A Source of Reassurance and Knowledge
In times of uncertainty, illness, or when facing medical questions, World Laparoscopy Hospital's free online medical advice offers a ray of hope. It's a source of reassurance, a font of knowledge, and a testament to the potential of digital health in improving lives.
World Laparoscopy Hospital's commitment to providing free online medical advice represents a significant step towards democratizing healthcare. It brings the expertise of world-class medical professionals to anyone with an internet connection, offering guidance, hope, and the promise of better health. In an era defined by connectivity, this institution stands as a beacon of medical excellence in the digital landscape.

If you have a surgical concern and can't reach a doctor right away, or you're not sure where else to ask a qualified laparoscopic surgeon, you can get our Medical Help through this Forum of World Laparoscopy Hospital which is available 24 hours a day, Just fill-up the form given and within few our the answer of your question will be posted on this forum. Please keep in mind we answer the question only related to laparoscopic surgery. You can also search and browse thousands of answer already posted on this forum
Using Free Medical Advice Related to Laparoscopic Surgery Service, you can send your questions to our Laparoscopic Surgeon and the Doctor will reply within few hour. It's as if you are having an email exchange with your very own private surgeon! As soon as you post your question, a qualified laparoscopic surgeon will start answering it. Our expert can help you learn more about the treatment and procedure options available to you for different health problems and diseases.They'll also give you information to discuss with your doctor when deciding what kind of surgical treatment is best for you.
The Doctor will provide you with the all the medical information you need, and will guide you as you choose a course of action, all from the comfort of your home or office. No more sitting in the waiting room for hours just to get some basic information from your laparoscopic surgeon; no more self-diagnosis after reading pages and pages of confusing and contradictory Online information.
World Laparoscopy Hospital gives you the personalized health information you need to decide on the right treatment for you. The information that you provide will be seen by every person for education and information purpose so please not write your real name.