obesity, hypertension.
Discussion in 'All Categories' started by farsana - Jan 3rd, 2012 10:34 pm.

farsana

iam 23 year old, ht 5.4" & wt 75kg, bengali girl. I have a baby of 8 month old and am lactating.. im a medical student and my schedule is very stressful.. my father is hypertensive , diabetic and cardiac pt... wht shall i do to reduce my wt and lead a healthy stress free life...

re: obesity, hypertension. by Dr M.K. Gupta - Jan 4th, 2012 11:56 pm

#1

Dr M.K. Gupta

Dear Farsana

Because society seems to move in the speed of lightening, it would appear that most people are desirous of just living a low-stress healthy life. To be able to attain this goal, several key issues must be addressed.

Included in this are the next:

Making appropriate food choices
Keeping the body hydrated
Incorporating exercise in to the day
Developing a social support system
Setting aside time for rest

When many of these elements have been become habitual, the body and mind can relax, and the defense mechanisms will begin to function at top efficiency.

Making Healthy Food Choices

First, living a stress free healthy life requires fuelling your body using the nutrients that it needs for energy and growth.

Incorporating vegetables and fruit into the diet is a superb beginning. At least five daily servings are recommended.

Protein can also be an essential building block for a healthy body, and calcium is needed for that teeth and bones to stay strong. If this is difficult, vitamin and mineral supplements may help to bridge the gap, but whole foods are always better.

Keeping your body Hydrated

Since the body is composed of large quantities water, it requires liquid to operate properly. Water keeps the kidneys functioning and also the cells from the body full and healthy.

Scientists now say that most liquids can count toward a daily consumption quota, but good clean water energizes the body helping it release toxins better than any other fluid for those interested in living a low-stress healthy life.

Incorporating Exercise in to the Day

Low stress healthy living is nearly impossible without exercise.

Exercise not just keeps the body at a healthy weight by burning calories, additionally, it allows the mind to produce stress.

If life really becomes stressful, you ought to not only practice some form of aerobic exercise and weight training but should also give a form of meditative exercise such as yoga.

Exercise can lower the cortisol levels in the body which are so damaging towards the heart.

Developing a Support System

A support system is also an important component in living a low-stress healthy life. Relatives and friends can provide support and encouragement when stress becomes unbearable.

Talking is therapeutic and allows for a discharge of burdens. If relatives and friends aren't close, a social network may be developed through civic or religious organizations.

Setting Aside Time for Rest

Finally, living a low-stress healthy every day life is impossible without getting enough rest.

When nightly sleep doesn't seem possible, incorporate cat naps during the day. The body rebels with illness when it is forced to work long periods lacking the necessary rest.

With regards
M.K. Gupta
Accessing Expertise Anywhere: Free Online Medical Advice by World Laparoscopy Hospital
In an age where information is at our fingertips, the World Laparoscopy Hospital is taking the concept of accessibility and expertise to a whole new level. This renowned medical institution is offering a valuable service that transcends geographical boundaries - free online medical advice.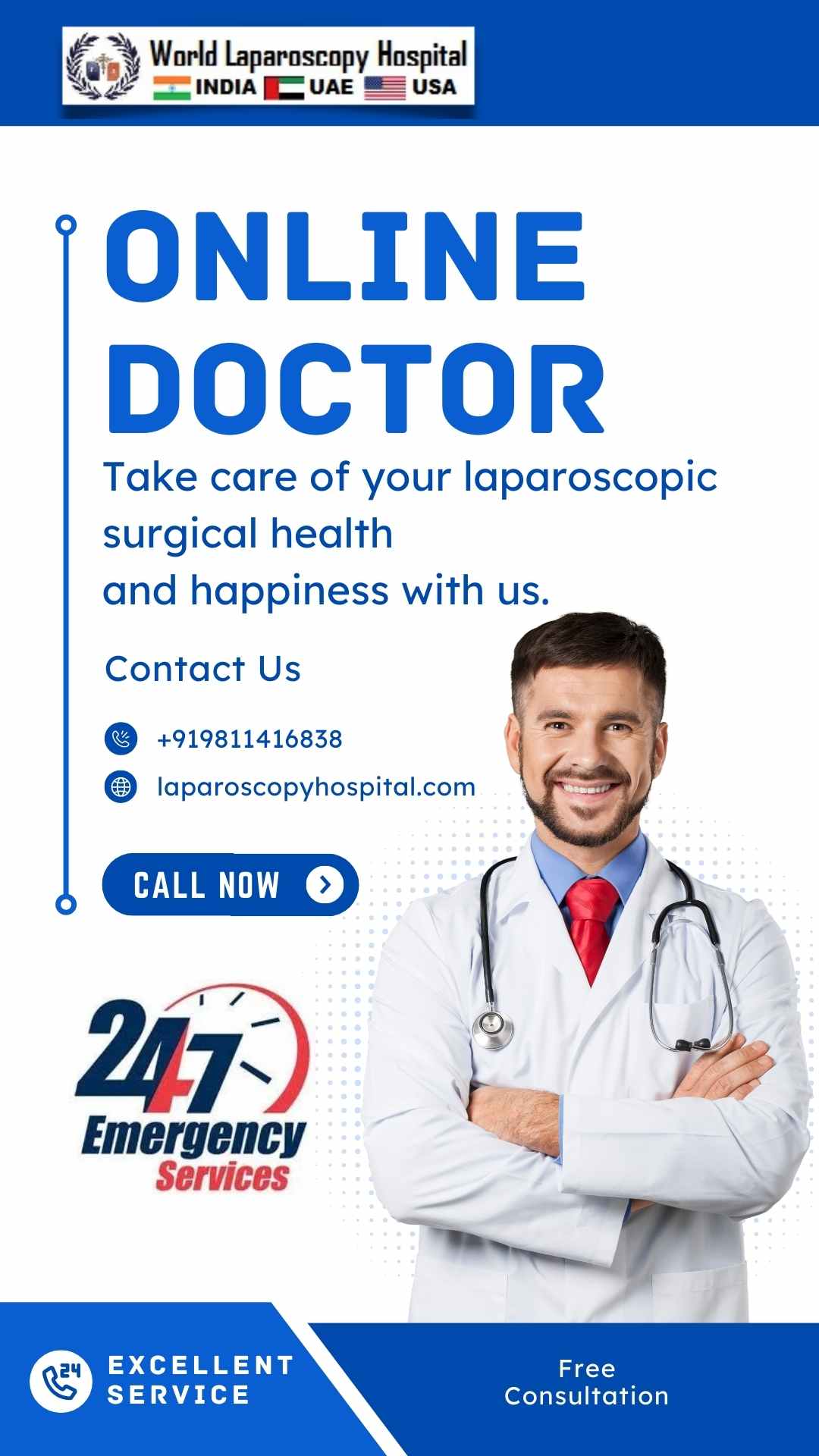 The Power of Digital Health
The digital revolution has significantly transformed the way we access healthcare information and connect with medical professionals. World Laparoscopy Hospital has harnessed this power to provide a platform where individuals from around the world can seek medical guidance from top-notch experts without leaving their homes.
The Importance of Medical Advice
Medical advice is a fundamental aspect of healthcare. It serves as a bridge between patients and the knowledge and experience of healthcare professionals. Timely and accurate medical advice can be a lifeline, offering reassurance, guidance, and potentially life-saving information.
World Laparoscopy Hospital: A Beacon of Medical Excellence
World Laparoscopy Hospital is globally recognized for its excellence in Minimal Access Surgery and surgical training. The institution's commitment to innovation, research, and patient care is evident in its mission to extend free online medical advice to those in need.
Key Features of World Laparoscopy Hospital's Online Medical Advice Service:
Expertise Across Specialties: The hospital boasts a roster of expert physicians, surgeons, gynecologists, urologists, and pediatric surgeons. This diverse range of specialists ensures that individuals can receive advice on a wide spectrum of medical issues.

Accessibility: The online platform breaks down geographical barriers. Patients from any corner of the world can access this service, making it especially beneficial for those in remote or underserved areas.

Convenience: Online medical advice is available 24/7, providing the convenience of seeking guidance at any time, day or night. This accessibility is particularly crucial for urgent medical queries.

Privacy: World Laparoscopy Hospital maintains strict patient confidentiality, ensuring that sensitive medical information remains secure.

Multilingual Support: Recognizing the global nature of its audience, the hospital offers support in multiple languages, enhancing accessibility for non-English speakers.

Holistic Guidance: The hospital's expert physicians provide comprehensive advice, addressing not only immediate concerns but also offering insights into long-term health and well-being.
Empowering Patients
The provision of free online medical advice aligns with World Laparoscopy Hospital's mission to empower patients and enhance healthcare outcomes. It allows individuals to take an active role in managing their health and seeking expert guidance when needed.
A Source of Reassurance and Knowledge
In times of uncertainty, illness, or when facing medical questions, World Laparoscopy Hospital's free online medical advice offers a ray of hope. It's a source of reassurance, a font of knowledge, and a testament to the potential of digital health in improving lives.
World Laparoscopy Hospital's commitment to providing free online medical advice represents a significant step towards democratizing healthcare. It brings the expertise of world-class medical professionals to anyone with an internet connection, offering guidance, hope, and the promise of better health. In an era defined by connectivity, this institution stands as a beacon of medical excellence in the digital landscape.

If you have a surgical concern and can't reach a doctor right away, or you're not sure where else to ask a qualified laparoscopic surgeon, you can get our Medical Help through this Forum of World Laparoscopy Hospital which is available 24 hours a day, Just fill-up the form given and within few our the answer of your question will be posted on this forum. Please keep in mind we answer the question only related to laparoscopic surgery. You can also search and browse thousands of answer already posted on this forum
Using Free Medical Advice Related to Laparoscopic Surgery Service, you can send your questions to our Laparoscopic Surgeon and the Doctor will reply within few hour. It's as if you are having an email exchange with your very own private surgeon! As soon as you post your question, a qualified laparoscopic surgeon will start answering it. Our expert can help you learn more about the treatment and procedure options available to you for different health problems and diseases.They'll also give you information to discuss with your doctor when deciding what kind of surgical treatment is best for you.
The Doctor will provide you with the all the medical information you need, and will guide you as you choose a course of action, all from the comfort of your home or office. No more sitting in the waiting room for hours just to get some basic information from your laparoscopic surgeon; no more self-diagnosis after reading pages and pages of confusing and contradictory Online information.
World Laparoscopy Hospital gives you the personalized health information you need to decide on the right treatment for you. The information that you provide will be seen by every person for education and information purpose so please not write your real name.