fatty liver,gallblader stone
Discussion in 'All Categories' started by abdullah al mamun - Mar 29th, 2012 8:37 pm.

abdullah al mamun

I have been suffering Hepatitis B last ten
years. I take Tab. infovir daily ones at night. I continued this medicine
last six year. Last month I go to my Doctor checkup,Doctor told me the problem 1.Hepatogegaly with Fatty change in liver.2.cholelithiasis(multiple) Doctor changes my medicine such as TAB Ursocol 300
(1+0+1) after meal. TAB. Teviral 0.5(Entecavir INN0.5mg)(1+0+0)before meal.
TAB. Amlovas VS 5/160(Amlodipine 5 mg& valsartan 160 mg)(0+0+1).
My recent problem is Lower Torso Discomfort, weakness, tiredness,
confusion, back pains, Hypertension. But no diabetes no heart problem, no
kidney problem.

re: fatty liver,gallblader stone by Dr M. K. Gupta - Apr 3rd, 2012 9:19 pm

#1

Dr M. K. Gupta

Dear Dr Mamun

You should get the gallbladder removed if you have some symptom. In case of hepatitis B laparoscopic surgery can be performed with precaution.

Many people have

re: fatty liver,gallblader stone by Dr M. K. Gupta - Apr 3rd, 2012 9:20 pm

#2

Dr M. K. Gupta

Dear Dr Mamun

You should get the gallbladder removed if you have some symptom. In case of hepatitis B laparoscopic surgery can be performed with precaution.

Many people have silent gallstones that do not trouble them and these are often discovered accidentally when they are being investigated for some other problem.

The natural history of these stones is that they will remain silent and cause no problems, and only around 18% of such stones will cause problems over a 15-year period. If you have stones that are not troubling you, it is suggested that you follow the dietary recommendations and take a liver tonic.

Chances are you can watch the stones slowly dissolve and shrink away. Ursodiol is also another way to dissolve gallstones.

If however the gall stones or sludge are causing upper abdominal pain, nausea, bouts of vomiting, pain in the right shoulder, or if there is a chance of infection or cancer in the gall bladder, then you must be guided by your own surgeon. Laparoscopic surgery has made the recovery time after surgery much shorter. In some very acute gallbladder attacks, surgery can be life saving. However, remember this type of surgery can have complications and although these are not common, Dr Cabot has seen patients who have had more problems after cholecystectomy than they had before.

These problems included leaking bile, permanently damaged bile ducts, liver haemorrhage and infection. These are the reasons why some people opt to use the gall bladder flush to try and avoid surgery. Once again if you decide to do this, please talk to your surgeon first or you can come anytime to our hospital.

With regards

M.K. Gupta

re: fatty liver,gallblader stone by priyansu mukherjee - Sep 9th, 2012 11:12 pm

#3

priyansu mukherjee

Sir,oflet I have a severe abdominal pain with vomit.After upper usg dr. detected acute calculus cholecystitis.now taken clavum 625,ursocol 300. pan-d. calculus size- 1.4cm. now what can I do?

re: fatty liver,gallblader stone by S.ROY - Sep 10th, 2012 12:27 pm

#4

S.ROY

Sir,
I am a patient of Fatty lever with LDL Colestorel 133 & SGPT-76 And SGOT-49,and Doctor advised me to take Ursocol 300 twice a day after meal and VITEXID plus with PAN-d. Please tell me whether it is correct dose for me?

re: fatty liver,gallblader stone by mahesh gupta - Dec 4th, 2012 8:04 am

#5

mahesh gupta

my son suffering gallstone bladder size 12mm please advice ursocol 150mg tab how many period take.

Dear Mahesh Gupta

It is unlikely that 12 mm stone will disolve by ursocol. In our opinion your son should go for laparoscopic cholecystectomy.

With regards

Sadhana

re: fatty liver,gallblader stone by trilok - Jan 5th, 2013 9:15 pm

#6

trilok

sir my friend was told he is having fatty liver and bilateral renal caluculi stones in both kidney, what type of treatment should be given to him and where in india please suggest

re: fatty liver,gallblader stone by Neeraj - Jan 22nd, 2013 3:43 am

#7

Neeraj

Dear Sir,

I am 50 years old a heart patient, suffering hepatitis B and my gallstone is required to be removed whether i should go for surgery?

Dear Neeraj

Laparoscopic Cholecystectomy will be ideal for you. Cardiac clearance is required and once the cardiologist will give consent there will not be any problem with the surgery.

With regards

Dr J S Chowhan

re: fatty liver,gallblader stone by atul kumar - May 18th, 2013 2:29 am

#8

atul kumar

sir i m patient of hepatitis B from last 3 yr and nw i have fatty liver in last checkup with a caluculli on left kidney.. what type of treatment should i have to take and where should i go for caluculli operation..someone told hepetitis B patient does not get operation in all Hospital...pls suggest

thanks

Dear Mr Atul Kuma

You did not tell the size of your calculi in Kidney but for you ESWL will be the best option.

With regard

Sadhana

re: fatty liver,gallblader stone by Supreeth A.R. - Jul 15th, 2013 1:23 pm

#9

Supreeth A.R.

I am a patient of Fatty liver with diabetic and Hypertension with SGOT 172u/l, SGPT 192u/l, Triglycerides 209mg/dl, FBS 98mg/dl and PPBS 188mg/dl.and Doctor advised me to take Ursocol 300 twice a day after meal and mucaine gel before meals thrice a day, Rabeprazole 20 mg once in a day before break fast. Zorly M2 1/2 tablet morning and night. Amlopin - M (i have beta blocker problem) night time. Olmin 20 morning time.Please tell me whether it is correct dose for me?

re: fatty liver,gallblader stone by Mrs. Maria - Aug 3rd, 2013 2:12 pm

#10

Mrs. Maria

Last week done sonoraphy of stomach and pelvis. Report shows Gall bladder tiny 3-4 mm size calculi noted in the lumen of GB. 2 simple hepatic cyst of 1.1cm and 1.2cm noted in right lobe of liver in segment V. 8mm in upper ureter (right kidney), adviced Ursocol 600mg 1 tablet a day for 15 days only. Will the stone dissolve in the gall bladder and what medicine showed I take for the kidney stone. Please advice.

Dear Maria

Gallbladder stone seldom dissolves and most of the time surgery is required if there is symptomatic cholelithiais.

With regard

J S Chowhan

re: fatty liver,gallblader stone by Pushkaraj kotwal - Oct 24th, 2013 10:23 pm

#11

Pushkaraj kotwal

I had done my surgery 3yer b4..now i hv paracite or worm in stool..pain in chest..sumthing spike me in heart...pain at liver side..acidity..plz help me..

Dear Pushkaraj kotwal

We need to examine you and few investigation are required to get the appropriate diagnosis.

With regard

J S Chowhan

re: fatty liver,gallblader stone by Prakash - Dec 9th, 2013 10:02 pm

#12

Prakash

i am suffering for fatty liver.

Dear Prakash

Nonalcoholic fatty liver disease is now the most common cause of chronic liver disease in the U.S. Some people with excess fat in the liver simply have what is called a fatty liver. Although this is not normal, it is not serious if it doesn't lead to inflammation or damage.

Others have what is called nonalcoholic steatohepatisis (NASH). Although it is similar to alcoholic liver disease, people with this type of fatty liver disease drink little or no alcohol. NASH can lead to permanent liver damage. The liver may enlarge and, over time, liver cells may be replaced by scar tissue. This is called cirrhosis.

There is no specific treatment at this time for fatty liver disease. However, getting treatment for any underlying disease, such as diabetes, is essential. And you can take other steps to improve your condition.

If you have alcoholic liver disease and you are a heavy drinker, quitting drinking is the most important thing you can do. Find the support you need to be successful. With alcoholic liver disease, continued use of alcohol can lead to advanced disease, including alcoholic hepatitis or cirrhosis. Even for those with None alcoholic liver disease, however, avoiding alcohol may help.

With regard

Sadhana

re: fatty liver,gallblader stone by afeef - Feb 11th, 2014 9:36 am

#13

afeef

Dear Sir / Madam

I have liver problem since 2 years back, last month doctor gave me Ursocol-300 and Silybon-10, my question is how long i can use these medicine?

Thanks
Afeef

Dear Afeef

The duration of medication depends on liver function test.

With regard

Sadhana



re: fatty liver,gallblader stone by Islam - Jun 9th, 2014 1:17 pm

#14

Islam

Sir ,

I'm suffering HBV , Virus load 1856mu/ul. Anti HBe positive.
for last 15 yrs. LFT is continue good

Last few days to find fatty liver grade-1, high cholesterol, high TG,
My doctors prescribed Ursocol 300 mg twice in day and lipired 160 mg only at night .
Sir , am I current advice and how much day to remove fatty liver . I have maintained my food .

Dear Islam
The treatment of fatty liver is with Tab Urcosol 300 mg twice daily and statins i.e., lipired 160 mg daily. If you consume alcohol then cut down it to 1 or 2 drinks per day or 10 gms per day. You may consult the physician for taking Tab Metformin 500 mg per day.

With Regards

Dr J S chowhan


re: fatty liver,gallblader stone by ms parwanda - Sep 9th, 2014 11:58 pm

#15

ms parwanda

I m having normal LFT,HBSAg positive, hbv DNA test less than 3.8
Severe fatty liver
Treatment please

Dear M S Parwanda
You are having hepatitis B with normal liver function. You please consult a gastroenterologist to find out the viral l and to suggest the treatment. The chronic Hepatitis may lead to the liver cancer.
Thanks
Dr J S Chowhan

re: fatty liver,gallblader stone by DR. Furquan Ahmad Ansari - Nov 5th, 2014 1:24 pm

#16

DR. Furquan Ahmad Ansari

I have been diagnosed for small pieces of calculi in gall bladder. Please suggest some medicine or any other treatments except this.

Dear Dr Furquan
There is no medical treatment for the stones in the gall bladder. Laparoscopic Cholecystectomy is the gold standard treatment for the gall stones.

Thanks
With Regards
Dr J S Chowhan

re: fatty liver,gallblader stone by RAUSHAN KUMAR - May 4th, 2015 1:37 pm

#17

RAUSHAN KUMAR

sir i'm suffering from fatty lever since 1 month...my sgot is 166.6.sgpt=81.5, billrubin total=1.58 ...doctors prescribe me ursocol 300mg..,evion 400mg, pantocid 40mg, my question is...this treatment are best or not...because i'm suffering from 98(low) fever since 2 days.....plzz suggest me...

Dear Raushan Kumar,

The medicines are good but you should be in continuous contact with one good physician. If you are taking alcohol you should stop it immediately and avoid the diet rich in fat.

with regards
Nidhi

re: fatty liver,gallblader stone by Ramesh Saroj - Oct 2nd, 2015 11:51 pm

#18

Ramesh Saroj

My SGOT-40, SGPT-53 and Total bilirubin is 1.90 can i take ursocol 300 then how many days and time.

Dear Saroj

You can take the Ursocol for 3 month and then get one USG done again. Please keep in mind that taking medicine does not always cure the problem.

re: fatty liver,gallblader stone by Ramesh Saroj - Oct 2nd, 2015 11:55 pm

#19

Ramesh Saroj

my SGOT-40, SGPT-53 and Totall bilrubin is 1.90 can i take ursocol300 then how many days and time.

Dear Saroj

Ursocol is used for Gallstone Dissolution Agent, a bile acid, Prophylaxis and treatment of gall stones, chronic hepatitis, liver transplant rejection also. Continue the treatment 3 - 4 more months after dissolution of stones.

With regard

Dr R K Mishra

re: fatty liver,gallblader stone by RAGHURAM b - Oct 3rd, 2015 12:18 pm

#20

RAGHURAM b

Dear Dr.

I am suffering with gr I Fatty liver and border DM. For DM, Voglitor MF .03 and Glized 40 mg for last 4 yrs and Past 10 days URSOCOL 300 is used for Fatty liver for 2 months @ 2 tabs per day after meals. Is it ok. Plz advise. Thanks.

Dear Mr Raghuram

Ursocol is Ursodeoxycholic acid which is a bile acid. Normally there is a balance between cholesterol and bile acids in the liver. You should Continue the treatment 3 - 4 more months after dissolution of stones.

With regard

Dr R K Mishra

re: fatty liver,gallblader stone by DHRUBA JYOTI DAS - Nov 2nd, 2015 2:02 pm

#21

DHRUBA JYOTI DAS

RESPECTED SIR,

FOR YOUR KIND ATTENTION I WOULD WRITE TO INFORM YOU THAT I AM
MR.DHRUBA JYOTI DAS FROM GUWAHATI (ASSAM)

NOW I HAVE BEEN SUFFERING SOME PROBLEMS LIKE, ACIDITY & GAS, MAINLY INDIGESION
ETC.SINCE LAST ONE YEAR. I AM UNABLE TO DIGEST MY NORMAL FOOD EASILY. I AM TAKING
SO MANY MEDICINE LIKE , PANTAB DSR,FASTAL-N,LIVER TONIC,URSONIL-300,SUCRAL ETC FOR A LONG TIME.BUT MY
PROBLEM IS NOT CURE TILL NOW.

SIR, PLEASE HELP ME FOR CURE MY STOMACH PROBLEMS.
THANKING YOU,

REGARDS
DHRUBA JYOTI DAS
GUWAHATI
ASSAM
MOBILE-9864085655

Dear Mr Das

We have to examine you as if the medicines are not working Fundoplication is required. You are a good candidate of Fundoplication or not we will decide after looking all the previous medical history. Please come with all the reports and Consult Dr R K Mishra.

With regard

Nidhi.




re: fatty liver,gallblader stone by Kshitindra Kumar singh - Dec 18th, 2015 11:04 am

#22

Kshitindra Kumar singh

I am suffering from gastric pain and USG came for both lobe of liver are enlarged many medicine no suit for body here doctor advise Ursocade 300 mg two-times and Livtone syrup 2 times but present time gastric problem is continue please give me advise

Dear Mr Singh

You can add Pantoprazol 40mg once daily with this treatment your gastric problem will subside. Liver will take time to return normal size. You should never take alcohol or smoking with these medicines.

With regard

Dr Nidhi

re: fatty liver,gallblader stone by Imran khan - Jan 8th, 2016 5:19 pm

#23

Imran khan

Dr.
I request to that my father is suffering from fatty liver problem and waste out the protein in urine some time. So that is ursocol suitable for that.

Dear Mr Khan

Ursocol will help but he should avoid eating fatty diet and reduce weight.

With regard

Sadhana

re: fatty liver,gallblader stone by js bedi - Jan 13th, 2016 10:22 am

#24

js bedi

I have diagnosed with fatty liver stage 1. what is the treatment.

Dear Mr Bedi

Fatty liver is a condition in which the cells of the liver accumulate abnormally increased amounts of fat. Although excessive consumption of alcohol is a very common cause of fatty liver (alcoholic fatty liver), there is another form of fatty liver, termed nonalcoholic fatty liver disease (nonalcoholic fatty liver disease), in which alcohol has been excluded as a cause. In nonalcoholic fatty liver disease, other recognized causes of fatty liver that are less common causes than alcohol also are excluded. In stage 1 fatty liver is development of nonalcoholic fatty liver disease is intimately associated with and is probably caused by obesity and diabetes. The most promising treatments for nonalcoholic fatty liver disease are
diet,
exercise,
weight loss, and
possibly bariatric surgery.
Several drugs have been studied in the treatment. There is little evidence that any drug is effective in slowing the disease progression of fatty liver. Many diseases are associated with fatty liver and are part of the metabolic syndrome. These diseases should be screened for and treated, for example, high blood pressure, dyslipidemia and diabetes. Nonalcoholic fatty liver disease has been associated in human or animal studies with reduced amounts of unsaturated fats. Benefits of increasing unsaturated fat (a diet lower in saturated fat, and higher unsaturated fat) and reducing high fructose corn syrup on nonalcoholic fatty liver disease have not been demonstrated; however, there is little harm in doing so, especially since there may be benefits of these dietary modifications unrelated to the liver.

Vitamin D deficiency is associated with nonalcoholic fatty liver disease. Although there is no reason to think that this deficiency contributes to nonalcoholic fatty liver disease.

There is no evidence of harmful effects of light alcohol consumption (two or fewer drinks per day for men, one or fewer for women) on nonalcoholic fatty liver disease though there also is no evidence that it is safe! Larger amounts of alcohol consumption should be avoided by everyone, including individuals with nonalcoholic fatty liver disease.

re: fatty liver,gallblader stone by deepak ratnani - Jan 29th, 2016 12:43 pm

#25

deepak ratnani

my age is 60 as urine colour was yellow seen gone for check up found jaundice and fatty liver with hyptitised B now dr given me uroscol 300 mg and Evion 400 taking but i m confused when my jaundise will clear i started wait loss and walking 1 hr and controlling dieting previosly i m more eating wadas and pav and rice potato i m also diabetic patient now my diabeties is 102 for last 7 days so any wrong thing i m doing whether i can eat fruits pl let me no madamji my no is 8082454504.

Dear Deepak

You should get one MRCP done. Magnetic resonance cholangiopancreatography or MRCP uses a powerful magnetic field, radio waves and a computer to evaluate the liver, gallbladder, bile ducts, pancreas and pancreatic duct for disease. It is noninvasive and does not use ionizing radiation. After MRCP the cause of jaundice can be better determined.

With regard

Dr Nidhi

re: fatty liver,gallblader stone by Snehasish Bagchi - Feb 10th, 2016 6:30 pm

#26

Snehasish Bagchi

I am suffering from fatty liver. How long should I take Ursocol 300?

Dear Mr Bagchi.

You should take Ursocol at least for 3 month and then get one more Ultrasound done to know the status of your fatty liver. Avoid foods with high levels of fat, cholesterol and sugar; in addition, try to avoid carbonated drinks. These foods are the main reason for fat build-up around the liver. Instead, start eating healthy food that has a high amount of dietary fiber and other beneficial nutrition. Learn more about the recommended foods for fatty liver.


re: fatty liver,gallblader stone by Bipul Chakraborty - Mar 24th, 2016 9:43 pm

#27

Bipul Chakraborty

I am suffering fatty liver and few days dis entry problem & I use 2 times ursocal 300 tab,
please advice in this problem.

Dear Bipul

You should continue Ursocol for 3 month. The treatment of fatty liver disease is to decrease the potential risk exposures to the liver. For those with alcoholic liver disease, abstaining from alcohol is a must. For those with NALFD or NASH, appropriate diet, weight loss, diabetes control, and cholesterol/triglyceride control are important both for treatment and to prevent progression of the disease from NAFLD to NASH, and from NASH to cirrhosis.

With regard
Nidhi

re: fatty liver,gallblader stone by Kshitindra Kumar singh - Apr 5th, 2016 4:02 pm

#28

Kshitindra Kumar singh

Respected Dr Sahab

I am suffering from gastric problem consult doctor advise USG In USG my liver are enlarge both lobes are 16.78 cm. doctor advise for Ursocade 300mg two times and Rabesymrd in empty stomach I had taken this tablet two times in 3 months but taken this tablet suffered from constipation . After 3 months again USG my liver are also enlarged just slightly less. present time liver size are 16.68cm. Doctor advise for Udibon taken one times. Therefore I request you kindly suggest me what I can do.

K.K.Singh

Excess fat can cause liver inflammation. If your liver becomes inflamed, you may have a poor appetite, weight loss, abdominal pain, weakness, and confusion. One of the most important factor of fatty liver is wait gain and excessive fat in the diet. Fatty liver is common.

Around 10 to 20 percent of people have too much fat in their liver, but no inflammation or damage is present. Most cases of fatty liver are detected in people between ages 40 and 60. When fatty liver is caused by an underlying condition, it can become harmful to the liver if the cause is not recognized and treated.

You should continue the medicine prescribed by your doctor and follow the dietary instructions.

With regard

Nidhi




re: fatty liver,gallblader stone by money - May 5th, 2016 1:58 pm

#29

money

my SGPT is 237.
Fatty liver Stage III.
I drink alcohol daily and I am non vegetarian also.
please advice what to do ?
doctor advise me Ursocol 300 mg 3 times in day.

Dear Money

Ursocol is fine to treat fatty liver. Successful treatment for alcohol-related liver disease (ARLD) often depends on whether someone is willing to stop drinking alcohol and make changes to their lifestyle.

With regard

Dr R K Mishra

re: fatty liver,gallblader stone by adhori - May 17th, 2016 10:29 pm

#30

adhori

my mom age 50, 22 days ago he got leproscopic surgery for galblaader stone. now she is suffaring sgpt 172 and sgot 35 , doctor advice ursocol150 , is it ok for treatment ...please advicee me

re: fatty liver,gallblader stone by romon - May 17th, 2016 10:48 pm

#31

romon

HLW...SIR my mom got surgery 22 days ago now she is week after blood test she got sgpt 172 . doctor gave ursocol 150, now she is feeling in her hand palm some kind of stitch by pin....is it any big problem ...please help me

re: fatty liver,gallblader stone by HIMANSHU joshi - Jun 16th, 2016 11:00 pm

#32

HIMANSHU joshi

40 years of age diagnosed liver cirrhosis taking cadivas and heptral. Now found 8mm stone in gall bladder. Doc has prescribed ursocol 450. Kindly suggest. Alcoholic in. Need second opinion.

Dear Mr Joshi

You should continue Ursocol and stop alcohol. Please If you have a more serious form of ARLD – alcoholic hepatitis or cirrhosis – life-long abstinence is recommended. This is because stopping drinking is the only way to prevent your liver damage getting worse and potentially stop you dying of liver disease.


re: fatty liver,gallblader stone by R Kamal singh - Jun 30th, 2016 1:24 pm

#33

R Kamal singh

Sir my mother is suffering from jaundice 24 points for last 4 months. Hepatitis b & c negative. ANA positive and has gall stones. Doctor suggested that to conduct anti smooth muscle antibodies test and anti LKM. Is it better way or not? If it better, what will be the treatment if blood tests are positive?

Dear Mr Singh

In our opinion you should get one MRCP done. Magnetic resonance cholangiopancreatography (MRCP) is a relatively better technique to evaluate the biliary tree which is necessary to find out cause of jaundice for viewing the bile ducts, the pancreatic duct and the gallbladder. In MRCP usually no contrast medium has to be administered for MRCP, unlike some other techniques. MRCP uses magnetic resonance imaging (MRI) to produce detailed pictures.

re: fatty liver,gallblader stone by MVS Chalapathi rao - Aug 3rd, 2016 2:24 am

#34

MVS Chalapathi rao

Dear doc, my Fibro scan score is 12.9
median is 4.9. advised ursocol 300 mg 3/day, absolut1/day, enbios 1/day.
I stopped alcohol. Eating pure veg except egg white. walking 30 mts. I am 60 years. Kindly advise on the matter and the seriousness of the disease.

Dear Mr Rao

Examination with FibroScan, also called transient elastography, is a technique used to assess liver stiffness measured in kPa correlated to fibrosis without invasive investigation. he result is delivered at the end of the examination, it's a number which can vary from 1.5 to 75 kPa.

The Medicine you are taking in O.K. you should remain in contact with a herpetologist and stop completely Alcohol and smoking. Hopefully it should be cured.

With regard
Dr J S Chowhan
World Laparoscopy Hospital

re: fatty liver,gallblader stone by Jomi Uddn - Aug 25th, 2016 10:04 am

#35

Jomi Uddn

I have mild fatty liver.I fell little pain in upper abdomen .Dr give 150 Ursocal and vitamin E-capsule. Please tell me about my disease .





Dear Jomi
Some fat in your liver is normal. But if it makes up more than 5%-10% of the organ's weight, you may have fatty liver disease.You might have fatty liver disease and not realize it. There are often no symptoms at first. As time goes on, often years or even decades, you can get problems like:• Feeling tired
• Loss of weight or appetite
• Weakness
• Nausea
• Confusion, poor judgment, or trouble concentrating
You might have some other symptoms, too. Your liver may get larger. You could have a pain in the center or right upper part of your Stomach.
So if you consume alcohol you nee to stop it immediately, If you are over weight you need to reduce your weight, consume healthy diet that will reduce fat in your body and ultimately of your liver.



With regards
Dr Rahul


re: fatty liver,gallblader stone by Avinash singh - Sep 7th, 2016 6:00 pm

#36

Avinash singh

Chronic liver parenchymal disease with portal hypertension



Dear Avinash
Please send us your full report. Chronic liver disease in the clinical context is a disease process of the liver that involves a process of progressive destruction and regeneration of the liver parenchyma leading to fibrosis and cirrhosis. Chronic liver disease refers to disease of the liver which lasts over a period of six months. It consists of a wide range of liver pathologies which include inflammation (chronic hepatitis), liver cirrhosis, and hepatocellular carcinoma.

Portal hypertension is hypertension (high blood pressure) in the hepatic portal system, which is composed of the portal vein and its branches and tributaries. Portal hypertension is defined as elevation of hepatic venous pressure gradient.



With Regards
Dr Rahul

re: fatty liver,gallblader stone by swarup - Apr 13th, 2017 7:02 pm

#37

swarup

my mother had acute pancreatitis attack 3 months ago and after that lost 8kg weight in three months.During that time usg didn't show any gallstone. But recent MRCP and USG report showing small calculi and sludge in neck of gallbadder.Gastero surgon suggest to do the surgery.My mother worried about complication of after surgery complication . He gave urscol 300 mg twice a day. Should she continue with that or go for surgery.

Thanks
Swarup



Dear Swarup


You mother have a gall stone. A gall stone is a stone formed within the gallbladder out of bile components. The term cholelithiasis may refer to the presence of stones in the gallbladder or to the diseases caused by gallstones. Most people with gallstones (about 80%) never have symptoms. In 1–4% of those with gallstones, a crampy pain in the right upper part of the abdomen, known asbiliary colic, occurs each year. Complications of gallstones include inflammation of the gallbladder, inflammation of the pancreas, and liver inflammation.
You need to go for the surgery to get rid of it. Laparoscopoc cholecystectomy is the surgery of choice. In this the small holes are made in the abdomen through which the instrument and telescope are passed and the surgery is carried out.

Accessing Expertise Anywhere: Free Online Medical Advice by World Laparoscopy Hospital
In an age where information is at our fingertips, the World Laparoscopy Hospital is taking the concept of accessibility and expertise to a whole new level. This renowned medical institution is offering a valuable service that transcends geographical boundaries - free online medical advice.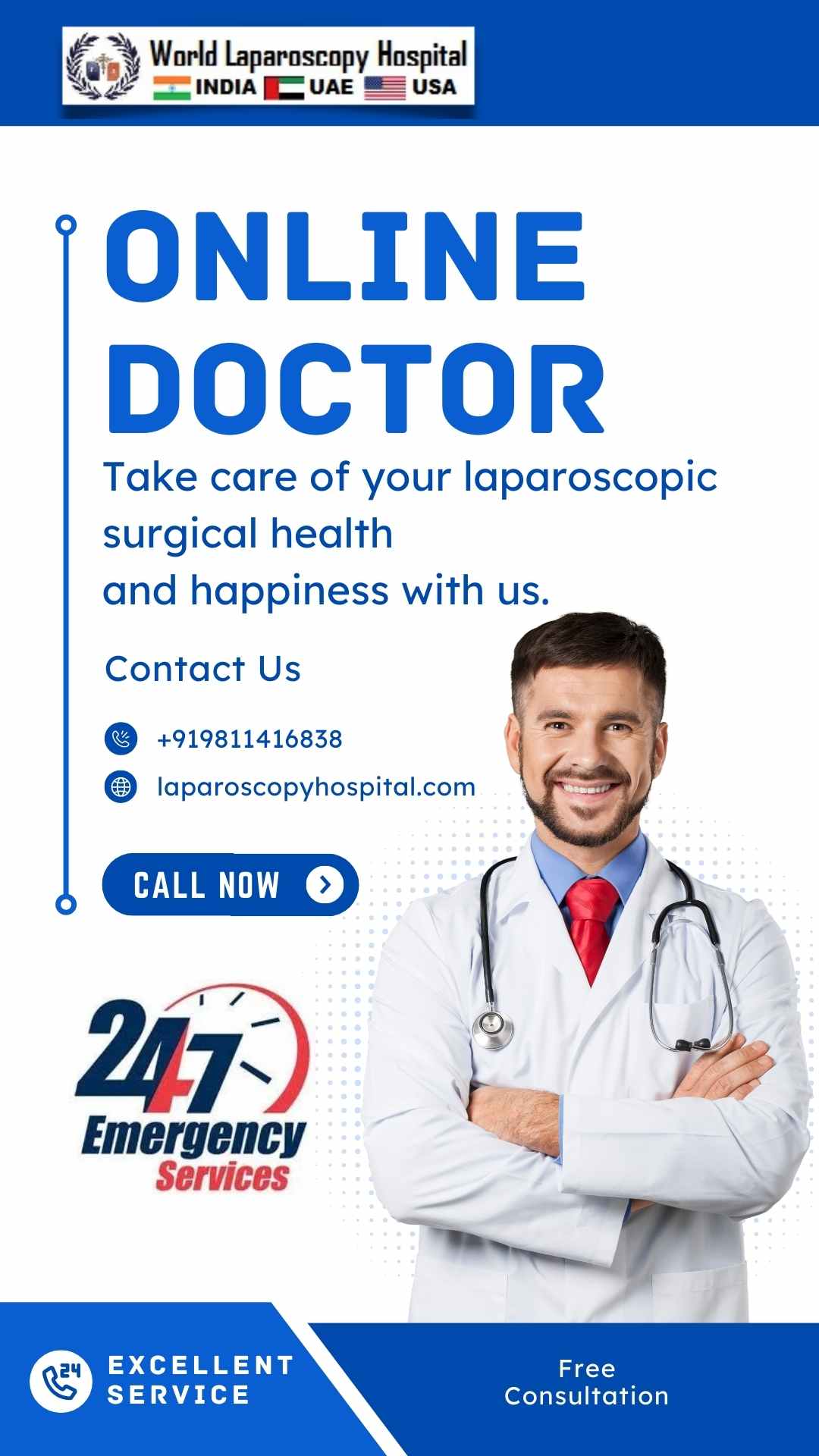 The Power of Digital Health
The digital revolution has significantly transformed the way we access healthcare information and connect with medical professionals. World Laparoscopy Hospital has harnessed this power to provide a platform where individuals from around the world can seek medical guidance from top-notch experts without leaving their homes.
The Importance of Medical Advice
Medical advice is a fundamental aspect of healthcare. It serves as a bridge between patients and the knowledge and experience of healthcare professionals. Timely and accurate medical advice can be a lifeline, offering reassurance, guidance, and potentially life-saving information.
World Laparoscopy Hospital: A Beacon of Medical Excellence
World Laparoscopy Hospital is globally recognized for its excellence in Minimal Access Surgery and surgical training. The institution's commitment to innovation, research, and patient care is evident in its mission to extend free online medical advice to those in need.
Key Features of World Laparoscopy Hospital's Online Medical Advice Service:
Expertise Across Specialties: The hospital boasts a roster of expert physicians, surgeons, gynecologists, urologists, and pediatric surgeons. This diverse range of specialists ensures that individuals can receive advice on a wide spectrum of medical issues.

Accessibility: The online platform breaks down geographical barriers. Patients from any corner of the world can access this service, making it especially beneficial for those in remote or underserved areas.

Convenience: Online medical advice is available 24/7, providing the convenience of seeking guidance at any time, day or night. This accessibility is particularly crucial for urgent medical queries.

Privacy: World Laparoscopy Hospital maintains strict patient confidentiality, ensuring that sensitive medical information remains secure.

Multilingual Support: Recognizing the global nature of its audience, the hospital offers support in multiple languages, enhancing accessibility for non-English speakers.

Holistic Guidance: The hospital's expert physicians provide comprehensive advice, addressing not only immediate concerns but also offering insights into long-term health and well-being.
Empowering Patients
The provision of free online medical advice aligns with World Laparoscopy Hospital's mission to empower patients and enhance healthcare outcomes. It allows individuals to take an active role in managing their health and seeking expert guidance when needed.
A Source of Reassurance and Knowledge
In times of uncertainty, illness, or when facing medical questions, World Laparoscopy Hospital's free online medical advice offers a ray of hope. It's a source of reassurance, a font of knowledge, and a testament to the potential of digital health in improving lives.
World Laparoscopy Hospital's commitment to providing free online medical advice represents a significant step towards democratizing healthcare. It brings the expertise of world-class medical professionals to anyone with an internet connection, offering guidance, hope, and the promise of better health. In an era defined by connectivity, this institution stands as a beacon of medical excellence in the digital landscape.

If you have a surgical concern and can't reach a doctor right away, or you're not sure where else to ask a qualified laparoscopic surgeon, you can get our Medical Help through this Forum of World Laparoscopy Hospital which is available 24 hours a day, Just fill-up the form given and within few our the answer of your question will be posted on this forum. Please keep in mind we answer the question only related to laparoscopic surgery. You can also search and browse thousands of answer already posted on this forum
Using Free Medical Advice Related to Laparoscopic Surgery Service, you can send your questions to our Laparoscopic Surgeon and the Doctor will reply within few hour. It's as if you are having an email exchange with your very own private surgeon! As soon as you post your question, a qualified laparoscopic surgeon will start answering it. Our expert can help you learn more about the treatment and procedure options available to you for different health problems and diseases.They'll also give you information to discuss with your doctor when deciding what kind of surgical treatment is best for you.
The Doctor will provide you with the all the medical information you need, and will guide you as you choose a course of action, all from the comfort of your home or office. No more sitting in the waiting room for hours just to get some basic information from your laparoscopic surgeon; no more self-diagnosis after reading pages and pages of confusing and contradictory Online information.
World Laparoscopy Hospital gives you the personalized health information you need to decide on the right treatment for you. The information that you provide will be seen by every person for education and information purpose so please not write your real name.