Multiple Fibroid Uterus
Discussion in 'All Categories' started by Yashmina Mariam - Sep 21st, 2016 7:05 pm.

Yashmina Mariam

I got your contact from the site of the WORLD LAPAROSCOPY HOSPITAL and also from the WORLD LAPAROSCOPY SURGEONS.

Wish to get your help in my medical condition.

Am having AN ENLARGED UTERUS THAT BEARS MULTIPLE INTRAMURAL MYOMAS and don't want to have an open surgery and don't want to have my UTERUS removed. The doctors back here at home have advised me against having a LAPAROSCOPY SURGERY since it would make me bleed to death. I Have had some scans done and The information here below is the out come of my PELVIC ULTRASOUND.

THE UTERUS IS Bulky In size

It measures 110 x 124 x92 mm, with a volume of 843 grams. Myometrial echotexture is non uniform. Multiple Intramural Myoma's of varying sizes are seen ( At least 8 ). The largest is seen at the anterior myometrium measuring 61 x 58 mm. The endometrium is displaced posterior by the MYOMAS. It measures 9 mm.

The MYOMAS are giving me a lot of pressure on my lower abdomen, making me very uncomfortable and have a lot a lot of frequent urination. Have to keep going to the wash room and have sleepless nights because of having to keep waking up,at night.
They have also caused me to have Mild right hydronephrosis and its really worrying me.

Now DR R.K MISHRA, is it possible for me to have a LAPAROSCOPY surgery without any damage / harm / or the risk of bleeding and without removing my uterus? Am humbly requesting for your professional medical advice. I don't have any children and my family is very small since we are only 2 children. So my family ( parents and sister ) are very worried about my condition. Are there drugs that I can take to clear them without making me get side effects and making me get to early menopause?

Please go through my mail then let us talk on phone and get your advice. Would also want you to advice / Give me more information on the LAPAROSCOPY and how safe it is for me. Let also know about the costs if you were to perform the surgery in India and how long will take for me to heal. Let me know the best time for us to talk.

re: Multiple Fibroid Uterus by Dr Rahul - Sep 24th, 2016 5:24 pm

#1

Dr Rahul

Dear Yashmina
Laparoscopic surgery is an advance surgery and it has many advantages over the open surgery like the the hospital stay of the patient is reduced, patient has minimum bleeding compare to the open, the incision is small, patient has a better recovery rate and many more. You don't need too worry about the laparoscopic procedure, it wont harm you.
As you said you don't want to remove your uterus, we can go for Laparoscopic myomectomy for the removal of the fibroid. Laparoscopic Myomectomy, sometimes also fibroidectomy, refers to the surgical removal of uterine leiomyomas, also known as fibroids. In contrast to a hysterectomy the uterus remains preserved and the woman retains her reproductive potential.
You can call us on 9811416838 for further detail.



With Regards
Dr Rahul

re: Multiple Fibroid Uterus by Amrita yadav - May 9th, 2020 6:01 pm

#2

Amrita yadav

Dear Doctor
My USG states that I have multiple fibroids in the uterus. I also have heavy bleeding during my mc. My age is 45 and my family is complete. How can I get rid of the problem??

re: Multiple Fibroid Uterus by Dr Rahul Pandey - May 9th, 2020 6:05 pm

#3

Dr Rahul Pandey

Dear Amrita
It would be easy for us if you send us your USG report. Without that planning is incomplete. Laparoscopic myomectomy is the initial option but as your complete Total Laparoscopic Hysterectomy can also be an option.
Accessing Expertise Anywhere: Free Online Medical Advice by World Laparoscopy Hospital
In an age where information is at our fingertips, the World Laparoscopy Hospital is taking the concept of accessibility and expertise to a whole new level. This renowned medical institution is offering a valuable service that transcends geographical boundaries - free online medical advice.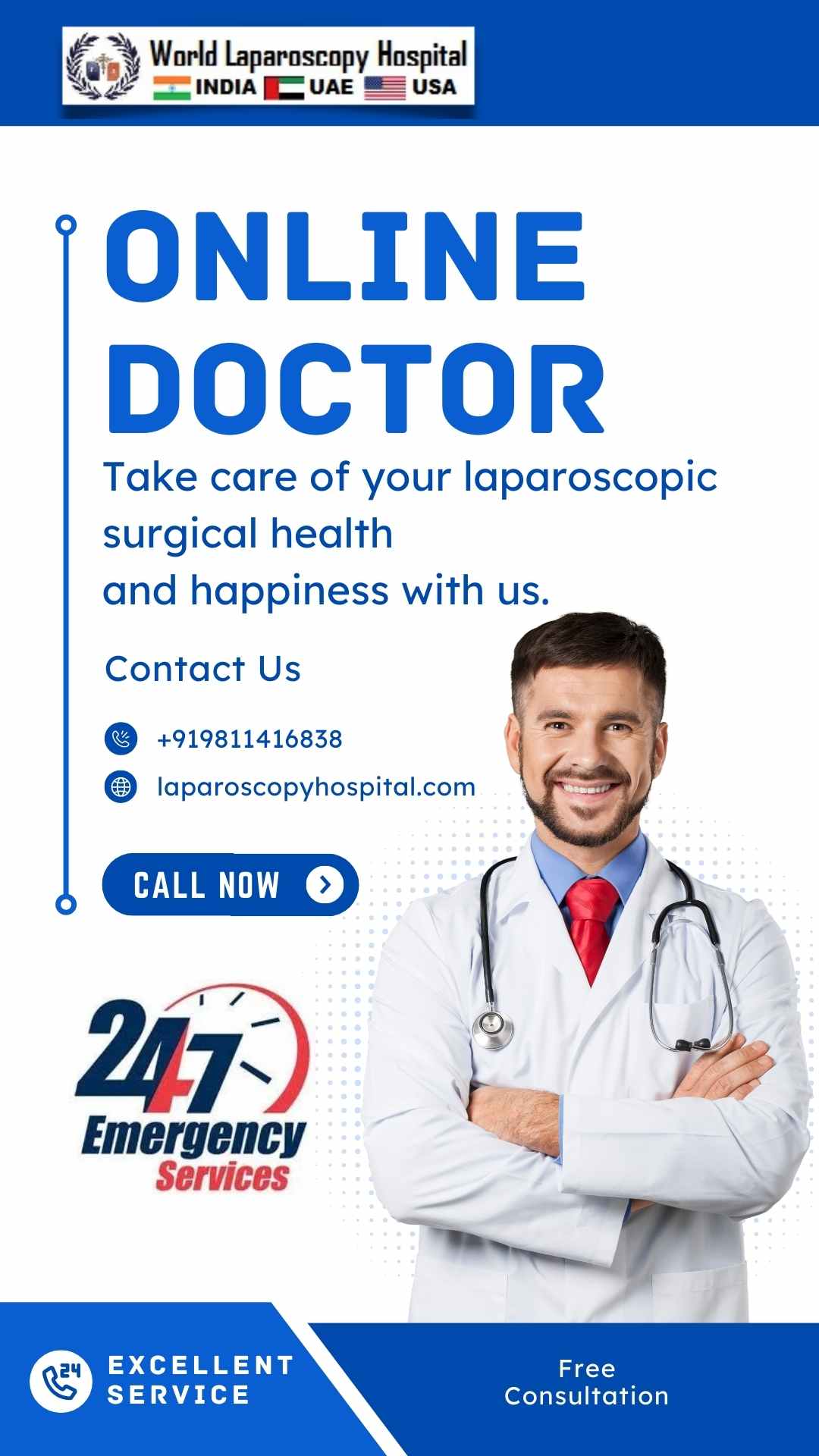 The Power of Digital Health
The digital revolution has significantly transformed the way we access healthcare information and connect with medical professionals. World Laparoscopy Hospital has harnessed this power to provide a platform where individuals from around the world can seek medical guidance from top-notch experts without leaving their homes.
The Importance of Medical Advice
Medical advice is a fundamental aspect of healthcare. It serves as a bridge between patients and the knowledge and experience of healthcare professionals. Timely and accurate medical advice can be a lifeline, offering reassurance, guidance, and potentially life-saving information.
World Laparoscopy Hospital: A Beacon of Medical Excellence
World Laparoscopy Hospital is globally recognized for its excellence in Minimal Access Surgery and surgical training. The institution's commitment to innovation, research, and patient care is evident in its mission to extend free online medical advice to those in need.
Key Features of World Laparoscopy Hospital's Online Medical Advice Service:
Expertise Across Specialties: The hospital boasts a roster of expert physicians, surgeons, gynecologists, urologists, and pediatric surgeons. This diverse range of specialists ensures that individuals can receive advice on a wide spectrum of medical issues.

Accessibility: The online platform breaks down geographical barriers. Patients from any corner of the world can access this service, making it especially beneficial for those in remote or underserved areas.

Convenience: Online medical advice is available 24/7, providing the convenience of seeking guidance at any time, day or night. This accessibility is particularly crucial for urgent medical queries.

Privacy: World Laparoscopy Hospital maintains strict patient confidentiality, ensuring that sensitive medical information remains secure.

Multilingual Support: Recognizing the global nature of its audience, the hospital offers support in multiple languages, enhancing accessibility for non-English speakers.

Holistic Guidance: The hospital's expert physicians provide comprehensive advice, addressing not only immediate concerns but also offering insights into long-term health and well-being.
Empowering Patients
The provision of free online medical advice aligns with World Laparoscopy Hospital's mission to empower patients and enhance healthcare outcomes. It allows individuals to take an active role in managing their health and seeking expert guidance when needed.
A Source of Reassurance and Knowledge
In times of uncertainty, illness, or when facing medical questions, World Laparoscopy Hospital's free online medical advice offers a ray of hope. It's a source of reassurance, a font of knowledge, and a testament to the potential of digital health in improving lives.
World Laparoscopy Hospital's commitment to providing free online medical advice represents a significant step towards democratizing healthcare. It brings the expertise of world-class medical professionals to anyone with an internet connection, offering guidance, hope, and the promise of better health. In an era defined by connectivity, this institution stands as a beacon of medical excellence in the digital landscape.

If you have a surgical concern and can't reach a doctor right away, or you're not sure where else to ask a qualified laparoscopic surgeon, you can get our Medical Help through this Forum of World Laparoscopy Hospital which is available 24 hours a day, Just fill-up the form given and within few our the answer of your question will be posted on this forum. Please keep in mind we answer the question only related to laparoscopic surgery. You can also search and browse thousands of answer already posted on this forum
Using Free Medical Advice Related to Laparoscopic Surgery Service, you can send your questions to our Laparoscopic Surgeon and the Doctor will reply within few hour. It's as if you are having an email exchange with your very own private surgeon! As soon as you post your question, a qualified laparoscopic surgeon will start answering it. Our expert can help you learn more about the treatment and procedure options available to you for different health problems and diseases.They'll also give you information to discuss with your doctor when deciding what kind of surgical treatment is best for you.
The Doctor will provide you with the all the medical information you need, and will guide you as you choose a course of action, all from the comfort of your home or office. No more sitting in the waiting room for hours just to get some basic information from your laparoscopic surgeon; no more self-diagnosis after reading pages and pages of confusing and contradictory Online information.
World Laparoscopy Hospital gives you the personalized health information you need to decide on the right treatment for you. The information that you provide will be seen by every person for education and information purpose so please not write your real name.