Secondary Infertility on account of Ashermans Syndrome
Discussion in 'All Categories' started by Dr Taiwo Gabriel .O - Jun 10th, 2012 3:58 am.

Dr Taiwo Gabriel .O

A cousin of mine had 16 yrs history of Amenorrhoea following her Caesarean operation. She has had adhesiolysis on 3 occassions,and Hysteroscopic adhesiolysis in a Nigerian private hospital 6months ago without any success.She still desires a baby. Presently 41yrs old. We want to access treatment in your World acclaimed facility.Please kindly furnish me with the details and the contacts in your centre. Thanks
Dr Taiwo, G.O

re: Secondary Infertility on account of Ashermans Syndrome by Dr J S Chowhan - Jun 12th, 2012 6:15 am

#1

Dr J S Chowhan

Dear Dr Taiwo, G.O

Amenorrhoea is many causes and it need thorough work out to find out cause of this problem. Most typical reason for amenorrhea include issues with the reproductive organs or using the glands which help regulate hormone levels. Treatment of the actual condition often resolves amenorrhea in many conditions.

Amenorrhea has following Causes

Amenorrhea migh result due to an abnormality in the hypothalamic-pituitary-ovarian axis, anatomical abnormalities of the genital tract, or functional causes.

Hypothalamic causes

Craniopharyngioma
Teratoma
Sarcoidosis
Kallmann syndrome
Nutritional deficiency
Low body weight or growth delay

Pituitary causes

Prolactinemia
Other pituitary tumors, for instance, Cushing syndrome, acromegaly, or thyroid-stimulating hormone.
Postpartum pituitary necrosis death of pituitary cells following a woman offers a baby
Autoimmune hypophysitis, cells of the anterior pituitary gland destroyed through the body

re: Secondary Infertility on account of Ashermans Syndrome by Dr J S Chowhan - Jun 12th, 2012 6:26 am

#2

Dr J S Chowhan

Dear Gabriel

Asherman syndrome is the formation of intrauterine adhesions with thick scar tissue, which typically develop after uterine surgery. Asherman syndrome is a rare condition in reproductive age group female. In most cases, it occurs in women who have had several dilatation and curettage (D&C) procedures for the infirtility or dysmenorrhoea or any other uterine disease.

A severe pelvic infection in woman sometime unrelated to surgery may also lead to Asherman syndrome.

Intrauterine adhesions can also form in some woman after infection with tuberculosis or schistosomiasis. These infections are common in developing country and uterine complications such as Asherman syndrome related to these infections are even common.

Treatment of Asherman Syndrome involves hysteroscopic surgery to cut and remove the adhesions or scar tissue. This can usually be done with hysteroscopy, which uses small micro instruments and a camera mounted telescope placed into the uterus through the cervix.

So again I will advice that you should bring your cousin to our hospital or consult any good gynecologist who can perform operative hysteroscopy on her if asherman syndrome is the problem.

With regards
J.S. Chowhan

After scar tissue is removed, the uterine cavity must be kept open while it heals to prevent adhesions from returning. Your health care provider may place a small balloon inside the uterus for several days and prescribe estrogen therapy while the uterine lining heals.

Antibiotic treatment may be necessary if there is an infection.

re: Secondary Infertility on account of Ashermans Syndrome by Samir - Aug 8th, 2012 4:15 am

#3

Samir

I understand your anger. I was balicasly pushed into a hysterectomy after my last baby (the 4th boy in our family). And even though it was "the best for our family" and "the healthiest for my body" and all kinds of other superlative choice I'm angry too. And I got depressed even with my wonderful boys & a great life. It's the possibilities we leave behind which we come to regret the most. There are no choices, and that is the root of the anger.I once read a true story about a nun who ran to her Mother Superior in tears about realizing that she had hit menopause. And the author wrote, in kind and compassionate reflection, that it was not that the nun wanted to have children she was in tears over the loss of the POSSIBILITY of children.I'm usually a lurker, but your post struck a chord as I have been without my uterus for only nine months. I encourage you to explore and try all options humanly possible. Don't be left with regret.
Accessing Expertise Anywhere: Free Online Medical Advice by World Laparoscopy Hospital
In an age where information is at our fingertips, the World Laparoscopy Hospital is taking the concept of accessibility and expertise to a whole new level. This renowned medical institution is offering a valuable service that transcends geographical boundaries - free online medical advice.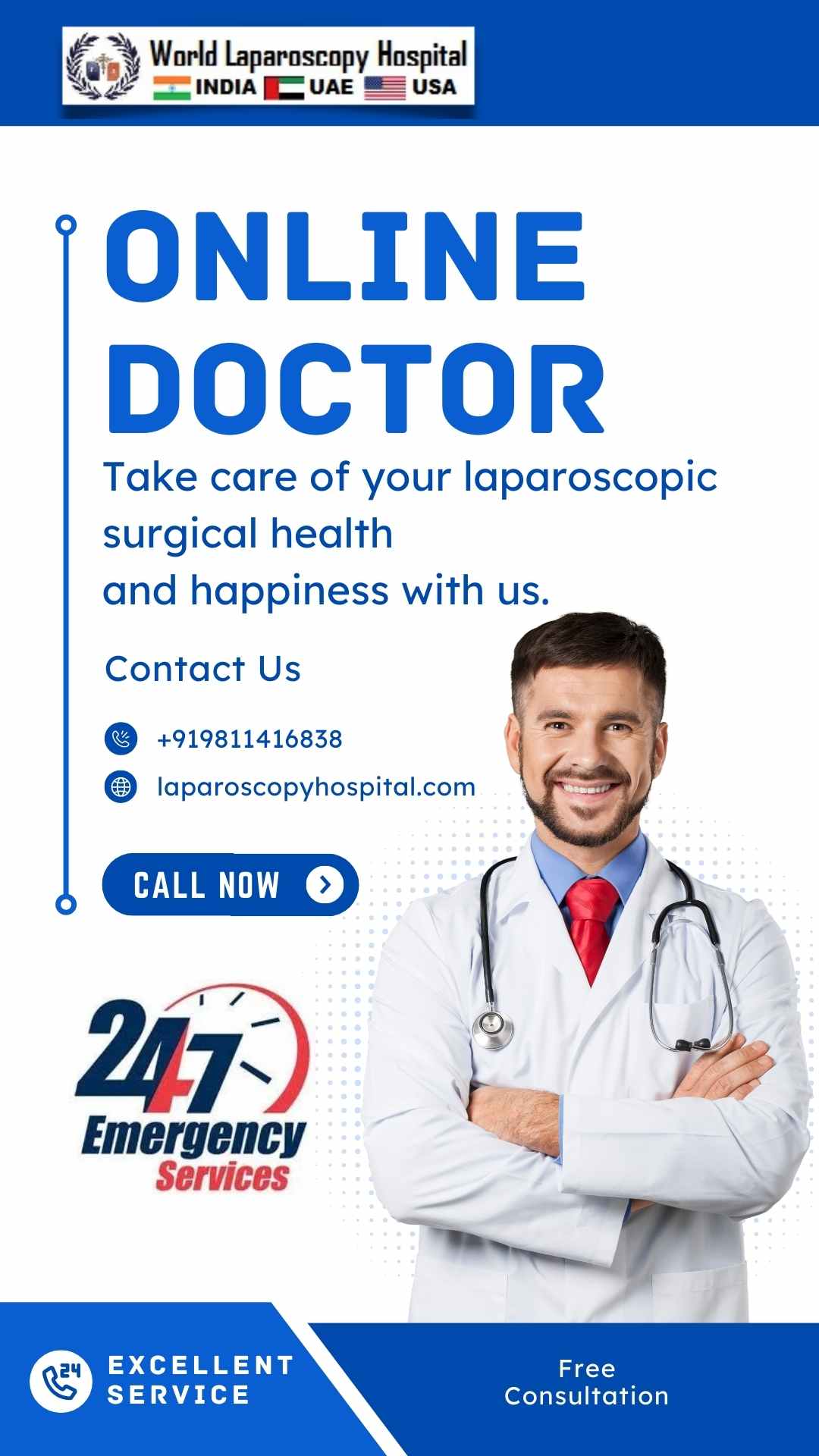 The Power of Digital Health
The digital revolution has significantly transformed the way we access healthcare information and connect with medical professionals. World Laparoscopy Hospital has harnessed this power to provide a platform where individuals from around the world can seek medical guidance from top-notch experts without leaving their homes.
The Importance of Medical Advice
Medical advice is a fundamental aspect of healthcare. It serves as a bridge between patients and the knowledge and experience of healthcare professionals. Timely and accurate medical advice can be a lifeline, offering reassurance, guidance, and potentially life-saving information.
World Laparoscopy Hospital: A Beacon of Medical Excellence
World Laparoscopy Hospital is globally recognized for its excellence in Minimal Access Surgery and surgical training. The institution's commitment to innovation, research, and patient care is evident in its mission to extend free online medical advice to those in need.
Key Features of World Laparoscopy Hospital's Online Medical Advice Service:
Expertise Across Specialties: The hospital boasts a roster of expert physicians, surgeons, gynecologists, urologists, and pediatric surgeons. This diverse range of specialists ensures that individuals can receive advice on a wide spectrum of medical issues.

Accessibility: The online platform breaks down geographical barriers. Patients from any corner of the world can access this service, making it especially beneficial for those in remote or underserved areas.

Convenience: Online medical advice is available 24/7, providing the convenience of seeking guidance at any time, day or night. This accessibility is particularly crucial for urgent medical queries.

Privacy: World Laparoscopy Hospital maintains strict patient confidentiality, ensuring that sensitive medical information remains secure.

Multilingual Support: Recognizing the global nature of its audience, the hospital offers support in multiple languages, enhancing accessibility for non-English speakers.

Holistic Guidance: The hospital's expert physicians provide comprehensive advice, addressing not only immediate concerns but also offering insights into long-term health and well-being.
Empowering Patients
The provision of free online medical advice aligns with World Laparoscopy Hospital's mission to empower patients and enhance healthcare outcomes. It allows individuals to take an active role in managing their health and seeking expert guidance when needed.
A Source of Reassurance and Knowledge
In times of uncertainty, illness, or when facing medical questions, World Laparoscopy Hospital's free online medical advice offers a ray of hope. It's a source of reassurance, a font of knowledge, and a testament to the potential of digital health in improving lives.
World Laparoscopy Hospital's commitment to providing free online medical advice represents a significant step towards democratizing healthcare. It brings the expertise of world-class medical professionals to anyone with an internet connection, offering guidance, hope, and the promise of better health. In an era defined by connectivity, this institution stands as a beacon of medical excellence in the digital landscape.

If you have a surgical concern and can't reach a doctor right away, or you're not sure where else to ask a qualified laparoscopic surgeon, you can get our Medical Help through this Forum of World Laparoscopy Hospital which is available 24 hours a day, Just fill-up the form given and within few our the answer of your question will be posted on this forum. Please keep in mind we answer the question only related to laparoscopic surgery. You can also search and browse thousands of answer already posted on this forum
Using Free Medical Advice Related to Laparoscopic Surgery Service, you can send your questions to our Laparoscopic Surgeon and the Doctor will reply within few hour. It's as if you are having an email exchange with your very own private surgeon! As soon as you post your question, a qualified laparoscopic surgeon will start answering it. Our expert can help you learn more about the treatment and procedure options available to you for different health problems and diseases.They'll also give you information to discuss with your doctor when deciding what kind of surgical treatment is best for you.
The Doctor will provide you with the all the medical information you need, and will guide you as you choose a course of action, all from the comfort of your home or office. No more sitting in the waiting room for hours just to get some basic information from your laparoscopic surgeon; no more self-diagnosis after reading pages and pages of confusing and contradictory Online information.
World Laparoscopy Hospital gives you the personalized health information you need to decide on the right treatment for you. The information that you provide will be seen by every person for education and information purpose so please not write your real name.