Irregular Period
Discussion in 'All Categories' started by Nadia Afrin Noor - Dec 25th, 2015 6:14 pm.

Nadia Afrin Noor

Hello,
My name is Nadia, 33 years old, 46 kg weight and 153 cm height. My period is not regular since last three years. I am diagonsed with PCOS. My blood sugar level is normal. I am trying for a baby for more than a year but it did not work so I consulted with two Gynecologists. I have got two kinds of suggestions from them.

Gynecologist 1:
I have been consulting with first Gynecologist since last 6 months. He started with a herbal medicine called Agnus Kastus (German). But it did not work for me. Recently the doctor suggested me to take clomiphene. He will do regular sonography while I will be taking clomiphene.

Gynecologist 2:
But before taking clomiphene I consulted with another Gynecologist last week and she suggested to do laparoscopy instead of taking clomiphene. She wanted to test fallopian tube and do ovarian drill through laparoscopy. According to her I should not take clomiphene before testing fallopian tubes. And I should consider taking clomiphene if I do not get pregnant after the ovarian drill.

My Question:
Should I go with Gynecologist 1 or 2? Which process will be more effective for conceiving a healthy baby (clomiphene or laparoscopy)?

Note: I had my last true period on 7th October and since 29th November I am having spotting and sometimes very little blood.

Thanks and best regards,
Nadia

re: Irregular Period by Dr Nidhi - Jan 17th, 2016 3:56 pm

#1

Dr Nidhi

Dear Nadia

If medical treatment of PCOS does not work then ovarian drilling is the better option. Ovarian drilling, done during laparoscopy, is a procedure in which a laser fibre or electrosurgical needle punctures the ovary 4 to 10 times. This treatment results in a dramatic lowering of male hormones within days and is often performed in women who have polycystic ovary syndrome (PCOS).

With regard

Dr Nidhi

re: Irregular Period by KRISHNA - Jan 22nd, 2016 1:30 am

#2

KRISHNA

Hi mam mayra na krishna hay or may appsay bat kar na chati hu mayre sadi ko 10sal hogaya sadi k 3 sal k bad hamara ak babay huya o avi 7sal ka hogaya avi ham dubara ak baby k liya kosis kar rahay hay par nahi ho raha hay kay karu pls help me mam ham dono nay test kiya kuch v fold nahi hay par q nahi horaha hay pls boliya mam.

Dear Krishna

Aapko ek achhe gynecologist se milkar apne wife ke tube ka test karwana chahiye. Agar wo ek baar pregnant ho chuki hai to dobara me koin jyada paresani nahi hona chahiye.

With regard

Dr Nidhi.
Accessing Expertise Anywhere: Free Online Medical Advice by World Laparoscopy Hospital
In an age where information is at our fingertips, the World Laparoscopy Hospital is taking the concept of accessibility and expertise to a whole new level. This renowned medical institution is offering a valuable service that transcends geographical boundaries - free online medical advice.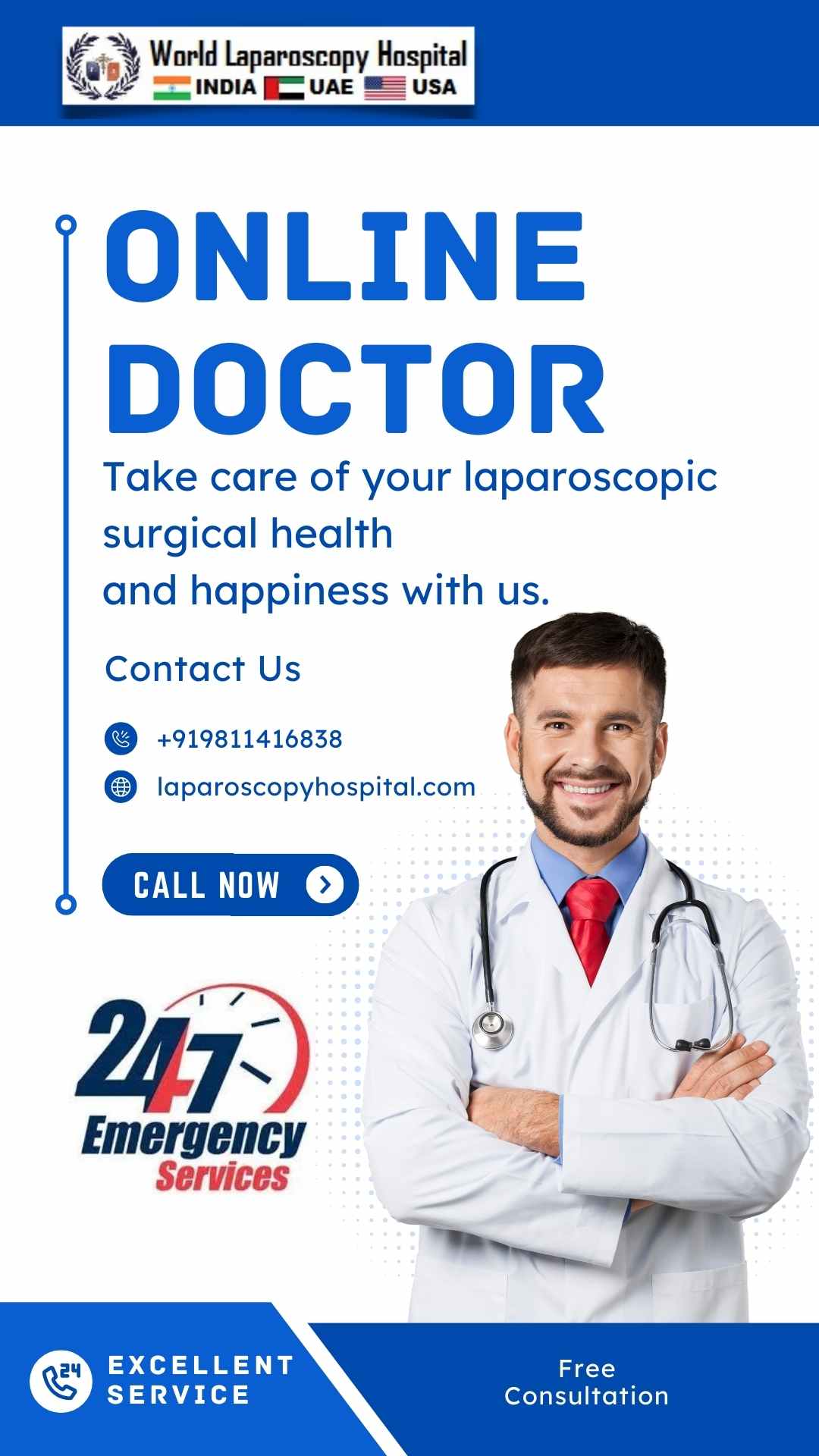 The Power of Digital Health
The digital revolution has significantly transformed the way we access healthcare information and connect with medical professionals. World Laparoscopy Hospital has harnessed this power to provide a platform where individuals from around the world can seek medical guidance from top-notch experts without leaving their homes.
The Importance of Medical Advice
Medical advice is a fundamental aspect of healthcare. It serves as a bridge between patients and the knowledge and experience of healthcare professionals. Timely and accurate medical advice can be a lifeline, offering reassurance, guidance, and potentially life-saving information.
World Laparoscopy Hospital: A Beacon of Medical Excellence
World Laparoscopy Hospital is globally recognized for its excellence in Minimal Access Surgery and surgical training. The institution's commitment to innovation, research, and patient care is evident in its mission to extend free online medical advice to those in need.
Key Features of World Laparoscopy Hospital's Online Medical Advice Service:
Expertise Across Specialties: The hospital boasts a roster of expert physicians, surgeons, gynecologists, urologists, and pediatric surgeons. This diverse range of specialists ensures that individuals can receive advice on a wide spectrum of medical issues.

Accessibility: The online platform breaks down geographical barriers. Patients from any corner of the world can access this service, making it especially beneficial for those in remote or underserved areas.

Convenience: Online medical advice is available 24/7, providing the convenience of seeking guidance at any time, day or night. This accessibility is particularly crucial for urgent medical queries.

Privacy: World Laparoscopy Hospital maintains strict patient confidentiality, ensuring that sensitive medical information remains secure.

Multilingual Support: Recognizing the global nature of its audience, the hospital offers support in multiple languages, enhancing accessibility for non-English speakers.

Holistic Guidance: The hospital's expert physicians provide comprehensive advice, addressing not only immediate concerns but also offering insights into long-term health and well-being.
Empowering Patients
The provision of free online medical advice aligns with World Laparoscopy Hospital's mission to empower patients and enhance healthcare outcomes. It allows individuals to take an active role in managing their health and seeking expert guidance when needed.
A Source of Reassurance and Knowledge
In times of uncertainty, illness, or when facing medical questions, World Laparoscopy Hospital's free online medical advice offers a ray of hope. It's a source of reassurance, a font of knowledge, and a testament to the potential of digital health in improving lives.
World Laparoscopy Hospital's commitment to providing free online medical advice represents a significant step towards democratizing healthcare. It brings the expertise of world-class medical professionals to anyone with an internet connection, offering guidance, hope, and the promise of better health. In an era defined by connectivity, this institution stands as a beacon of medical excellence in the digital landscape.

If you have a surgical concern and can't reach a doctor right away, or you're not sure where else to ask a qualified laparoscopic surgeon, you can get our Medical Help through this Forum of World Laparoscopy Hospital which is available 24 hours a day, Just fill-up the form given and within few our the answer of your question will be posted on this forum. Please keep in mind we answer the question only related to laparoscopic surgery. You can also search and browse thousands of answer already posted on this forum
Using Free Medical Advice Related to Laparoscopic Surgery Service, you can send your questions to our Laparoscopic Surgeon and the Doctor will reply within few hour. It's as if you are having an email exchange with your very own private surgeon! As soon as you post your question, a qualified laparoscopic surgeon will start answering it. Our expert can help you learn more about the treatment and procedure options available to you for different health problems and diseases.They'll also give you information to discuss with your doctor when deciding what kind of surgical treatment is best for you.
The Doctor will provide you with the all the medical information you need, and will guide you as you choose a course of action, all from the comfort of your home or office. No more sitting in the waiting room for hours just to get some basic information from your laparoscopic surgeon; no more self-diagnosis after reading pages and pages of confusing and contradictory Online information.
World Laparoscopy Hospital gives you the personalized health information you need to decide on the right treatment for you. The information that you provide will be seen by every person for education and information purpose so please not write your real name.