Which Surgical Treatment for Fibroid is best?
Discussion in 'All Categories' started by Harmukgnandi Shekhwani - Nov 26th, 2011 11:31 pm.

Harmukgnandi Shekhwani

Dear Doctor
I am 45 year old female with 4 inch X 6 inch big fibroid. I want to get surgery done. I want to ask which type of surgery will be better.

re: Which Surgical Treatment for Fibroid is best? by Dr M.K. Gupta - Nov 26th, 2011 11:33 pm

#1

Dr M.K. Gupta

Dear Harmukgnandi Shekhwani

THERE ARE FOLLOWING SURGICAL FIBROID TREATMENT

Your physician might recommend a surgical procedure for fibroids if:

You have fibroid-related heavy menstrual bleeding, pain, or pressure that doesn't get better with treatments
You are trying to get pregnant and fibroids might be interfering
There is a concern you could have cancer or precancer rather than fibroids

Myomectomy - Myomectomy is really a surgery done to remove fibroids and reduce heavy menstrual bleeding. Most women who've myomectomy can have children afterwards. However, there's a risk that fibroids will come back after myomectomy; between 10 and 25 percent of women who have myomectomy will require another fibroid surgery. For this reason, myomectomy isn't the best choice for women who do not desire to be pregnant later on.

There are several methods to perform myomectomy; the "best" way depends on where your fibroids are located, Vaginal myomectomy for any prolapsed uterine leiomyoma (fibroid) and Abdominal myomectomy

Abdominal myomectomy - This surgery requires an incision (cut) in the lower stomach to remove the fibroids.
Laparoscopic or robotic myomectomy - This surgery uses several small incisions within the lower stomach. A doctor uses thin instruments along with a camera (laparoscope) to get rid of the fibroids. Robotic myomectomy is a variation of laparoscopic myomectomy where the surgical treatment is aided having a surgical robot.
Hysteroscopic myomectomy - If the fibroids are within the opening of the uterus, a doctor can insert instruments through the cervix to get rid of the fibroids.

Endometrial ablation - Endometrial ablation destroys the lining from the uterus with heat. The therapy does not shrink the fibroid(s) but can help to reduce heavy menstrual bleeding brought on by fibroids. Actually, some women who have endometrial ablation stop having menstrual periods.

Ablation can be achieved in the office or as a day surgery. It can be done in combination with other treatments, such as myomectomy. Endometrial ablation is not a form of birth control, but pregnancy isn't recommended after treatment. You will have to use some type of contraception to prevent pregnancy after ablation.

Uterine artery embolization - Uterine artery embolization (also known as UAE or uterine fibroid embolization, UFE) is really a treatment that blocks the circulation to fibroids. This will cause the fibroid to contract within weeks to many months following the treatment.

The treatment is conducted within the hospital after you are given anesthesia. A doctor will insert a little tube into a large circulation system within the inner thigh. The tube is threaded up to arteries near a fibroid (figure 3A-B). A doctor injects tiny particles in to the circulation system, which stops blood circulation towards the fibroid.

To minimize pain following the treatment, most women stay in a healthcare facility overnight. Pregnancy isn't usually recommended after uterine artery embolization, although it can be done to become pregnant. Some form of contraception is usually recommended if you do not wish to become pregnant.

Magnetic resonance guided focused ultrasound - Magnetic resonance guided focused ultrasound surgery (MRgFUS or FUS) (eg, ExAblate® 2000) is really a more recent fibroid treatment option. This noninvasive treatment takes place in a MRI machine which guides the therapy. Multiple waves of ultrasound energy go through the abdominal wall and converge on the small volume of tissue, which results in thermal destruction of the fibroid. Women do receive sedation throughout the procedure also it can be practiced as an outpatient procedure.

Hysterectomy - Hysterectomy is really a surgery that removes the uterus. The ovaries and cervix are occasionally removed, along with the uterus.

Hysterectomy is really a permanent treatment that cures heavy menstrual bleeding. However, it's major surgery, and you will need as much as six weeks to fully recover. More in depth details about hysterectomy can be obtained separately.

WHICH TREATMENT IS RIGHT FOR ME?

There are lots of treating fibroids, also it can be tough to choose which one is right. You should select a treatment based upon your fibroid-related symptoms.

If you're bothered by heavy menstrual bleeding, you are able to first try the medical treatments. Hormonal contraception, nonsteroidal antiinflammatory drugs (NSAIDs), or antifibrinolytic medicines are more effective than other medical treatments.

Some women can also be given endometrial ablation to reduce bleeding (see 'Endometrial ablation' above).

If medical treatment or endometrial ablation aren't good choices for you, you can look at uterine fibroid embolization, myomectomy, hysterectomy or focused ultrasound surgery.

If you're having trouble getting pregnant and fibroids could be the cause, myomectomy is the standard surgical option. Speak to your doctor to make sure that other possible causes of infertility have been addressed.

With regards
M.K. Gupta
Accessing Expertise Anywhere: Free Online Medical Advice by World Laparoscopy Hospital
In an age where information is at our fingertips, the World Laparoscopy Hospital is taking the concept of accessibility and expertise to a whole new level. This renowned medical institution is offering a valuable service that transcends geographical boundaries - free online medical advice.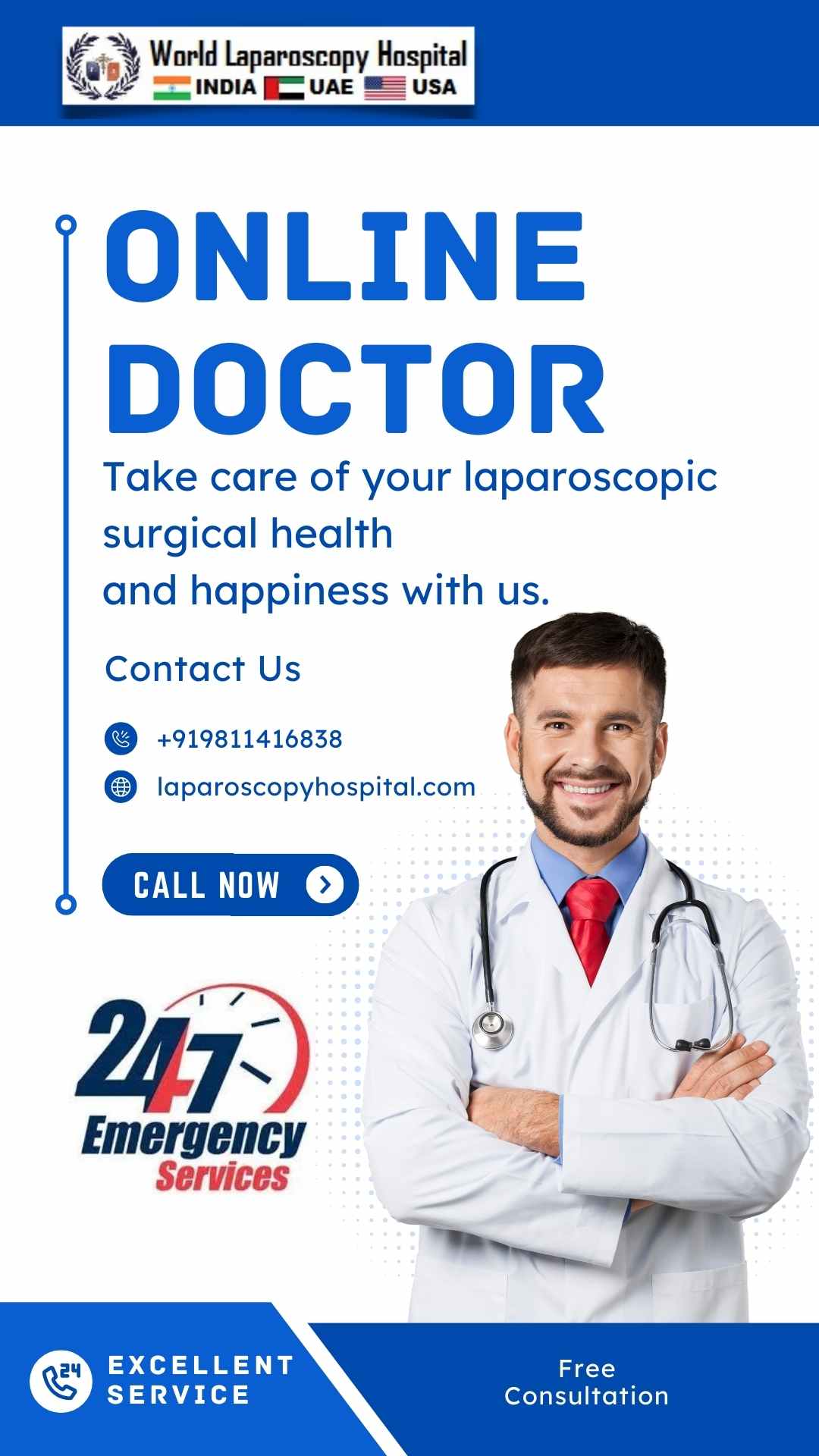 The Power of Digital Health
The digital revolution has significantly transformed the way we access healthcare information and connect with medical professionals. World Laparoscopy Hospital has harnessed this power to provide a platform where individuals from around the world can seek medical guidance from top-notch experts without leaving their homes.
The Importance of Medical Advice
Medical advice is a fundamental aspect of healthcare. It serves as a bridge between patients and the knowledge and experience of healthcare professionals. Timely and accurate medical advice can be a lifeline, offering reassurance, guidance, and potentially life-saving information.
World Laparoscopy Hospital: A Beacon of Medical Excellence
World Laparoscopy Hospital is globally recognized for its excellence in Minimal Access Surgery and surgical training. The institution's commitment to innovation, research, and patient care is evident in its mission to extend free online medical advice to those in need.
Key Features of World Laparoscopy Hospital's Online Medical Advice Service:
Expertise Across Specialties: The hospital boasts a roster of expert physicians, surgeons, gynecologists, urologists, and pediatric surgeons. This diverse range of specialists ensures that individuals can receive advice on a wide spectrum of medical issues.

Accessibility: The online platform breaks down geographical barriers. Patients from any corner of the world can access this service, making it especially beneficial for those in remote or underserved areas.

Convenience: Online medical advice is available 24/7, providing the convenience of seeking guidance at any time, day or night. This accessibility is particularly crucial for urgent medical queries.

Privacy: World Laparoscopy Hospital maintains strict patient confidentiality, ensuring that sensitive medical information remains secure.

Multilingual Support: Recognizing the global nature of its audience, the hospital offers support in multiple languages, enhancing accessibility for non-English speakers.

Holistic Guidance: The hospital's expert physicians provide comprehensive advice, addressing not only immediate concerns but also offering insights into long-term health and well-being.
Empowering Patients
The provision of free online medical advice aligns with World Laparoscopy Hospital's mission to empower patients and enhance healthcare outcomes. It allows individuals to take an active role in managing their health and seeking expert guidance when needed.
A Source of Reassurance and Knowledge
In times of uncertainty, illness, or when facing medical questions, World Laparoscopy Hospital's free online medical advice offers a ray of hope. It's a source of reassurance, a font of knowledge, and a testament to the potential of digital health in improving lives.
World Laparoscopy Hospital's commitment to providing free online medical advice represents a significant step towards democratizing healthcare. It brings the expertise of world-class medical professionals to anyone with an internet connection, offering guidance, hope, and the promise of better health. In an era defined by connectivity, this institution stands as a beacon of medical excellence in the digital landscape.

If you have a surgical concern and can't reach a doctor right away, or you're not sure where else to ask a qualified laparoscopic surgeon, you can get our Medical Help through this Forum of World Laparoscopy Hospital which is available 24 hours a day, Just fill-up the form given and within few our the answer of your question will be posted on this forum. Please keep in mind we answer the question only related to laparoscopic surgery. You can also search and browse thousands of answer already posted on this forum
Using Free Medical Advice Related to Laparoscopic Surgery Service, you can send your questions to our Laparoscopic Surgeon and the Doctor will reply within few hour. It's as if you are having an email exchange with your very own private surgeon! As soon as you post your question, a qualified laparoscopic surgeon will start answering it. Our expert can help you learn more about the treatment and procedure options available to you for different health problems and diseases.They'll also give you information to discuss with your doctor when deciding what kind of surgical treatment is best for you.
The Doctor will provide you with the all the medical information you need, and will guide you as you choose a course of action, all from the comfort of your home or office. No more sitting in the waiting room for hours just to get some basic information from your laparoscopic surgeon; no more self-diagnosis after reading pages and pages of confusing and contradictory Online information.
World Laparoscopy Hospital gives you the personalized health information you need to decide on the right treatment for you. The information that you provide will be seen by every person for education and information purpose so please not write your real name.