What we do at World Laparoscopy Hospital?
Over the last 23 Years, World Laparoscopy Hospital have developed together one of the most innovative minimal access surgical schools with the aim of preparing us to the future of minimal access surgery. Your participation in the Robotic, Laparoscopic, Endoscopic or IVF course as well as your connection to the our virtual university for surgery has represented a major support to our educative and research activity. After more than 23 Years of work, the World Laparoscopy Hospital research & development team has reached one key objective of the development of World's biggest library of minimal access surgery study material. We now intend to put this tool into your hand through an easy and inexpensive online service. Following the spirit of all our past developments in education and being the Premier Institute of the Minimal Access Surgery, the web site of World Laparoscopy Hospital have largest collection of Laparoscopic study material on the web free for our Member Surgeons.
We Teach What We Practice!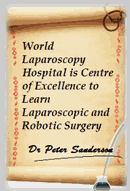 Members can View and Download thousands of high resolution Laparoscopic Videos, Pictures, Articles and Power Point from password protected secure Private Member Area. World Laparoscopy Hospital website is the largest website of laparoscopic surgery in the whole world and this site is hosted on a dedicated private server in Texas, USA. The access to private member area is only to the surgeons, Gynecologist's, urologists and pediatric surgeons who has taken training at World Laparoscopy Hospital, Gurugram, NCR Delhi.orld's largest and most updated collection of thousands of high definition Videos, Articles, Power Point presentations, CME, Chatting, Quizzes, online medical library for members through our secure private member area.
This service is only for the surgeons who has taken "Hands on" training at World Laparoscopy Hospital, Gurugram, NCR Delhi. The online study guides through our web site cover didactics, interactive patient scenarios and manual skills training, containing printable text reviews and practice questions. The online system allows program coordinators to administer and closely track the progress of their individual users. By mastering the laparoscopic skill at World Laparoscopy Hospital and after laparoscopic curriculum and gathering of skills in this inanimate modality, it is expected that surgical residents, gynecologists and surgeons will initiate and carry out their performance of laparoscopy more effectively, with greater skill, greater safety, and with lower complication rates than previously. The specific aim of Member area of World Laparoscopy Hospital is that the knowledge and skills gained by those who master the "Hands On Training" curriculum at World Laparoscopy Hospital will improve the quality and safety of surgical care delivered to their patients.

Our Medicolegal help for our Members
Within the performance of your professional duties as a laparoscopic and robotic surgeon or gynecologist, you need to abide by the foundations of good minimal access surgical practice, but manytimes you will feel that you have been put down in Good practice also. Nevertheless, you might end up being the subject of a complaint or an allegation of negligence throughout your professional employment as laparoscopic and robotic surgeon or gynecologist. The protection which comes from employment within the private or government hospital won't cover all situations in which you could find yourself. For example it won't provide you with legal advice and support when the medical council of your country needs to investigate a significant complaint in regards to you that calls into question your fitness to practise as a minimal access surgeon. To want to consider investing in place additional support and protection. There are a variety of organisations to help you with medico-legal problems for laparoscopic and robotic surgeon or gynecologist. Many are medical defence commercial organisations, other medication is insurance company. All provide indemnity for damages and charges resulting from court of law judicial decisions or settlements from court as well as in medico-legal cases undertaken for the kids, notably accusations of professional negligence. But each organisation offers a different combination of benefits. To help you we at World Laparoscopy Hospital with the help of World Association of Laparoscopic Surgeons decide which, if any, is right for you, please visit our Medico-legal support department for details.
For the members of World Laparoscopy Hospital who has taken "Hands On" Laparoscopic or da Vinci Robotic Surgery Training, our expert surgeon provide the most useful, easy-to-understand, comprehensive and balanced legal information. If in case something goes wrond during Laparoscopic Surgery, General legal advice, and insurance help is provided by us. This medicolegal support is only for surgeons and gynecologist who have been awarded Fellowship or Diploma in Minimal Access Surgery and taken training at world laparoscopy hospital. WLH also helps to connect surgeons and gynecologists to attorneys and insurance professionals to get personal advice, help and solutions for their legal and insurance problems. If you want any medicolegal support and you are alumni of WLH then please click here.
We offer free online continued laparoscopic education on web only for surgeon Gynecologists, Pediatric surgeons and Urologists who has successful completed of practical Essential, F.MAS or Combined D.MAS + F.MAS course at World Laparoscopy Hospital, Gurugram, NCR Delhi, India. You will be asked your email address as username and password which you have received from us.