India's First da Vinci Robotic Cholecystectomy for Mirizzi Syndrome
Prof. Dr. R. K. Mishra. MRCS, M.MAS (U.K).
India's first da vinci robotic cholecystectomy was performed by Dr R. K. Mishra at World Laparoscopy Hospital, Gurugram on on 11th November 2011. He has also demonstrated live da Vinci Robotic Surgery on 14th February 2012 during 3rd World congress of Laparoscopic Surgeons. After that at World Laparoscopy Hospital many surgeries for Mirizzi's syndrome was perdormed. The Video showing above is of an acute mirizzi. Potential benefits of robotic gallbladder surgery for complicated cases may include virtually scarless results, minimal pain, low blood loss, fast recovery, a short hospital stay and high patient satisfaction. The surgery can be performed in about one hour with a typical hospital stay of less than 24 hours. During the procedure, the surgeon sits comfortably at a da vinci robotic console, viewing a 3-D, high-definition image of the patient's anatomy. The surgeon uses controls below the viewer to move the instrument arms and camera and da vinci robot will translate the hand movement of surgeon inside the abdomen of patirnt.
Mirizzi Syndrome:
The Mirizzi syndrome refers to common hepatic duct obstruction caused by an extrinsic compression from an impacted stone in the cystic duct or Hartmann's pouch of the gallbladder. It has been estimated to occur in 0.7 to 1.8 percent of all cholecystectomies. It is often not recognized preoperatively, which can lead to significant morbidity and biliary injury, particularly with laparoscopic surgery. da Vinci robot is a state-of-the-art surgical platform that provides surgeons with 3D, high definition vision of the patient's anatomy and its patented instruments provides a range of motion far beyond the abilities of the human hand. By overcoming the limits of both traditional open and laparoscopic surgery, da Vinci is changing the experience of surgery of Mirizzi's Syndrome.
Appropriate biliary tree imaging with ERCP and MRCP is essential for the diagnosis of Mirizzi syndrome and its complications. Mirizzi syndrome (MS) in association with biliary-enteric fistula is an extremely rare combination. After Mirizzi and Mc Sherry classification, the most recent and predominant classification was made by Csendes et al. According to it, Mirizzi syndrome is divided in four types depending on the size of the destruction of the common bile duct. A wide communication that included the entire circumference of the CBD classifies this case as Mirizzi syndrome type IV. The intraoperative confirmation of Mirizzi syndrome was made after the extraction of the large gallstone. The contracted gallbladder, the inflammatory wall and the subsequent adherence with the common bile duct.
In da vinci real-time, the system translates the surgeon's hand, wrist and finger movements into more precise movements of the miniaturized instruments inside the patient. Unlike traditional robotic surgeries requiring three to five small incisions, now the new technology allows for even a single incision in the belly button where instruments are placed and the diseased gallbladder is removed. Most people who require gallbladder removal are candidates for the robotic, single-incision surgery. da Vinci Robotic Cholecystectomy is performed using the da Vinci Surgical System. Generally robotic surgery is performed for advanced surgery by Dr. R. K. Mishra has created a new era of application of robotic surgery for common diseases. Dr. Mishra has also demonstrated first live robotic cholecystectomy during third world congress of laparoscopic surgeons.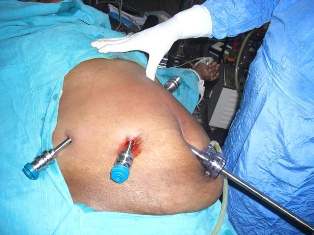 The da Vinci Surgical Product is a robotic surgical system made by Intuitive Surgical and made to facilitate complex surgery utilizing a non-invasive approach. The machine is controlled with a surgeon from a console. It's popular for prostatectomies, and increasingly for cardiac valve repair and gynecologic surgical procedures, but it's role in Mirizzi's synrome can not be denied. Acute Mirizzi syndrome should be suspected when a patient presents with acute cholecystitis and jaundice with dilated intrahepatic ducts on ultrasound. ERCP is useful sometime to confirm the diagnosis and allows stenting to alleviate the jaundice and facilitate the subsequent operation. Laparoscopic ultrasound is useful to locate the impacted stone and to partially replicate the touch of the surgeon's hand, which is not available in robotic surgery.
The relatively high rate of inadvertent bile duct injury, as previously mentioned, reiterates the danger of Mirizzi syndrome. Laparoscopic cholecystectomy in MS is hazardous and maintains a high threshold to open surgery. The rarity of this combination and the precocious recognition remains a challenge for the laparoscopic surgeon. ERCP remains the most powerful diagnostic tool and particularly da Vinci surgery approached with high accuracy the correct diagnosis and better precision. Primary repair of cholecystocolic fistula and minimal surgical maneuvers of Calot's triangle at the time of the operation for Mirizzi syndrome by robotic surgery helps in order to avoid bile duct injury and is important key points for successful treatment, of these clinical entities.