Complications of Laparoscopic Cholecystectomy
Early Complication
• Common bile duct injury
• Bile leak
• Injury to viscera
• Hemorrhage
• Retained stones and abscess formation.
Late Complication
• Biliary strictures
• Cystic duct clip stones.
Lap Chole and CBD Injury
Incidence of iatrogenic CBD injury is 0.12 and 0.55 percent during open and laparoscopic cholecystectomy respectively.
Common Cause of CBD Injury
• Misinterpretation of anatomy—70 percent
• Technical errors
• Risk factors
• Surgeon operates on image rather than reality.
Visual psychological studies have shown that laparoscopic surgeon works on snap interpretation by brain and success or disaster depends on whether snaps are right or wrong. Snap interpretation will be wrong if there is eyeball degradation. The surgeon should not dissect the cystic duct if there is a lack of initial identification and memory of the key structure to the point of absolute certainty. The most important technical error is hilar bleeding and frantic attempts are made to control bleeding by electrosurgery. This frantic attack can catch the CBD and will be injured.
In case of bleeding, the surgeon should first apply pressure, and if it does not stop he should take suction irrigation and atraumatic grasper to find out the exact point of bleeding. Electrosurgery should be used only when the bleeding point is identified.
Testing of CBD
Type of CBD Injury
Bismuth Classification
• Type 1 – CHD stump > 2 cm
• Type 2 – CHD stump < 2 cm
• Type 3 – Hilar, right and left duct confluence intact
• Type 4 – Hilar, separation of right and left ducts
• Type 5 – Injury to aberrant right duct ± CBD injury.
If complication of CBD injury is recognized intraoperatively reconstructive surgery should be performed same time if the surgeon has sufficient experience. For a high complete transaction, Roux-en-Y hepaticojejunostomy is preferred. For lower complete injuries primary suture repair over T-tube is better but long end of T-tube must not be exteriorized from the same site. For partial injuries, insertion of T-tube and Roux-en-Y serosal patch should be thought.
Strategy to Handle Complication Recognized Postoperatively
• USG + ERCP + MRCP
• Fluid + electrolyte + systemic antibiotic
• Conservative treatment and a biliary drainage for six weeks by ERCP stent insertion or
• PTBD (Percutaneous transhepatic biliary drainage) if endoscopic stent application is not possible
• After several weeks: Reconstructive surgery
• Roux-en-Y choledocoduodenostomy or hepatoje-junostomy.
All the variations of the cystic duct and artery should be memorized to avoid inadvertent injury of CBD. The variation in the cystic artery and hepatic duct shown below.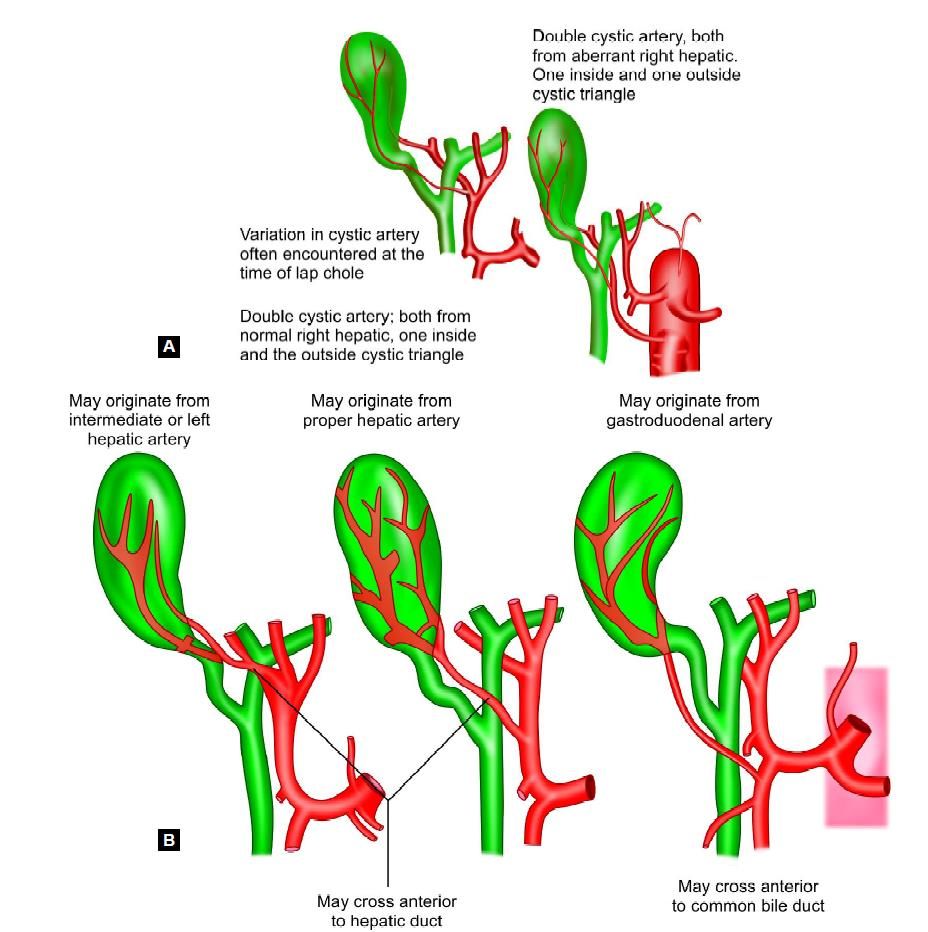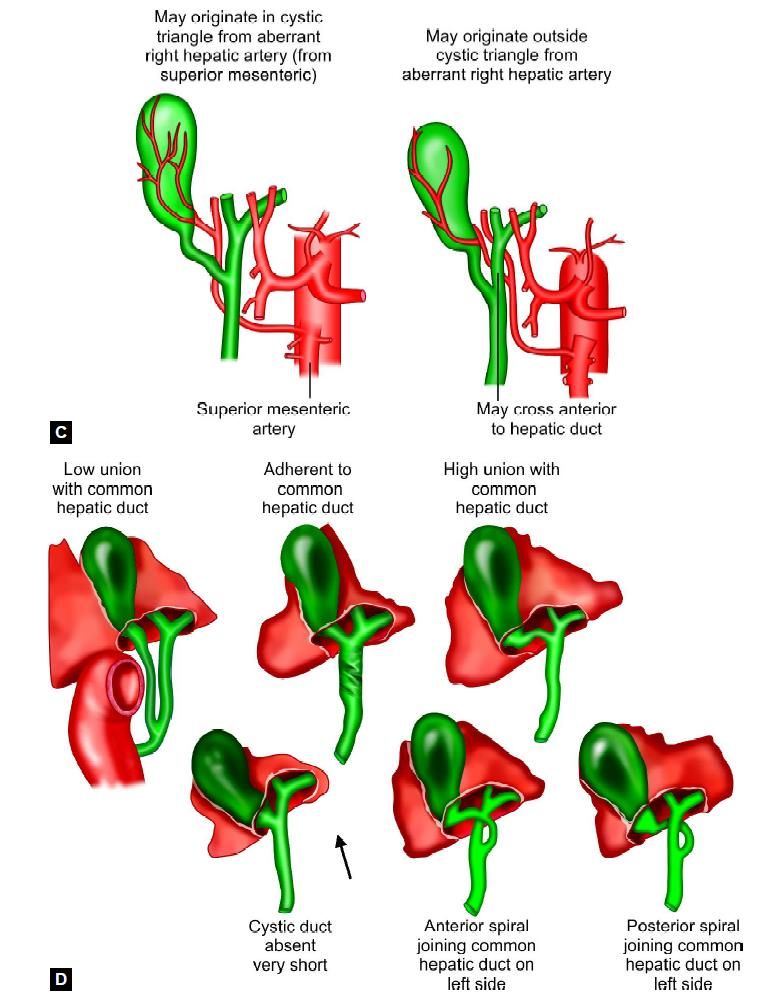 Variation in the cystic artery and hepatic duct
How to Avoid Injury
• Try to memorize initial anatomy of Calot's triangle
• A large distended gallbladder should be aspirated and lifted rather than grasped
• Anterolateral traction is better than fundus pull to avoid tenting of CBD
• Avoid meticulous dissection by energized instrument
• Better to do skeletonization through the pledget
• During detachment of gallbladder from liver bed maintain plane of adipose tissue
• Use suction irrigation frequently.
Tenting of the CBD should always be kept in mind at the time of dissection to avoid injury.