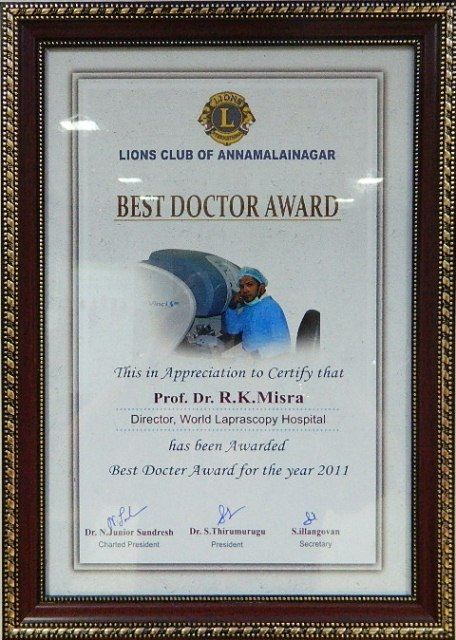 Dr R K Mishra has received the best doctor award by lions club of Annamalainagar. Lions Best Doctor recognize Doctor for their community service. For nearly 100 years, lions members have worked on projects designed to prevent diseases of community. Whenever a Lions club gets together, problems get smaller and communities get better. That's because we help where help is needed – in our own communities and around the world – with unmatched integrity and energy. The best doctor award was created by Lions Club member Dr Junior Sundresh, a renowned laparoscopic surgeon. This Award is presented only to doctors who display good work for the community and have proved their good citizenship.
Lions volunteer to take part in different projects that have doctors who has done outstanding community service will receive a silver seal certificate. Lions Clubs International will issue a congratulatory letter from the international president and a certificate for each award recipient submitted. When it comes to meeting challenges, Lions Club response is simple: Lions Club serve. In 206 countries, in hospitals and senior centers, in regions battered by natural disaster, in schools and eyeglass recycling centers, Lions are doing community volunteer work, helping, leading, planning and supporting. Lions Club can serve the unique needs of the communities we live in. And because Lions Club is global, they can address challenges that go beyond borders.
Over 46,000 clubs and 1.35 million members make Lions Club the world's largest service club organization. They are also one of the most effective. Lion members do whatever is needed to help their local communities. Best doctor award is given only to the doctor who has done extraordinary work for health of poor and needy section of society. Everywhere we work, we make friends. With children who need eyeglasses, with seniors who don't have enough to eat and with people we may never meet. The best doctor award is intended to be presented at a regular meeting of the Lions Club. The name of the recipient is intended to be kept secret until the presentation is being made. The award meeting date varies to give the committee flexibility as well as to keep the recipient from knowing they are being honored.