Live Demonstration of Laparoscopic Cholecystectomy by Dr. R. K. Mishra.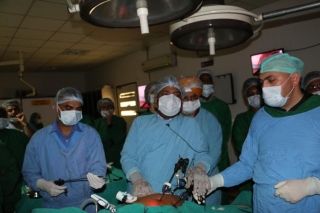 Live surgery Demonstration
Event Date: Jun 6, 2017
Event Time: 9:00 am
Location: World Laparoscopy Hospital
Publisher; WLH
Cholecystectomy should cause no severe long-term side results. This way is called `open cholecystectomy'. The initial one might be the conventional open cholecystectomy and the second might be the laparoscopic cholecystectomy.
Open surgery is done through a large abdominal incision. Surgery to get rid of a diseased gallbladder is known as cholecystectomy. Gallbladder removal surgery, also called a cholecystectomy, is a rather common procedure.
Patients may have just a single stone or there might be many. Before the procedure, the individual is informed an open abdominal procedure might be necessary, and standard anesthesia is administered. Patients should follow precisely the treatment and the advised diet for some time after the gall bladder removal. Together with the suggested diet the individual ought to take the prescribed medicine. Many patients question whether the operation is truly essential.
Gallbladder isn't actually a crucial organ and you may live without it. The gallbladder is a little, pouch-like organ in the top right portion of your tummy. Why You Need Your Gallbladder There's a reason for each organ.
Gallstones are often brought on by high fat content. By obeying these methods of treatment at your house , you'll be in a position to flush your gallstones with no side effect. It is feasible for gallstones to exist for several years without resulting in any issues. Gallstones can happen anywhere within the biliary tree, for example, gallbladder and the frequent bile duct.