Hands On Practice of Extracorporeal Square Knot and Lecture of Access Technique and Baseball Diamond Concept of Port Position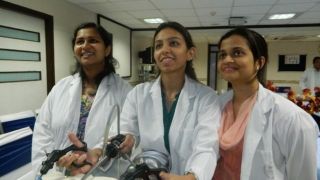 Event Date: Wed - 6 Aug, 2014
Event Time: 9:00 am
Location: World Laparoscopy Hospital, Gurgaon
Institute: WLH
Today the doctors learnt the Laparoscopic extracorporeal Square knot. This knot is very useful to approximate the tissues in locations where the space is limited and deep like in pelvic cavity, gastroesophageal junction etc. This knot can be used to suture the vaginal vault or to approximate the right and left crus in Laparoscopic Fundoplication. This knot can also be used to approximate the serosal layer in Laparoscopic myomectomy.

The length of the suture should be minimum 90 cms and Clark knot pusher is used. The needle is made Endoski and is introduced in the abdomen through 10 mm port. The bite is taken and 20 cms of the suture length is feeded inside. The needle is pulled out. Half knot is tied and Clark's knot pusher is applied. The needle end of the suture is held tight and straight and the knot is pushed past the sutured tissue. This is called Past Pointing. Another half knot is tied and pushed. If the first knot is loose the second knot will tighten the first. Similarly third half knot is tied and pushed. After knotting the suture is cut. The Square knot is a must learn knot only disadvantage is that for every knot one suture length is consumed. Along with knotting doctors also learnt how to use the Needle holder and Align the needle.
The access techniques, the closed access technique with Verees Needle and open access technique with the Hasson's canulla both are safe if performed properly. Over the entire safety margin is slightly more in favour of the open access technique.
The port placement determines the outcome of the Laparoscopic surgery and correct port placement makes the surgery safe and easy. In Base Ball Diamond principal of port placement the most crucial step in performing laparoscopic surgery comfortably is correct positioning of the working ports. Today Dr R K Mishra demonstrated the Base ball diamond principle of port position. This principle applies to the contra lateral ports and it fulfils the three important requirements of the laparoscopic surgery viz.
1. The laparoscopic instrument should work like type 1 lever.
2. Half of the length of the instrument should be outside and half should be inside.
3. The manipulation angle between the working instruments should be sixty degree and the azimuth angle should be 30 degrees on either side.
The doctors also learnt about the ipsilateral port position and learnt the aerial gradient, motion parallax and motion gradient and its effect on the task performance. The intracorporeal suturing becomes difficult with ipsilateral ports. The doctors were also given demonstration on creating ports opposite the telescope and formation of the mirror image which should be avoided at every cost in the laparoscopic surgery.