Laparoscopic Recanalization surgery was demonstrated to surgeons and gynecologists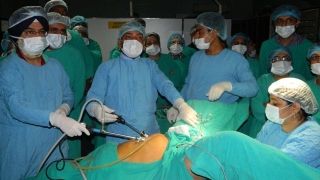 Event Date: Sat - 2 Aug, 2014
Event Time: 9:00 am - 12:00 am
Location: World Laparoscopy Hospital
Institute: WLH
Live demonstration of Laparoscopic Re-canalization surgery was witnessed by surgeons and gynecologists in the operation theater of World Laparoscopy Hospital. World Laparoscopy Hospital is the only place where can learn the skills that will keep you competitive in your field when you register for our intensive hands-on minimal access surgical course. World Laparoscopy Hospital is the only institute in the World which produces the most focused comprehensive courses available on minimally invasive general surgery, urology and gynecologic surgery. You will be amazed by what you can learn in just one month.
Laparo-hysteroscopic selective tubal catheterization with insufflation of oil-soluble radiopaque dye has been reported to be an effective treatment for infertility associated with endometriosis. The important factors for determining the success of operation were age of the patient, time interval between sterilization and reversal, site of ligation, method used for previous ligation & the remaining length of the tube after recanalisation. The microsurgical technique should be available at specialized centres to improve the success of family planning services.
Today lecture of advantages and disadvantages of Minimal Access Surgery was also discussed and surgeons and gynecologists were trained for Hand Eye Coordination in Lab.