Hands On Training in Minimal Access Surgery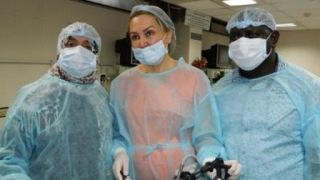 Event Date: Thu - 10 Jul, 2014
Event Time: 3:45 pm
Location: World Laparoscopy Hospital
Institute: WLH
Using live tissue to produce a realistic surgical setting, the World Laparoscopy Hospital provide opportunity for surgeon and gynecologists hands-on surgry of Laparoscopic Cholecystectomy, Laparoscopic Appendectomy, Duodenal perforation, Dissection of female pelvic anatomy and also the principles of dissection. Techniques of laparoscopic tubal ligation, tubal recanalization, salpingotomy, salpingectomy, Oophorectomy and hysterectomy was presented and participants has performed these surgeries within the hands-on lab.
In order to create the perfect learning environment and afford each participant maximum hands-on time, class-size is limited to 30 participants and every laboratory station will be designated only three participants. The hands-on labs will be instructed and moderated by experienced faculty currently using these devices and techniques in their practices.
Laparoscopic representatives may also be on-site to answer technical questions associated with their specific instrumentation and equipment. Ample time will be allowed for questions and interaction with workshop faculty.