Doctors after interactive Robotic O R , Hands On Training in Da Vinci Robotic Surgery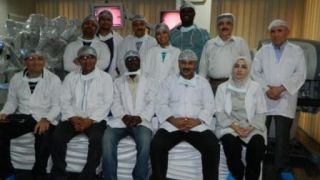 Event Date: Thu - 26 Jun, 2014
Event Time: 2:10 pm
Location: World Laparoscopy Hospital
Institute: WLH
Today surgeons and gynecologists learnt surgeons knot and tumble square knot on da Vinci robot. The World Laparoscopy Hospital provides a defined robotic surgery course with in depth information, familiarization with robotic technology and step by step Hands On skill robotic surgery training.




There is a possibility at World Laparoscopy Hospital for individual robotic surgery fellowship training and group one day training which is free in 4 week F.MAS and D.MAS course. The World Laparoscopy Hospital da Vinci robotic surgery training encompasses theory and practice and it is provided by expert instructors with substantial practical experience with the technology.




World Laparoscopy Hospital has utilized this state of the art robotic technology in a number of clinical applications with reported extra ordinary improvement in clinical results. A real Hands On training is offered, with use of Robot Assisted Surgical Da Vinci HD Robot with true surgeons console, not simulator like other courses of World.