Hands On Training in Operative Minimal Access Surgery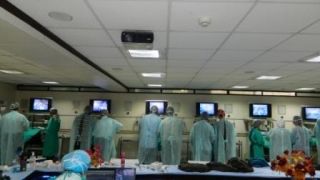 Event Date: Mon - 23 Jun, 2014
Event Time: 12:45 pm
Location: World Laparoscopy Hospital
Institute: WLH
Today was the second wet lab training session for the doctors. The doctors arrived in the lab and put on the OR gowns, caps, shoe covers and sterile gloves. The surgeons started with the hernia repair. Today the best hernia repair was done by Dr Ozer hatioglu. The best Laparoscopic fundoplication was done by Dr Muzzafar Zaman.




Dr Sallam A M Sallam was excited after doing laparoscopic nephrectomy. Dr Ricardo Lopez performed Sleeve Gastrectomy in the live tissue and all other surgeons learnt how to use Endo G I Staplers. The gynecologist started with tubal recanalisation. Dr Aisha Taj performed the best tubal anastomosis. All of them also performed Laparoscopic Sacrocolpopexy using prolene mesh.




They learnt the use of tackers in fixing the mesh to the Anterior Longitudinal Ligament of the Sacral promontory. In the remaining time they performed pelvic lymph node dissection and exposure of the internal and the External iliac artery. The day finished after seven hours of non-stop surgical gruel ling.