Dr. B. S. Balla Demonstrate & Explaining to Surgeon & Gynecologist Laparoscopic Extracorporeal Square Knot, Prof Dr. R. K. Mishra deliver lecture on the access technique.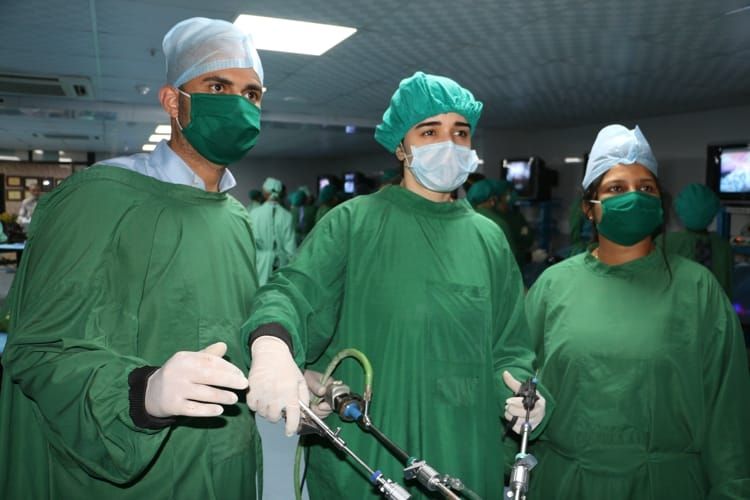 Event Date: Mon - 6 Feb, 2023
Event Time: 9:10 am
Location: World Laparoscopy Hospital
Institute: WLH
As an AI language model, I don't have access to the most current events and news. However, I can provide you with some general information about Laparoscopic Extracorporeal Square Knot and access techniques.
Laparoscopic Extracorporeal Square Knot is a type of knot used in minimally invasive surgery. It is a secure knot used to tie suture material during laparoscopic procedures, which is performed outside the body. This knot is typically used to secure suture material during closure of a port site or to ligate small blood vessels.
Access techniques in laparoscopic surgery refer to the methods used to gain entry to the abdominal cavity. There are two primary types of access techniques: open and closed. In open access, a small incision is made in the abdominal wall, and a trocar is inserted directly into the abdomen. In closed access, a needle is used to puncture the abdominal wall, and a trocar is inserted through the puncture site.
Prof Dr. R. K. Mishra is an expert in minimal access surgery and can deliver lectures on various techniques and access methods used in laparoscopic surgery. Similarly, Dr. B. S. Balla is a skilled laparoscopic surgeon who can demonstrate and explain different surgical techniques to surgeons and gynecologists.