Cobra Rope, Tin Cup and Terrible Triangle Drill Exercise by Surgeons and Gynecologists of Batch June 2014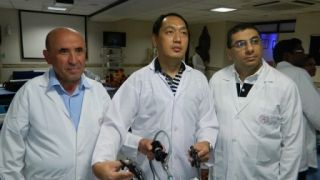 Event Date: Wed - 4 Jun, 2014
Event Time: 3:45 pm
Location: World Laparoscopy Hospital
Institute: WLH
The name of this drill is the Cobra Rope Drill. In Cobra rope drill surgeons and gynecologists learn how to hold and manipulate laparoscopic sutures. Surgeons and Gynecologist will unwind and pass a nylon string using two laparoscopic graspers, targeting specific sections of the rope. They have to pass this string through specific ring both in clockwise and anti-clockwise direction.
Ideally timing of this exercise also need to be assessed as time begins when a laparoscopic surgeon touches the rope and ends when the last section is grabbed of rope is introduced into the hook.
During Initial Hands Eye Coordination Exercises these drills are very useful and give the surgeons and gynecologist to develop depth perception, Tissue Handling Capacity and Ambidexterity.