Surgeons & Gynecologist practicing Roader, Meltzer & Mishra Knot Demonstration by Prof Dr. R . K . Mishra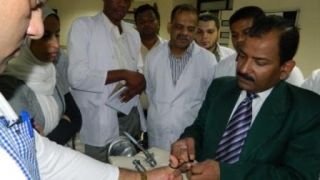 Event Date: Thu - 4 Sep, 2014
Event Time: 9:30 am
Location: World Laparoscopy Hospital
Institute: WLH
Today the doctors stated learning the Laparoscopic Extracorporeal knot for free structure e.g, appendix. they learnt the Roeders Knot, Meltzer Knot and the Mishra's Knot. Doctors face difficulty in laparoscopic surgery because of following reasons;
Performing tasks on two-dimensional image on the television monitor
The fixed positions of the working ports which puts restrictions on instrument movement during Laparoscopy
The use of long cylindrical instruments, which function on the principles of type I Lever.
Reluctance to do suturing in Laparoscopic Surgery.
Lack of practice. Long Learning curve.
Various frequently committed errors were demonstrated and tricks to avoid them were discussed.