189th batch of Fellowship and Diploma Started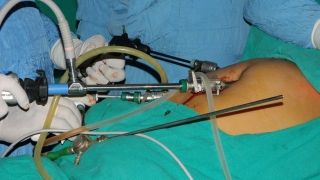 Event Date: Mon - 2 Jun, 2014
Event Time: 10:00 am
Location: World Laparoscopy Hospital, Gurgaon
Institute: WLH
You may grow old and trembling in your anatomies, you may lie awake at night listening to the disorder of your veins, you may miss your only love, you may see the world about you devastated by evil lunatics, or know your honour trampled in the sewers of baser minds. There is only one thing for it then to learn. Learn why the world wags and what wags it. That is the only thing which the mind can never exhaust, never alienate, never be tortured by, never fear or distrust, and never dream of regretting. Learning is the only thing for you. Look what a lot of things there are to learn
189th batch of Fellowship and Diploma in Minimal Access Surgery started from 1st of June 2014. As usual this laparoscopic surgery skill course will be held in the state of the art Clinical Skills Centre based at the World Laparoscopy Hospital.
The Fellow ib Minimal Access Surgery Program provide participants with an intensive day of tutored cadaveric dissection, instructional lectures and case based management discussion and exposure in operation theatre.
This educational laparoscopic Hands On programme is structured on a regional anatomical basis, covering excisional and reconstructive laparoscopic and robotic surgery of the Pelvis, Thorax, Abdomen and Axilla.