Please wait loading Video...
click here to see more than 11000 surgaon and gynaecologists from all over wold

Dr. Paul Kinsler FRCS, Angus, United kingdom
Dr. Hana Shaheed Kadim, Cambridge, United kingdom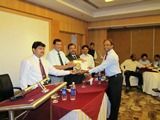 DR. MARIASOOSAI CONSTANTINE PATHMARAJAH, SURGEON, ENGLAND
DR. PURNENDU MAJUMDAR, UROLOGIST, ENGLAND
The United Kingdom of Great Britain and Northern Ireland is a sovereign state located off the northwestern coast of continental Europe. The United Kingdom is consisting of four countries: England, Northern Ireland, Scotland and Wales. The UK is surrounded by the Atlantic Ocean, the North Sea, the English Channel and the Irish Sea. Laparoscopic Surgery was evolved in UK long back with one of the Pioneer Prof. Sir Alfred Cuschieri. Prof. R.K. Mishra was the student of Prof. Sir Alfred Cuschieri at Ninewells Hospital and Medical School.
The United Kingdom is a constitutional monarchy. The UK is the unitary state which is governed by a parliamentary system. London is the capital city of United Kingdom. The UK is a developed country, with the world's sixth largest economy by GDP and the sixth largest by purchasing power parity. The United Kingdom was the first industrialized country. It is a recognized nuclear weapons state.