Please wait loading Video...
click here to see more than 11000 surgaon and gynaecologists from all over wold
Dr. Idris Olawale Lateef, Nigeria, Surgeon
Dr. Hassan A. Adelakun, Nigeria
DR. OJINI, VINCENT ONYEABO, GYNEACOLOGIST, NIGERIA
Honorable Mr. Harish Rawat Minister of Labour and Employment, Government of India as chief guest of certification ceremony, distributing laparoscopic training certificate to the surgeons and gynecologists of Nigeria after finishing Fellowship and Diploma in minimal access surgery course..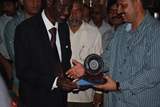 DR. ISMAILA ARZIKA MUNGADI, UROLOGIST, NIGERIA
DR. BADANKI SAMUEL OLANREWAJU, SURGEON, NIGERIA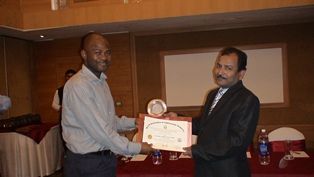 DR. EMEKA ROY-OFFOR, SURGEON, NIGERIA
Nigeria officially called the Federal Republic of Nigeria, is a federal constitutional republic comprising thirty-six states and its Federal Capital Territory, Abuja. The country is located in West Africa and shares land borders with the Republic of Benin in the west, Chad and Cameroon in the east, and Niger in the north. The three largest and most influential ethnic groups in Nigeria are the Hausa, Igbo and Yoruba. In terms of religion Nigeria is roughly split half and half between Muslims and Christians with a very small minority who practice traditional religion. The name Nigeria is because of the Niger River running through the country. Nigeria is highest populated country country in Africa, and the eighth most populous country in the world, and the most populous country in the world in which the majority of the population is black. The economy of Nigeria is one of the fastest growing in the world.The country Nigeria is the highly developing country and is the third largest economy in Africa. It is the largest exporter of oil in Africa and is a regional power that is also the hegemon in West Africa. Laparoscopic Surgery for the future actually starts now in Nigeria. The initiative encourages the retention of a portion of the significant healthcare funds being taken out of the country. Now many surgeons, gynecologists and urologists in Africa have acquired skills in endoscopy and laparoscopic surgery. Resource constraints restrict widespread use of laparoscopic surgery both for diagnostic and therapeutic procedures in Nigeria. The indications for surgical and gynecologic endoscopy anf laparoscopy in Africa are the same as those in developed countries. Laparoscopic surgery is becoming widely used all over Africa for fertility investigations though still the most common use is for female surgical sterilisation which is usually performed as an interval outpatient procedure. World Laparoscopy Hospital is committed to impart training in laparoscopic surgery and fill up this gap.