Please wait loading Video...
click here to see more than 11000 surgaon and gynaecologists from all over wold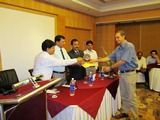 DR. ROBERT DARIUSZ JAGIELLO, SURGEON, NAMIBIA
Namibia officially called the Republic of Namibia is a country in southern Africa. It shares land borders with Botswana to the east, Angola and Zambia to the north, and South Africa to the south and east. Windhoek is the largest and capital city of Namibia. Namibia has a population of 2.1 million people and a stable multi-party parliamentary democracy. Agriculture, herding, tourism and the mining industry - including mining for gem diamonds, uranium, gold, silver, and base metals form the backbone of Namibia's economy. It is the second least densely populated country in the world, after Mongolia.