Please wait loading Video...
click here to see more than 11000 surgaon and gynaecologists from all over wold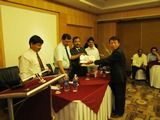 DR. KYAW SINT SURGEON
Union of Myanmar BURMA
DR. AUNG KYAW SAN SURGEON
Union of Myanmar BURMA
Burma officially called the Republic of the Union of Myanmar is a country in Southeast Asia. The country is bordered by the Laos on the east, People's Republic of China on the northeast, Thailand on the southeast, Bangladesh on the west, India on the northwest, and the Bay of Bengal to the southwest, with the Andaman Sea defining its southern periphery. Burma is the second largest country in Southeast Asia by geographical area. Laparoscopic Training in Burma is developing very vast.