Center of Excellence for Laparoscopic and Robotic Surgery Course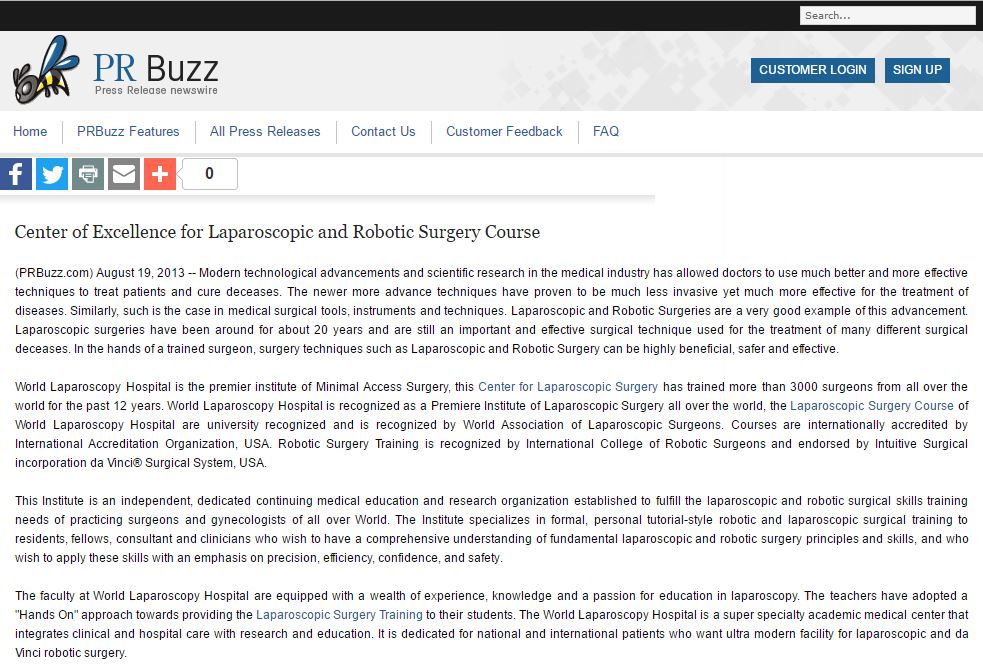 Read Complete Press Release
Center of Excellence for Laparoscopic and Robotic Surgery Course
(PRBuzz.com) August 19, 2013 -- Modern technological advancements and scientific research in the medical industry has allowed doctors to use much better and more effective techniques to treat patients and cure deceases. The newer more advance techniques have proven to be much less invasive yet much more effective for the treatment of diseases. Similarly, such is the case in medical surgical tools, instruments and techniques. Laparoscopic and Robotic Surgeries are a very good example of this advancement. Laparoscopic surgeries have been around for about 20 years and are still an important and effective surgical technique used for the treatment of many different surgical deceases. In the hands of a trained surgeon, surgery techniques such as Laparoscopic and Robotic Surgery can be highly beneficial, safer and effective.
World Laparoscopy Hospital is the premier institute of Minimal Access Surgery, this Center for Laparoscopic Surgery has trained more than 3000 surgeons from all over the world for the past 12 years. World Laparoscopy Hospital is recognized as a Premiere Institute of Laparoscopic Surgery all over the world, the Laparoscopic Surgery Course of World Laparoscopy Hospital are university recognized and is recognized by World Association of Laparoscopic Surgeons. Courses are internationally accredited by International Accreditation Organization, USA. Robotic Surgery Training is recognized by International College of Robotic Surgeons and endorsed by Intuitive Surgical incorporation da Vinci® Surgical System, USA.
This Institute is an independent, dedicated continuing medical education and research organization established to fulfill the laparoscopic and robotic surgical skills training needs of practicing surgeons and gynecologists of all over World. The Institute specializes in formal, personal tutorial-style robotic and laparoscopic surgical training to residents, fellows, consultant and clinicians who wish to have a comprehensive understanding of fundamental laparoscopic and robotic surgery principles and skills, and who wish to apply these skills with an emphasis on precision, efficiency, confidence, and safety.
The faculty at World Laparoscopy Hospital are equipped with a wealth of experience, knowledge and a passion for education in laparoscopy. The teachers have adopted a "Hands On" approach towards providing the Laparoscopic Surgery Training to their students. The World Laparoscopy Hospital is a super specialty academic medical center that integrates clinical and hospital care with research and education. It is dedicated for national and international patients who want ultra modern facility for laparoscopic and da Vinci robotic surgery.
Surgeons and gynecologists who are interested in learning more about the institute and the Laparoscopic and Robotic Surgery Course can visit The World Laparoscopy Hospital website (http://www.laparoscopyhospital.com/) to learn more about the admission process, the training and contact details.
Media Contact:
Sadhana Mishra
World Laparoscopy Hospital
Cyber City, DLF Phase II, Gurgaon, NCR Delhi, 122 002, India
https://www.laparoscopyhospital.com/
2 COMMENTS
Top