World Association of Laparoscopic Surgeons recognizes Dr. Mishra as the world's top laparoscopic surgery trainer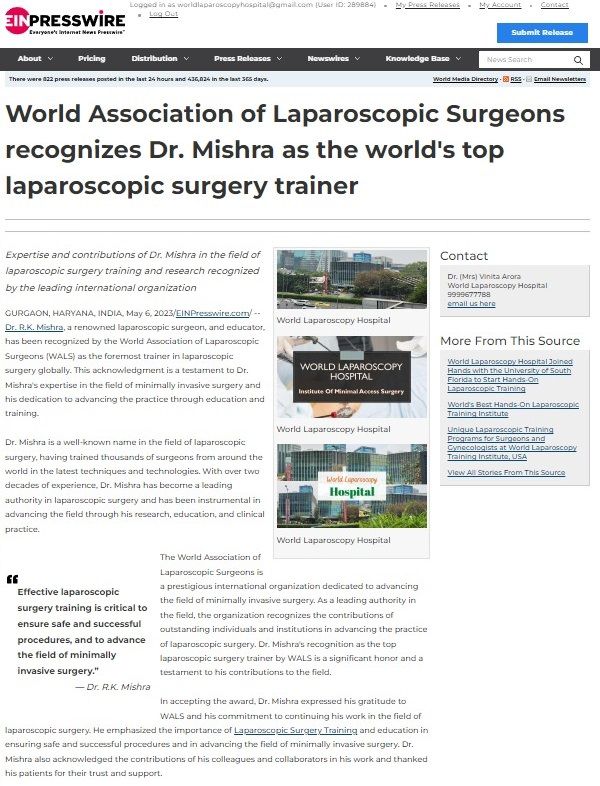 Press release published by
EIN Presswire "
World Association of Laparoscopic Surgeons recognizes Dr. Mishra as the world's top laparoscopic surgery trainer"
Globally renowned laparoscopic surgeon and educator, Dr. R.K. Mishra, has been honored by the World Association of Laparoscopic Surgeons (WALS) for his exceptional contributions to laparoscopic surgery training and research. Dr. Mishra's dedication to advancing minimally invasive surgery through education and training has earned him the prestigious title of the foremost laparoscopic surgery trainer worldwide.
With over two decades of experience, Dr. Mishra has trained thousands of surgeons in cutting-edge techniques and technologies, making significant advancements in laparoscopic surgery through research, education, and clinical practice. WALS, a leading international organization, acknowledges the efforts of individuals and institutions making strides in the field of minimally invasive surgery.
Dr. Mishra expressed his gratitude for the award and reaffirmed his commitment to enhancing laparoscopic surgery. He emphasized the importance of training, education, and collaboration to ensure safe and successful procedures. As a pioneer in the field, Dr. Mishra's work will continue to inspire and guide future laparoscopic surgeons, advancing minimally invasive surgery worldwide.
Laparoscopic surgery demands extensive hands-on training to perform safely and effectively. Dr. Mishra's approach focuses on providing practical experience, including simulated surgeries, live demonstrations, and one-on-one training. His commitment to quality training and education is evident in his recent establishment of laparoscopic surgery training institutes in India, the United Arab Emirates, and the United States.
Dr. Mishra's recognition by WALS highlights his invaluable contributions to the field of laparoscopic surgery. As a dedicated expert, he has advanced minimally invasive surgery and improved the lives of countless patients. This acknowledgment is a well-deserved honor, reflecting the importance of his work.
Dr. Mishra's recognition by WALS also brings attention to the importance of continuous improvement and innovation in the field of laparoscopic surgery. As medical advancements are made, it is crucial for surgeons to stay up-to-date with the latest techniques, technologies, and best practices. This ensures that they can provide the highest quality care to their patients while minimizing risks associated with surgery.
In addition to his work as an educator and trainer, Dr. Mishra has contributed significantly to the development of new laparoscopic surgery techniques. His dedication to research and innovation has helped propel the field forward, making minimally invasive surgery more accessible and effective for patients worldwide.
The success of Dr. Mishra's training institutes demonstrates the growing demand for skilled laparoscopic surgeons and the recognition of the importance of proper training. By providing high-quality education and hands-on experience, these institutes are preparing the next generation of surgeons to meet the challenges of an ever-evolving field.
Dr. Mishra's commitment to collaboration and cooperation among medical professionals also underscores the importance of a multidisciplinary approach in healthcare. By working together, healthcare providers can share knowledge, expertise, and best practices, ultimately improving patient outcomes and the overall quality of care.
In conclusion, Dr. R.K. Mishra's recognition by the World Association of Laparoscopic Surgeons is a testament to his significant contributions to the field of laparoscopic surgery. His dedication to education, training, research, and innovation has helped advance minimally invasive surgery, benefiting both patients and medical professionals worldwide. As laparoscopic surgery continues to evolve and gain popularity, the contributions of experts like Dr. Mishra will remain essential in ensuring the ongoing improvement of surgical outcomes and patient care.
No comments posted...
Top