Prof.Dr. R. K. Mishra giving Explanation on Patient Cart, Vision Cart and Master Console,Instrument designing and Working Principles of da Vinci Surgical System.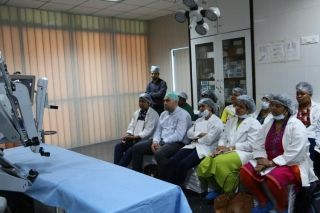 Hands on Training in Robotic surgery at world Laparoscopy Hospital
Event Date: Jun 25, 2017
Event Time: 9:00 am
Location: World Laparoscopy Hospital
Publisher; WLH
Today surgeon and gynecologist were given the overview of the robotic surgery. Learning new medical robotic surgery technology requires guided and self-directed hands on training. To that end, World Laparoscopy Hospital developed the training of da Vinci Technology and The Fellowship of International College of Robotic Surgeons Training Course. The goal is to help teams of surgeon and gynecological specialist develop the knowledge and skills needed to use da Vinci System technology safely and efficiently.
World Laparoscopy Hospital has designed this training for integrated groups of surgeons and OT staff. This team-oriented approach was developed because da Vinci training is most successful when the entire team is involved. The doctors were given the in depth knowledge of the Master Console, Vision Cart and the Patient side Cart. The Robotic instruments were demonstrated and the docking principles were explained.