Prof Dr. R. K. Mishra Explaining and Demonstrasting Surgeon, Gynecologist and Urologist how to Apply Laparoscopic Intracorporeal Dundee Jamming Knot Continuous Suturing and Aberdeen Termination.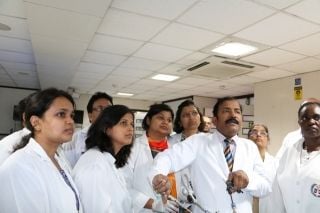 Hands on Training in Minimal access Surgery.
Event Date: Jun 21, 2017
Event Time: 9:00 am
Location: World Laparoscopy Hospital
Publisher; WLH
The Laparoscopic suturing skill is a difficult skill and to master it you need a proper guidance and continue practise. Dundee Jamming knotting and continuous suturing skill is one of the needed skill in the laparoscopic surgery. Dundee and Aberdeen are the two cities in United kingdom and this knot derives its name from them. This knot is used to approximate the cut edges of the tissues which are not under tension, like the closure of the peritoneum after Burch Suspension or after the TAPP.