Gynecologists Practicing Laparoscopic Tubal Recanalization, Salpingectomy and Pelvic Lymphadenectomy and Tissue Retrieval in Endobag By Dr. J. S. Chowhan.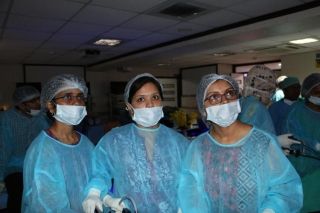 Hands on Training in Minimal Access surgery on the Live Tissue.
Event Date: Jun 13, 2017
Event Time: 9:00 am
Location: World Laparoscopy Hospital
Publisher; WLH
World Laparoscopy Hospital wet lab soft embalming technique is a sophisticated method of preservation of complete dissection specimen that allows surgeons and gynecologists to operate in wet lab almost all the surgery of their choice as we maintain most of the features of a live body, particularly with regard to the authenticity of colour, tissue consistency and flexibility. These characteristics make a WLH lab a superb model for laparoscopic training, vastly superior to any other model.
Surgeons and gynecologist working in pairs will perform a comprehensive range of minimal access surgical procedures at World Laparoscopy Hospital using the aid of state of the art HD laparoscopic stacks provided by almost all world renowned laparoscopic companies and with a full range of laparoscopic equipment available.