Gynecologists Practicing Laparoscopic Tubal Re-canalization, Salpingectomy and surgeon practicing Hernia repair Surgery on the Live Tissue Demonstration By Dr. J. S. Chowhan.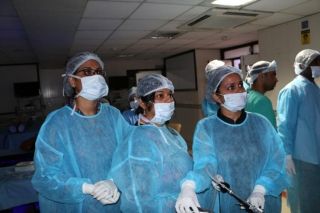 Hands on Training in Minimal Access surgery on the Live Tissue.
Event Date: Jun 12, 2017
Event Time: 9:00 am
Location: World Laparoscopy Hospital
Publisher; WLH
Today laparoscopic surgeons learnt the laparoscopic inguinal hernia surgery. This is one of the important minimal access surgery for the general surgeons. Laparoscopic inguinal hernia is repaired by laparoscopic surgery generally using a synthetic mesh either with TEP or TAPP. TAPP laparoscopic inguinal hernia surgery is also getting popular by IPOM technique or increasingly using fibrin glue and absorbable suture as less invasive laparoscopic procedures. The most common laparoscopic techniques for inguinal hernia repair are transabdominal preperitoneal (TAPP) repair and totally extraperitoneal (TEP) repair.
In TAPP the minimal access surgeon goes into the peritoneal cavity and places a polypropylene mesh through a peritoneal incision over possible hernia sites. TEP is different in that the peritoneal cavity is not entered and mesh is used to seal the hernia from outside the peritoneum (the thin membrane covering the organs in the abdomen). This approach is considered to be more difficult than TAPP but may have fewer complications. Laparoscopic repair is technically more difficult than open repair.